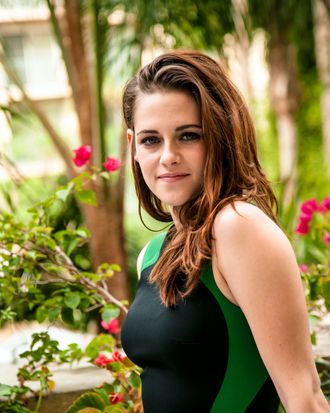 Photo: Armando Gallo/Corbis
Well, not all British men — only those polled by gadget website MenKind.co.uk, the U.K.'s Press Association reports. Asked to identify the "Top 10 least sexy Hollywood actresses" ahead of Sunday night's Academy Awards, voters chose Kristen Stewart, Sarah Jessica Parker, and Lindsay Lohan as first, second, and third, respectively.
Completing the roster:
4. Denise Richards
5. Kirsten Dunst
6. Mischa Barton
7. Hilary Swank
8. Lucy Liu
9. Tilda Swinton
10. Uma Thurman
By way of explanation, a MenKind representative offered: "Sexiness is far more than appearance … [Men] were turned off by volatile and moody actresses as well as ice queens. And they don't want to see unhealthily skinny starlets on the big screen." It's also a poll conducted by an e-tailer whose featured products include a Laser Stars Projector (£119.99), Zombie Gnome (£14.99), Star Wars Jedi Dressing Gown (£39.99), and an Orbotix Sphero (£99.99). The shoppers have probably been dreaming about playing World of Warcraft with Alien Tilda for light-years.