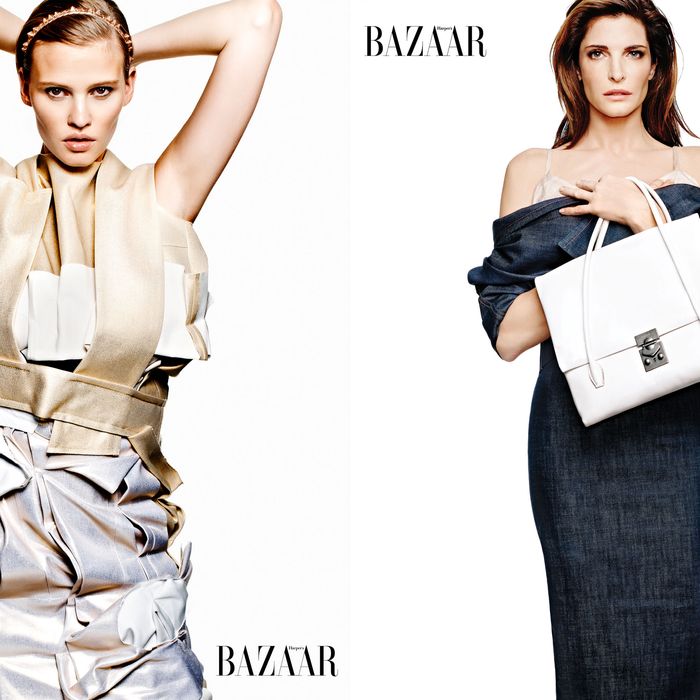 Lara Stone and Stephanie Seymour, styled by Carine Roitfeld for Harper's Bazaar.
Photo: Courtesy of Harper's Bazaar
To celebrate Carine Roitfeld's very first editorial as the new global fashion director for Harper's Bazaar, Hearst hosted a discussion between Roitfeld and Town & Country editor Jay Fielden last night. While all sixteen images from Roitfeld's spread played across a giant screen, the editor explained that the shoot, titled "Carine on the Collections," took place in New York the week after Hurricane Sandy. Some of the clothes didn't make it, and she had to move the set to Brooklyn. Ironically, Vogue had also fled to the same studio, and Camilla Nickerson was shooting with Craig McDean at the same time. "It was two different magazines back-to-back," Roitfeld recalled in her accented English. Were there icy glares? "Non, non," she said. "I never see it as competition. I'm doing my own thing, and they are doing their own thing." She grinned. "I mean, there was not a war."
It's been over two years since Roitfeld left French Vogue, and in the interim she has started her own magazine, CR Fashion Book, and forged lucrative partnerships with brands like Barneys and MAC. In October, Hearst tapped her as the global fashion director for Harper's Bazaar; she'll contribute four editorial spreads per year, which will be printed in the magazine's  26 international editions. It's a fitting partnership, as Roitfeld is a longtime friend and business partner with Harper's Bazaar creative director Stephen Gan.
Set against a plain white background and photographed by the relatively little-known Kacper Kasprzyk, Roitfeld's debut spread portrays her selections from the spring shows, including pieces by everyone who matters — Alexander Wang, Azzedine Alaïa, Balenciaga by Nicolas Ghesquière, Céline, Chanel, Christopher Kane, Comme des Garçons, Dior, Dolce & Gabbana, Emporio Armani, Fendi, Givenchy by Riccardo Tisci, J.W. Anderson, Jil Sander, Louis Vuitton, Max Mara, Miu Miu, Saint Laurent, and Tom Ford — all of Roitfeld's "friends" (or "fwends," as she pronounces it). Models include big names like Stephanie Seymour and Lara Stone and younger faces like Yumi Lambert.
After recounting her storied history as the founder of porno chic, Roitfeld says she is moving in a new direction these days. "I am a grandma now," she repeats. She's also trying to adapt to a more global audience. "When you go to America, you have to think a bit differently," she said. "What you call porno-chic, people do not understand." But fear not — she's still the same Carine. "For me, fashion is not about reality. I'm not the girl next door. I'm always dreaming, always thinking about something more crazy."