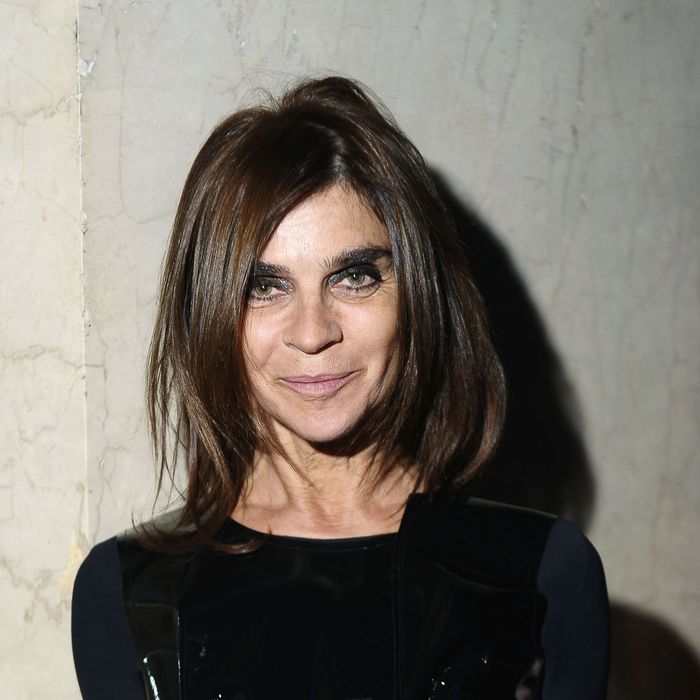 Queen Carine.
Photo: Michael Loccisano/Getty Images
If one person is to be crowned the winner of this New York Fashion Week, it's Carine Roitfeld. Sure, she's been a major fixture for decades, but this season cemented her new, post–French Vogue identity. She unveiled her first spread as the new international fashion editor of Harper's Bazaar; celebrated her second issue of CR Fashion Book; and sat front row at all the important shows, including one that was arguably inspired by her own style (Altuzarra). She watched Alexander Wang, whose star she helped propel into its new Parisian galaxy, deliver his first collection since his ascension to Balenciaga. But most important, she grinned and danced and looked like she was having fun — which, for fashion editors, is practically equivalent to eating a doughnut in the front row.
Roitfeld has good reason to be happy: This is the first time in just over two years her future looks so certain. When she abdicated her position at French Vogue in December 2010, it came as a shock. The magazine was at its buzz apex, thanks in part to that scandalous Tom Ford edition that featured children dripping in diamonds and an editorial titled "Pussy West." Naturally, there was the inevitable rumor she'd been fired, countered by those who pointed out her continued insistence that she'd always planned to stay for a maximum of ten years anyway. (When she left, she told WWD, "I'm surprised I even stuck it out this long.")
Roitfeld didn't have a new job lined up, and so no one really knew what to make of her. She was still shrouded in that unapproachable cool-lady mantle that made her seem fascinating but also unpredictable, and she no longer had the Condé Nast platform to steady her. She plunged into a flurry of different freelance projects that made her more ubiquitous than ever, even overexposed and, some would say, desperate for attention. She did a massive collaboration with Barneys, several projects with V magazine, a video series with W on couture, and two coffee-table books — one with Karl Lagerfeld and the other a retrospective of her own work.
Interestingly, nearly all of her new projects were New York–based. This was probably for personal as well as professional reasons: Her two children live here; also, she told us in August, "When I left French Vogue, New York welcomed me with a big, big hug." Although she still lives in Paris, flying to New York regularly for jobs, it was easier for her to reinvent herself away from her old stomping grounds.
When she announced plans to start her own magazine, CR Fashion Book, last spring, everyone perked up. Her relevance was still undeniable, but it had become amorphous. She needed a landing pad. Those in the industry who collaborate at the rate she had been doing — Lagerfeld, for instance, or Marc Jacobs — are grounded with well-established personal brands as well as larger corporate affiliations. Roitfeld gained the former with CR, which launched in New York in September and was so successful that its first issue sold out on newsstands. She obtained the latter in October, when she was tapped for Hearst's Harper's Bazaar.
The cherry on top of Carine's burgeoning empire is Alexander Wang's new role at Balenciaga. Roitfeld has been such an important proponent of Wang since the beginning that, after his appointment, a rumor circulated that she would join him at the label. (She denied it, affirming, "I have enough on my plate.") His new foothold in France gives Carine's reinvention a full-circle feeling. She came and conquered New York, and now he will go and conquer Paris, surely with some help from her deep rolodex.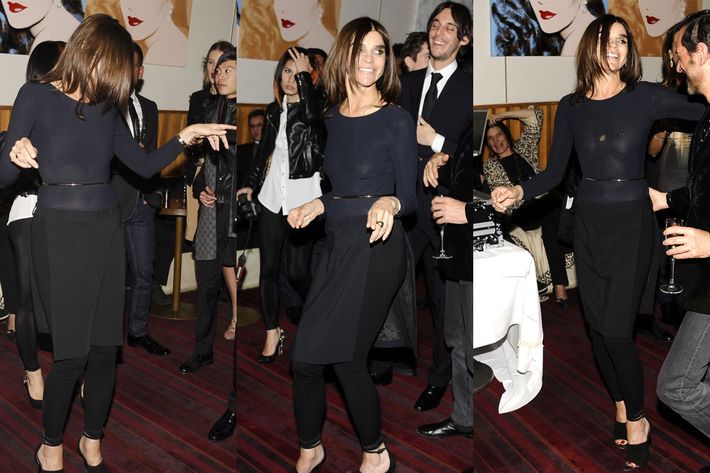 Last Tuesday, Carine debuted CR's second issue at Casa Lever with what was easily the coolest party of Fashion Week. Ciara arrived with Riccardo Tisci and Marina Abramovic; Karlie Kloss bumped butts with the Courtin-Clarins girls and Giovanna Battaglia. Cream puffs and brownies were served. But even compared to her bold-name guests, it was Carine who partied with the most abandon, striking ballet poses and shimmying her shoulders to "Guantanamera." She was celebrating more than her new issue — she was celebrating the triumphant completion of her new identity.
She has since flown back to Europe, where she'll hold another launch party for CR during Paris Fashion Week. Now that her takeover of New York is complete, she's ready to reclaim her hometown.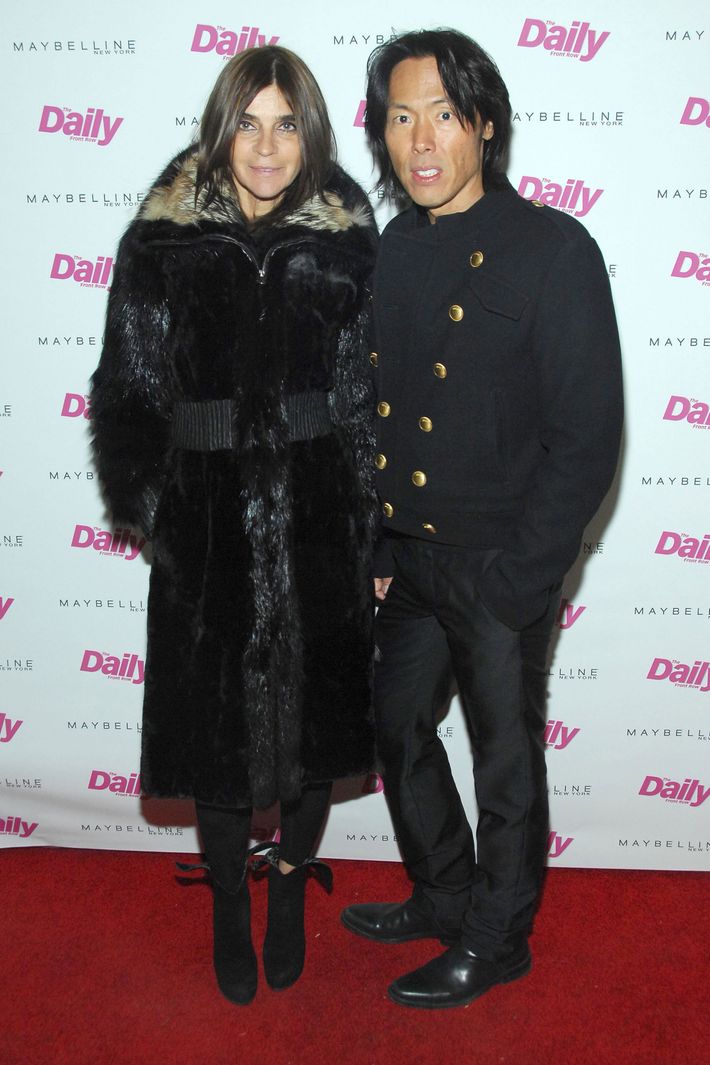 At the Daily's 10th Anniversary party
With Stephen Gan.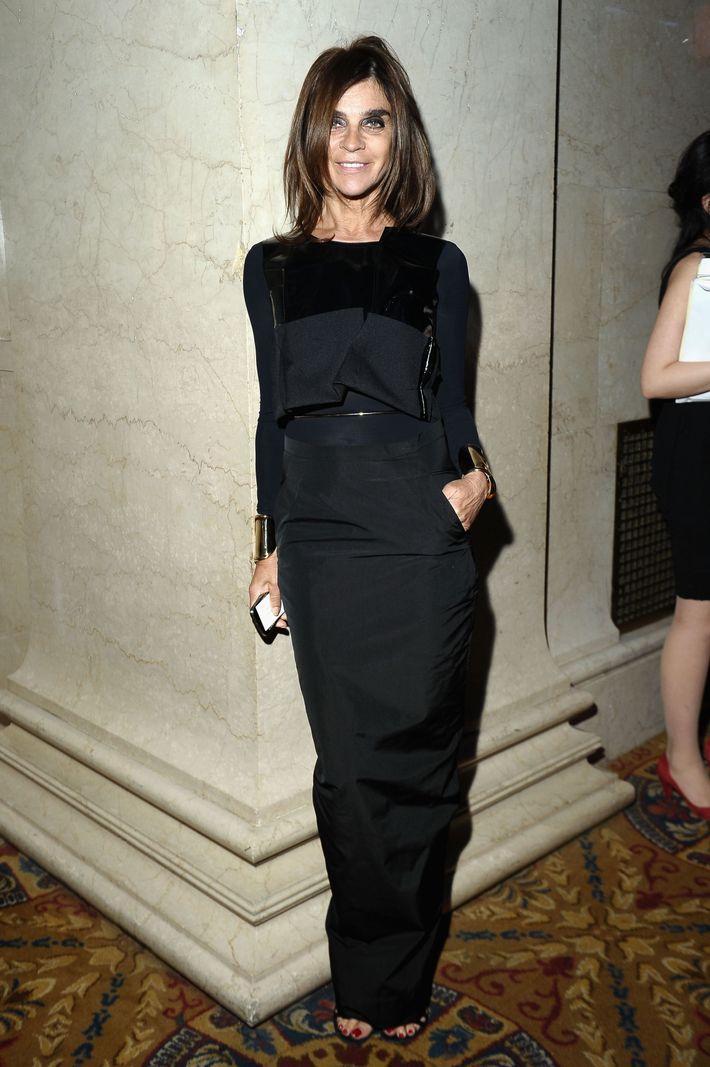 At the amfAR Gala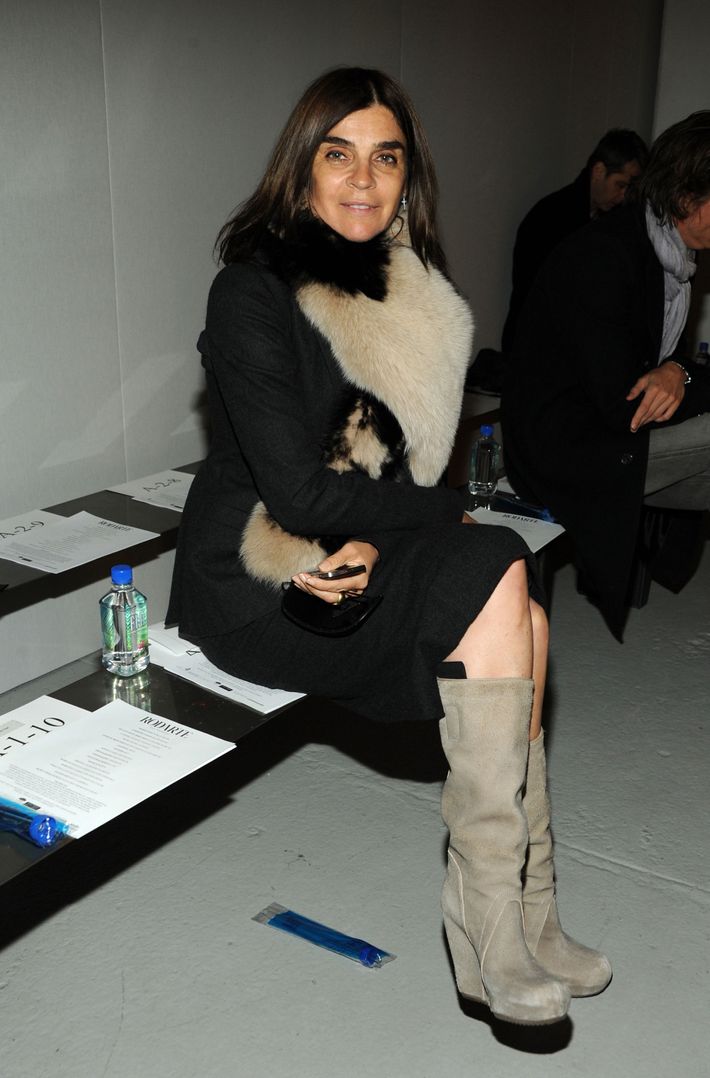 At the Rodarte fall 2013 show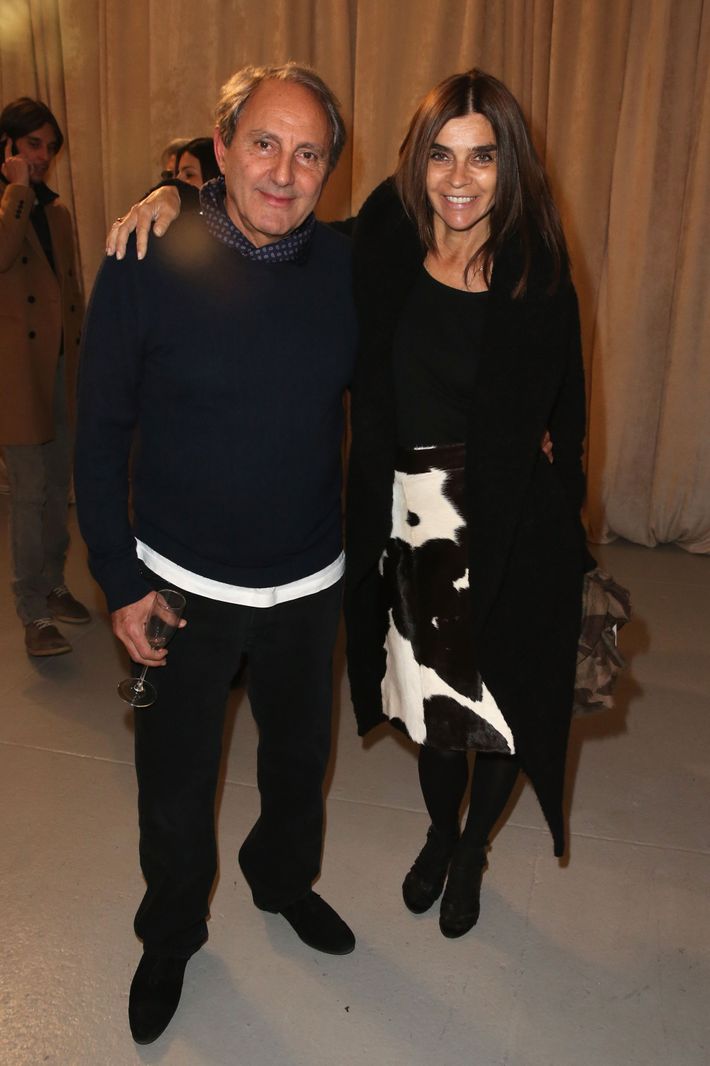 At the Joie fall 2013 presentation
With Serge Azria.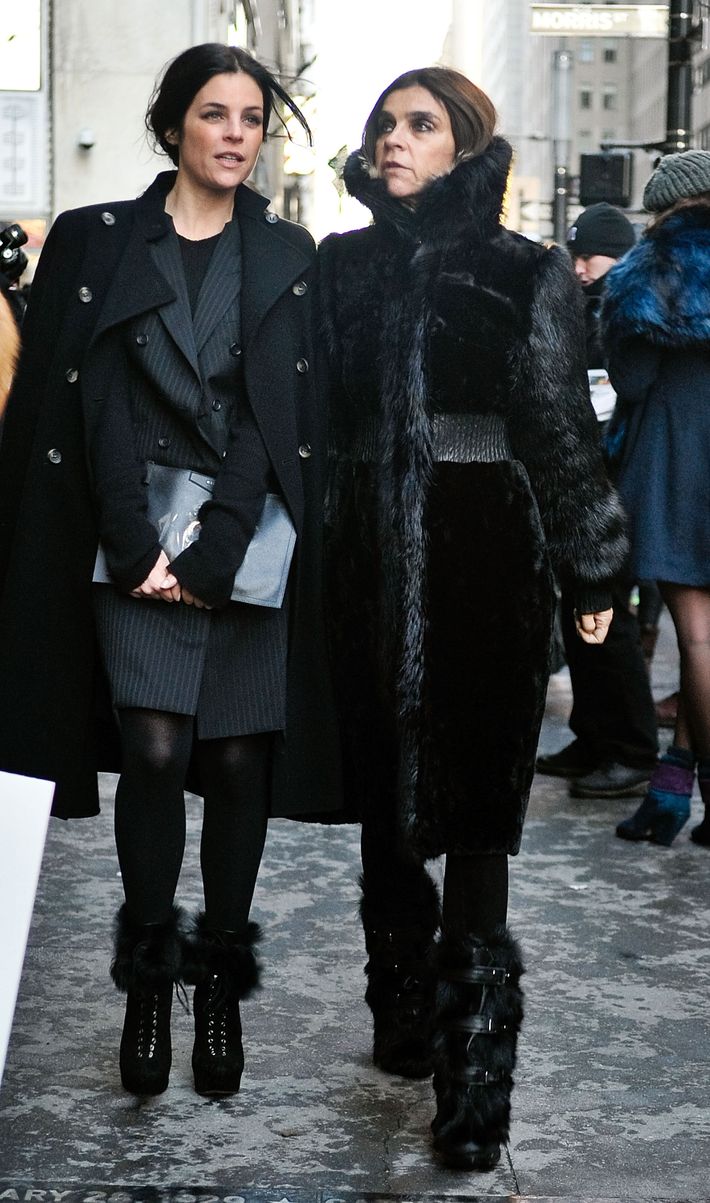 At the Alexander Wang fall 2013 show
With daughter Julia Restoin-Roitfeld.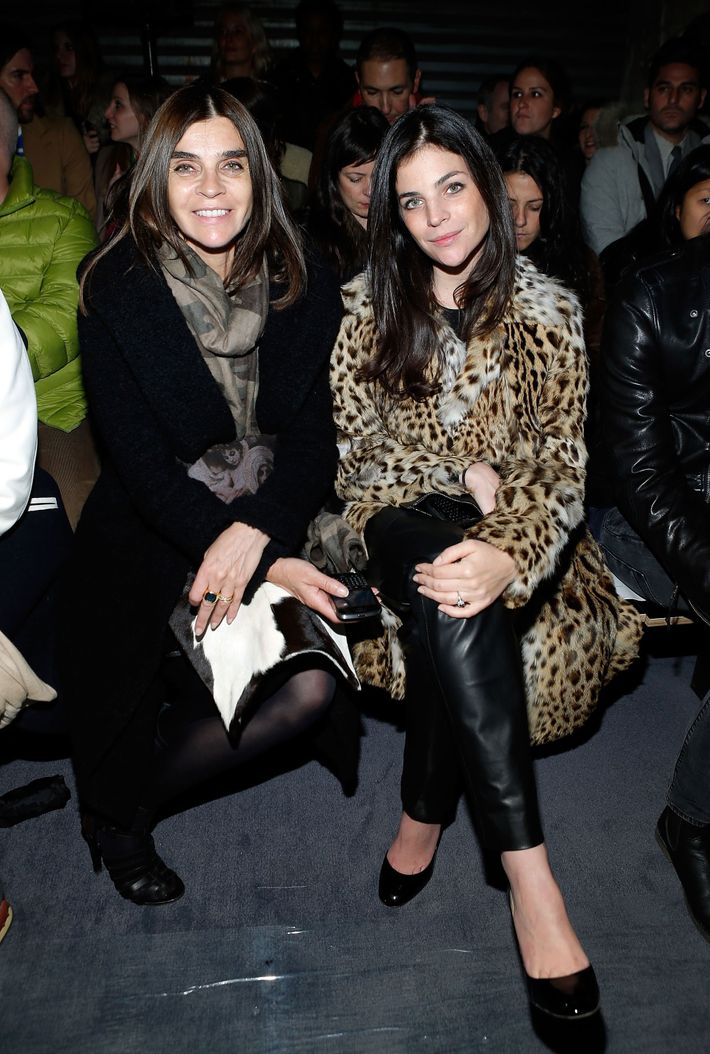 At the Proenza Schouler fall 2013 show
With daughter Julia Restoin-Roitfeld.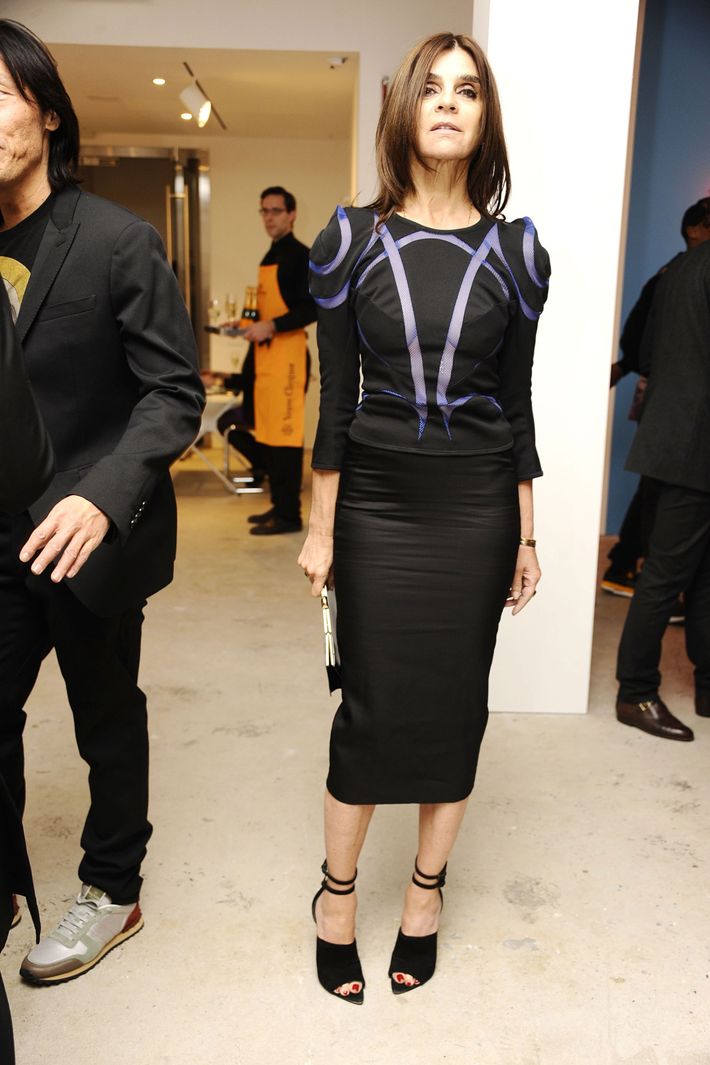 At the closing of "Merci Mercy," an exhibit co-curated by her son, Vladimir Restoin Roitfeld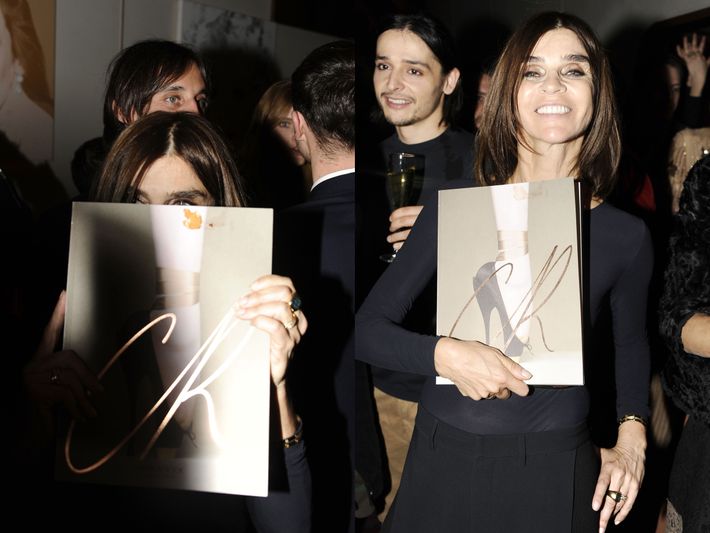 At the CR Fashion Book party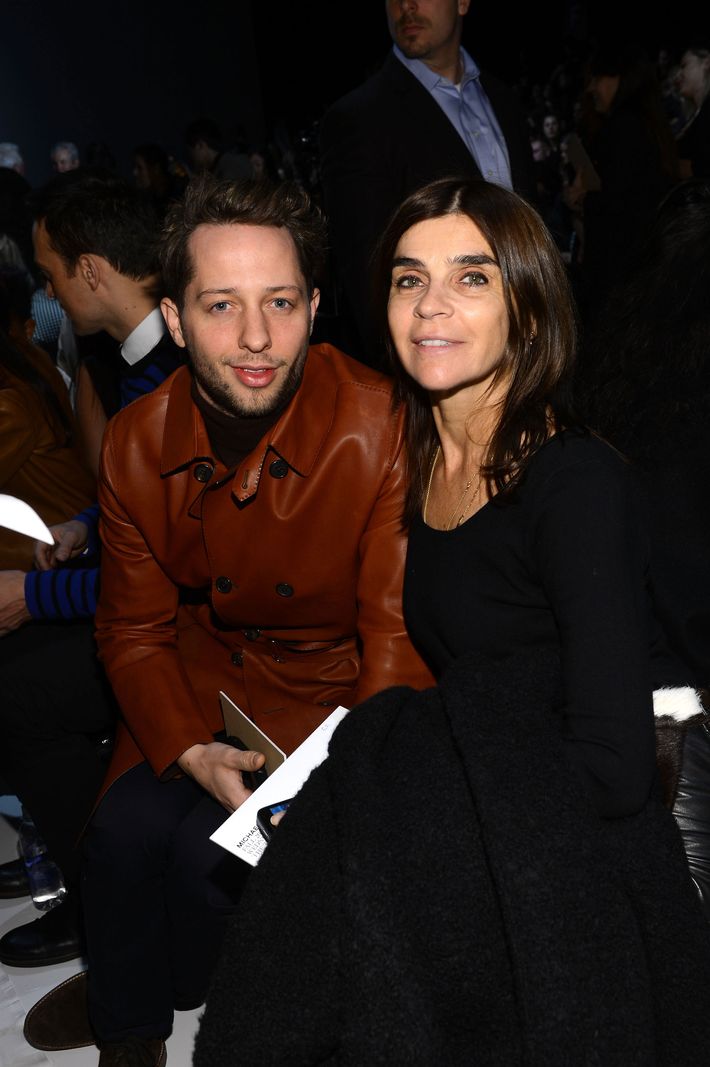 At the Michael Kors fall 2013 show
With Derek Blasberg.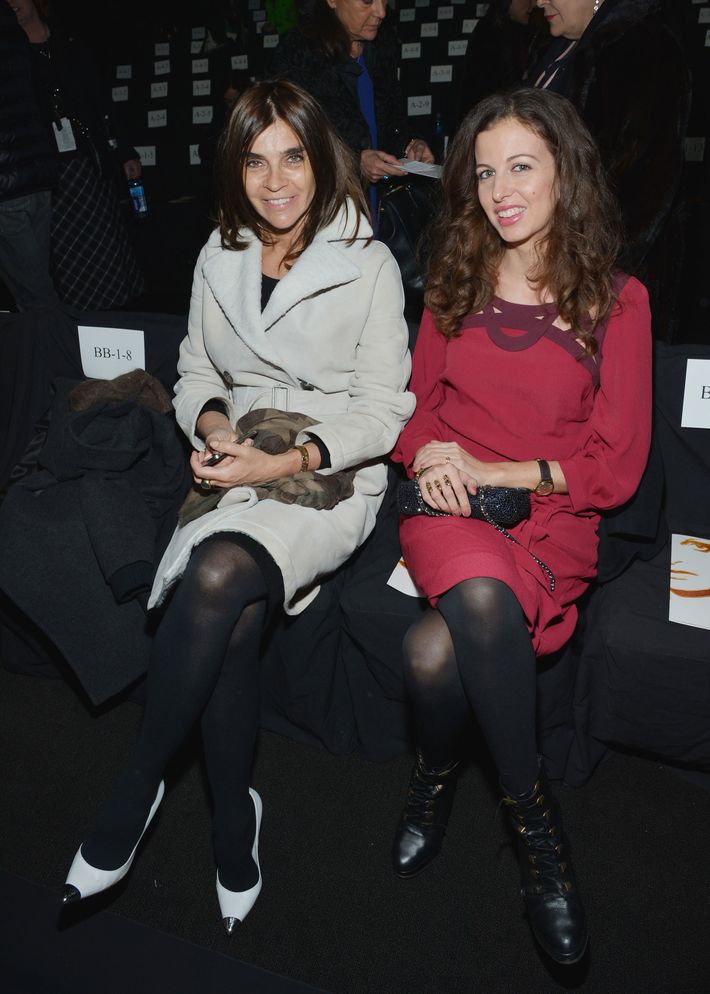 At the Diane Von Furstenberg fall 2013 show