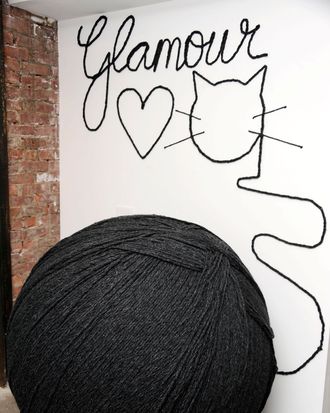 Photo: CLINT SPAULDING/Patrick McMullan
"Cats are so fashion. Think about it. They're sleek, they're kind of chic. They're not giving it away. You gotta work for it a little bit, you know what I mean?" Bill Wackermann, publishing director of Glamour, was explaining the logic behind the Glamour Cat Fashion Concept Store, a pop-up downtown retailer dedicated to "the cat trend," as embodied by Choupette Lagerfeld and Glamour's Opening Ceremony cat sweater collaboration. Last night, the store hosted a party for Glamour's "35 Under 35 in Fashion List." People wore cat ears.
"I'm into that quote," Wackermann continued, gesturing to a sign on the wall, "'Women and cats do what they want, and men and dogs should just get used to it.'"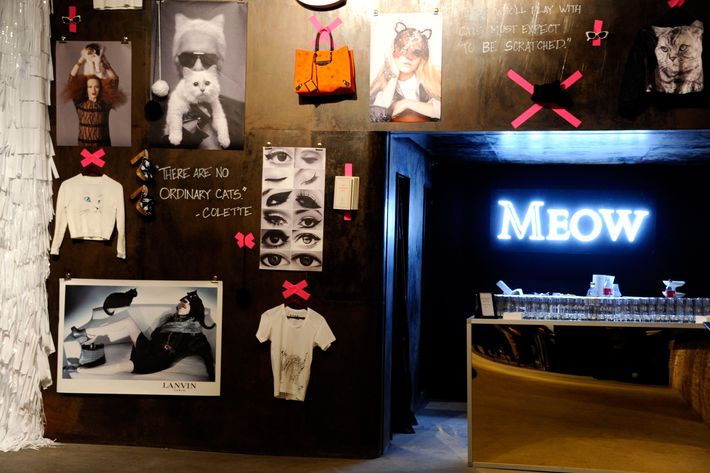 "The cat thing is such a huge cult," noted Glamour fashion director Anne Christensen, who has a cat named Sylvia and wore cat ears to the party. "I'm a huge cat person."
"Respect the cat!" Glamour editor Cindi Leive crooned. "Seriously. Cats are not a trend, they are a permanent aspect of society. Look at Egypt." She went on to bash dogs for being "sloppy and slobbery. I understand they're cute in a frat-boy endearing way, but cats have intelligence, poise, and grace. I'm team cat all the way."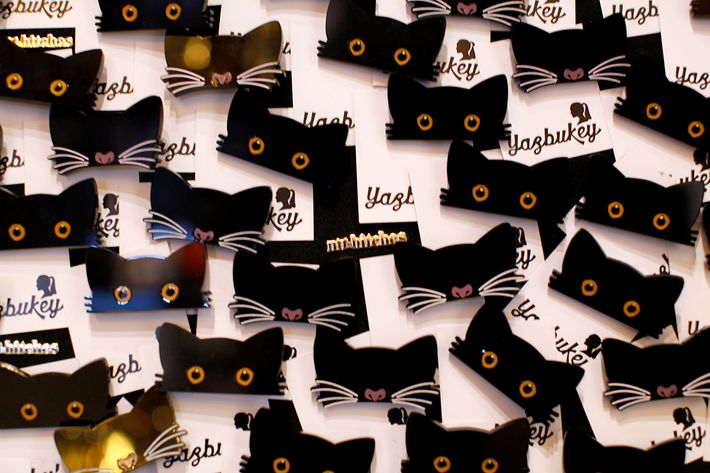 Jewelry designer Eddie Borgo recalled a black cat from his childhood named Sabbath. Maria Cornejo, who owns two cats, cooed at the cat hats on display. Only accessories designer Rebecca Minkoff dared speak against cats. "I'm a dog person," she confessed.