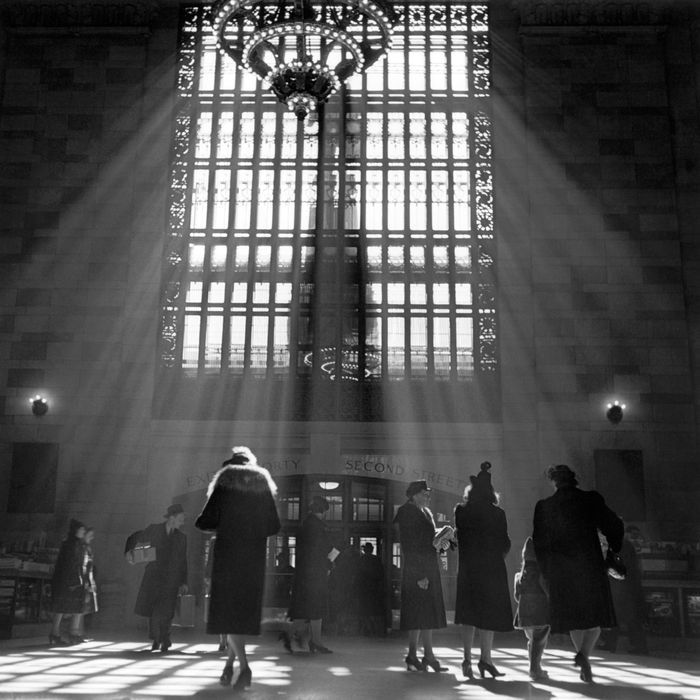 Photo: Jerry Cooke/Corbis
Happy 100th birthday to Grand Central Station, New York City's backdrop of choice for making your dramatic escape to Chicago, coming back from the boarding school that expelled you, proposing via flash mob, or, if you're really lucky, meeting your spouse.
The Wall Street Journal has the story of Leo Ackerman and Mollie Zessin, who married three months after meeting in the main concourse in 1948.
"It was the ribbed seam on the back of a stocking that inspired Leo Ackerman to tap a young woman on the shoulder in the main concourse of Grand Central Terminal in 1948 and ask her what she was doing later that evening."
"Mollie Zessin, then 24 years old, replied that she would be attending a Jewish dance at the Metropolitan Club and coyly told him he could join her. Mr. Ackerman, the dashing owner of a male modeling agency and an occasional hat model himself, kept the date."
Back then, the station had a special area designated for reuniting lovers adjacent to the arriving long-distance trains, called the Kissing Room. "Transit officials are hoping to bring back more of the kissing in 2019," the Journal notes, "when a massive expansion to the station in the $8.2 billion East Side Access megaproject adds a pair of escalators that will once again make it a meeting spot." As long as we remember to look up from our phones long enough to notice someone.