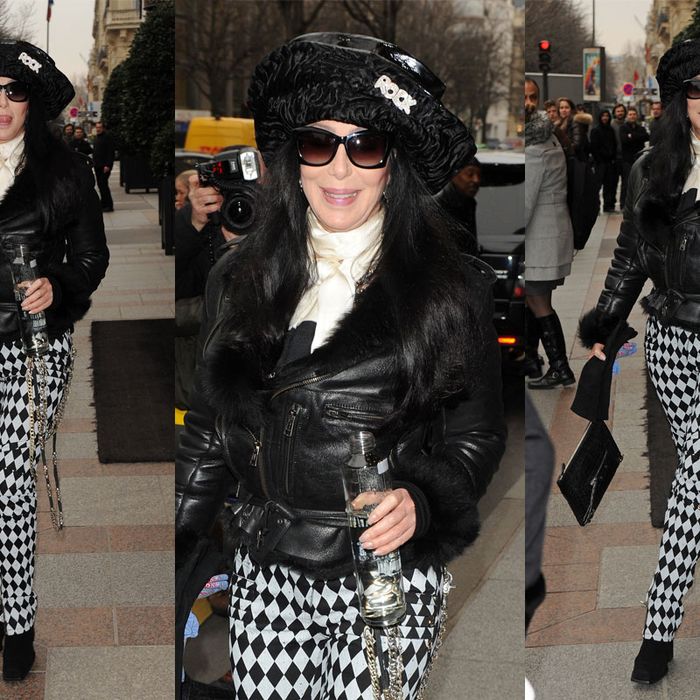 Cher's Paris Fashion Week outfit.
Photo: Corbis
When Cher breezed into Gareth Pugh yesterday, her earrings a-dangling and hair a-flowing, we figured her appearance was a one-time thing, and reacted with appropriate breathlessness. But then, to our delight, she resurfaced at both Balmain and Rick Owens today. This woman is so cool that even fashion people — the most jaded demographic on the planet — got starstruck:
On top of being most exciting celebrity at Paris Fashion Week so far, Cher is also one of the most ridiculously, fabulously dressed — an impressive achievement, indeed. Today, she wore diamond-print black and white jeans, a series of draped silver chains, and a black leather biker jacket over a white shirt with a bow at the neck. But best of all was her hat, a furry-brimmed affair with a silver pin in the shape of the word ROCK, which is just so much cooler than a head-to-toe runway look from next season. Perhaps not by coincidence, her song "Shoop Shoop" was the soundtrack for this evening's Lanvin show, even though she wasn't there. Congrats, Cher, on being Paris's best unexpected surprise — do stick around, won't you?