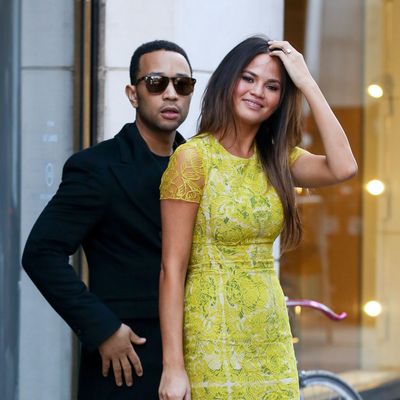 Photo: Dave Spencer/Corbis
Chrissy Teigen has a ring and four wedding dresses, but she's still waiting to find out when she will marry longtime beau John Legend. They have been engaged for one year and two months.
"I was engaged on this carpet last year," the Sports Illustrated model said at the launch party for the magazine's swimsuit edition last night. "We've been together for almost seven years. We were going to get married in Tennessee at a beautiful farm, but we overhauled it. I can't ever make up my mind."
That hasn't prevented her from knocking items off on her checklist, though.
"I have four wedding dresses at this point and no location," Teigen said. And the Vera Wang gowns have yet to arrive: "They're not here yet, but they will be, and it's going to be really sad. If you need any, let me know."
Legend, Teigen said, is lackadaisical about the planning (at least until his new album comes out in June). "He doesn't care," she said. "The worst part is he won't look at my dresses and tell me if he likes them. He refuses to see them, but I want to know what shape he wants. I might come out in the most ridiculous thing ever, and he's going to be like 'Oy, what have I done?'"