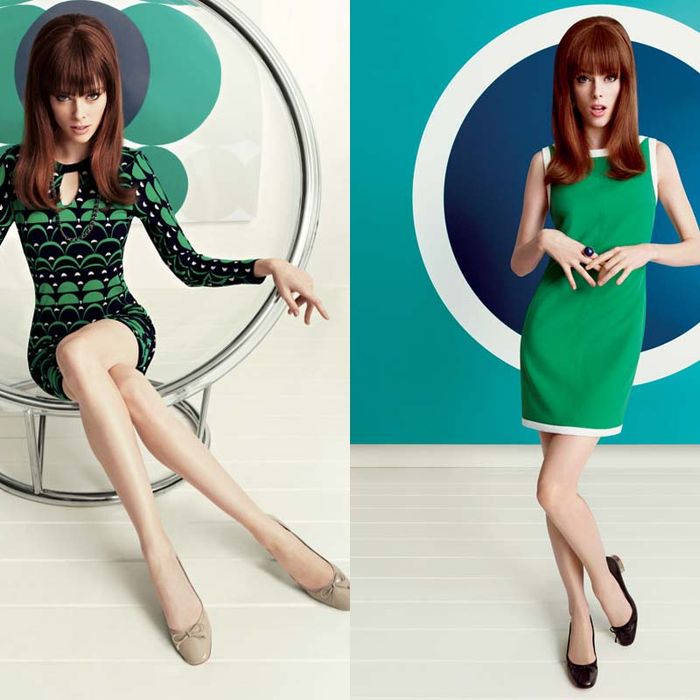 Coco Rocha in Mad Men for Banana Republic.
Photo: Banana Republic
When Coco Rocha's campaign for the new Banana Republic Mad Men collection dropped yesterday, several customers complained that she's too thin to represent the show's curvaceous female characters, whose hourglass silhouettes supposedly inspired the designs. Today, Rocha defended the images to Entertainment Weekly:
It was fascinating because we also shot in a style that was heavily used in '60s photos, and I've never shot in that kind of framing before. It's a Twiggy sort of style where the [models' faces are angled] forward, and their bodies look smaller. I think we really got the essence of a '60s campaign.
As we suspected, these clothes (and the corresponding campaign) were indeed inspired by Twiggy and the modish styles of the late sixties, as opposed to the more fitted, Joan Harris–friendly outfits that were popular earlier in the decade. (Those Mary Quant–esque dresses are experiencing a resurgence on runways these days, too — see all of Marc Jacobs's spring 2013 designs, for example.) It'll be interesting to see how costume designer Janie Bryant adapts these changing fashions into the show's sixth season.