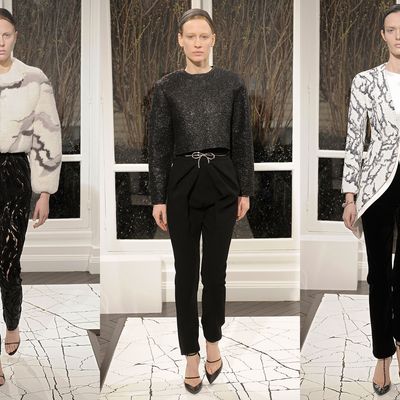 Alexander Wang for Balenciaga.
Photo: Getty Images
Alexander Wang's Balenciaga debut, easily the most anticipated show of the season, was met by the fashion critics' equivalent of "That'll do, pig." Wang's dutiful references to Balenciaga's archives were given approving nods, and while he didn't blow anyone's minds, he also delivered an elegant range of clothes that are both wearable and in line with the fashion house's traditional aesthetic. The reviews are now trickling in, and while they're all positive, none are ecstatically so. (This was no Raf Simons for Dior, in other words.) On the other hand, he has proved himself capable of handling a major heritage brand, countering initial doubts.
Cathy Horyn, who hasn't always been a big Wang fan, was surprisingly enthusiastic about the show, tweeting her approval immediately afterwards:
Alexander Wang steps up to Balenciaga with a solid debut that plays on classic shapes in a modern, minimizing way. Great textures too.

— Cathy Horyn (@CathyHorynNYT) February 28, 2013
And later added in her glowing review:
Mr. Wang brought his street smarts to those couture volumes that are indelibly Balenciaga. He minimized them so that they looked more realistic for today. He reduced the construction so that, in effect, the look was a top and a pair of trousers, or over-the-knee boots in black suede modestly decorated with silver metal knots. But the results were not boringly minimalist.
Meanwhile, the FT's Vanessa Friedman was a more measured in her approbation:
It was clean, it was exact, it didn't rock the boat (or the brand). It was, as the French say, pas mal.
The London Times hailed the range as "Balenciaga's brave new future," and critic Laura Craik stated in her review:
They were big shoes to fill, but Wang stepped into them seamlessly. He drew a shade more literally from the Balenciaga archives than Ghesquiere tended to, but nobody could fault him for this, since Cristobal Balenciaga is one of the greatest designers ever to have grasped a pair of scissors.
Buyers liked it too, she added:
"Balenciaga's brave new future" - Wang debuts with success #pfw thetim.es/Wjycrw

— Times Fashion (@TimesFashion) February 28, 2013
Harper's Bazaar will certainly be shooting the pieces posthaste, per Glenda Bailey:
Alexander Wang for Balenciaga was a lesson in chic restraint -GB #gb #instareviews instagr.am/p/WRtU73Q3e1/

— Harper's Bazaar (@harpersbazaarus) February 28, 2013
And British Vogue's Alexandra Shulman will too:
Perfectly simple @balenciaga @britishvogue twitter.com/AShulman2/stat…

— Alexandra Shulman (@AShulman2) February 28, 2013
The IHT's Suzy Menkes liked everything, but thinks there's plenty of room for growth, stating in her review:
[I]t looked effortless, as though the designer, at only 29 years old, had reached the essence of what the famous couturier stood for: sculpted elegance… All this was a promising start. Yet there is still some way to climb the mountain of Balenciaga's heritage… What was lacking was the perfume of the American/Chinese designer himself.
Vogue was delighted with it too, not that they'd ever breathe a negative word against Wang or Balenciaga anyway. From Hamish Bowles's review:
Instead, Wang managed to play with some signature house ideas, married to the austere, sculptural quality for which Cristóbal Balenciaga was celebrated in the late fifties and sixties—while never making the clothes look retro. 
All in all, Wang has proved himself with a solid and uncontroversial start in Paris. We'll keep you posted as more reviews come in.