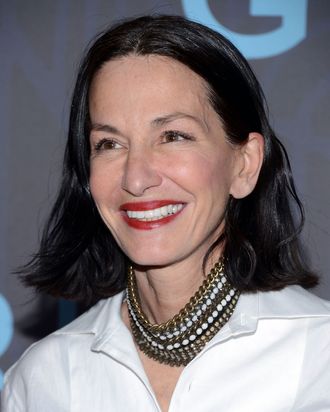 Photo: Andrew H. Walker/Getty Images
A party for a hand wash is a tough sell, no matter the glitzy venue (the Gramercy Park Hotel rooftop), high-profile designer involved (Cynthia Rowley), or chic timing ("pre–Fashion Week"). But Lysol did its best this week as the household disinfectant celebrated its new partnership with Rowley. "Vive la Touch of Foam!" the designer welcomed the room of press and Lysol execs, referring to the company's new Touch of Foam range, the products being celebrated.
After trying a Touch of Foam specialty cocktail — which did not include any Lysol, we think — we made our way to one of the several hand-wash stations. "I can give you a hand massage or you can wash your own hands," a nice man with a southern lilt proposed. We opted for the former, which involved warm water, a dollop of "Rose & Cherry in Bloom" foam — which also comes in Creamy Vanilla Orchid and Wild Berry Bliss scents — and what felt like a slightly long, awkward, handshake. Our hands did feel very soft and clean after he finished.
So what was Rowley, wearing a paillette-adorned sweatshirt of her own design over black shorts, tights, and studded black heels, doing at a Lysol party? The brand approached her about judging a package-design contest for the antibacterial hand wash, and she was into the idea.
"I truly have been obsessed with Lysol forever — well, I shouldn't say 'obsessed' because then it sounds like there's something wrong with me — but I use it all the time at work. With all the models coming in and out of the office, and trying on shoes and doing fittings, it's really important to use a lot of Lysol." Just the other day, she says, "one of my assistants broke her keyboard from overspraying it with Lysol. At first I was kind of pissed, but then I was like, well, I guess it's good that she's trying to stay healthy."
Rowley, whose new Upper East Side boutique opens next week, is not one to shy away from a seemingly unsexy collab. Prior to Lysol, she teamed up with Band-Aid, Pampers, and Tweezerman on Cynthia Rowley–designed bandages, diapers, and tweezers. But she can back up her business choices. Pampers? "It seemed so obvious to me that the first thing a human ever puts on should look like clothing." Band-Aids? " I always thought it would be awesome to put your label right on someone's body." Tweezers? No explanation was necessary.
But this season, as Fashion Week has found some way to make even germs seem in demand, teaming up with Lysol seems particularly prescient, and it would be the ultimate irony if all that disinfectant didn't protect her. "Oh no! Do you think I jinxed myself?" Rowley asked. But if she gets sick, there's an opportunity there: Cynthia Rowley for Theraflu.