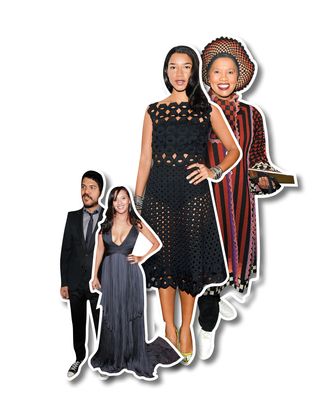 Photo: photographs: Joe Schildhorn / BFAnyc/Sipa USA / newscom ( hannah); patrick mcmullan ( sherry) ; Charles Eshelman/Getty Images (vanessa); Larry Busacca/Getty Images (ben)
Hannah Bronfman scrolls an ornately manicured finger across the iPhone displaying her new app, Beautified, which helps New York ladies find last-minute spa and salon appointments, and clicks the icon for "Blowout." "I mean," she says with wide-eyed sincerity as a list of available salons pops up onscreen, "this could revolutionize the way women book beauty appointments!" Tall and caramel-skinned, in a knit cap that smells faintly of pot, the 25-year-old socialite doesn't exactly look like someone you'd expect to be descended from the Russian-Jewish immigrant founder of Canadian liquor giant Seagram's, but as she chatters about the company she has started with two partners, her entrepreneurial genes are as visible as an ancestral nose. "We just know it's going to be a great story," she says.
We're sitting in Acme, a restaurant in which Hannah is an investor, waiting for her mother and her brother Ben to arrive. The Bronfmans are a huge, prominent family and no strangers to the public eye—there's the Bronfman who was famously kidnapped, and the Bronfmans who were in that cultlike group up in Albany—but Hannah's offshoot of the clan (her mother is the Shaft actress Sherry Brewer, her father former Warner Bros. executive Edgar Bronfman Jr.) is the most glamorous, and probably the most fun.
Ben arrives first, his 4-year-old son slung over his shoulder like a shawl. "He swore he wasn't too tired to come," he says, attempting to arrange Ikyhyd Edward Arular Bronfman, whose mother is the singer M.I.A., into an upright position on the banquette. "And then as soon as we got here …" Plunk. Ikyhyd topples over.
You can't blame him; being a Bronfman seems kind of exhausting. In addition to her start-up, Hannah D.J.'s, and writes, and just got back from the Sundance premiere of the film she appeared in, Milkshake, and is out pretty much every night of the week. Ben has a company that's invented a "patented technology that takes carbon out of the air"; he also plays guitar and sings in a band called Teachers, did production work on a Kanye West single, and is scoring an independent film. Their sister Vanessa, a singer and actress, dabbled in New York real estate before recently moving to Hollywood to fulfill a number of dreams. "I want to be the cute, black, Jewish Jon Favreau," she tells me over the phone. She also has a stake in an organic-vodka company. All of this would make them seem laughably dilettantish if they weren't so incredibly earnest. "It has to do with the way we grew up," Vanessa says. "Our parents definitely told us we could be anything, or more than one thing, or more than two things."
It takes a while for Sherry to make her entrance, which she does in a flurry of air kisses and jangling accessories.
"Mom, you look so chic," says Ben, admiring her ensemble: a blazer encrusted with snaps under a sequined scarf topped by a soft rainbow swirl of a turban. I wonder aloud if it is the same as the one I'd seen her in a few months before.
"No," she says confidently. "The other hat is one of a kind, by a lady named Linda Mendelson. This is Missoni, and it is boiled wool."
"She always remembers what she is wearing," Hannah says.
This talent becomes evident as Sherry launches into her tale of how this batch of Bronfmans came to be. "I was visiting a friend, Dionne Warwick, at the Ed Sullivan Theater," she begins, taking a dainty sip of Champagne. "She was doing a show called the Rompin Stompin Jazz Show. I was a Buddhist, I mean, I am a Buddhist, but Herbie Hancock was in the show, he had come to a group of us, and he was like, 'We're having trouble with this show; can you come and we can all chant together?' And we all said, 'Yeah, sure.' So we all chanted together for the show to be a success, and then after the show Dionne asked me if I'd come back the next day and sit with her, because her manager had just passed away and she had just divorced her husband for the second time."
"Same husband, different divorce?" asks Hannah.
"Yeah."
"Sounds familiar," says Ben. In the Bronfman family, this has happened at least twice.
His mother continues. "So I said, 'Sure, I'll come back tomorrow.' And I went back and I was with her, and he came in."
"Who, Dad?" Hannah asks.
"Yeah, and she was not in a good mood."
Like his children, Edgar Jr. had varied ambitions and the means to pursue them, and at the time, he was dabbling as a songwriter while producing Broadway shows, films, and a television program Warwick was set to star in.
"She was so cold to him, and I remember being so impressed because he was so nice. And he came in and went straight to her and didn't even look at me, but he went downstairs and told everyone, 'There's a girl in Dionne's dressing room, and she's not leaving until I know who she is.' "
"Gross," groans Ben.
"I have never heard half of this," says Hannah.
"You should ask!" says her mother. "When you ask, I can remember details. Like I remember what I wore when I was pregnant with you. I had this dress, it was red-and-white checked, it looked like a tablecloth. And I took gold ribbon and I strung it with these glass beads that were like fruit and vegetables, and I wore it as a necklace. And I'd wear baby-doll flats from Susan Bennis Warren Edwards."
"That was one of the first things I was able to read," says Hannah.
"She actually sat and copied the letters off the shoe boxes," Sherry laughs.
"M-A-N-O-L-O," says Hannah.
Sherry grew up on the South Side of Chicago. A dance scholarship brought her to New York, where she landed a role in Cab Calloway's all-black version of Hello, Dolly! and, eventually, the role of the kidnapped daughter of a mobster in Shaft. "I had no idea how cool Shaft was until I was a teenager," says Ben, nor did he appreciate the fact that his mother was once engaged to Miles Davis until reading about her in the jazz legend's autobiography. Miles Davis! Why did they break up?
"Because," Sherry begins, then stops. "Because … because …"
"Because he was crazy!" Ben interjects.
Sherry laughs. "It was hard, because I really cared about him. That's when I started meditating."
Edgar's decision to marry Sherry didn't go over well with his family; according to his memoir, Edgar Bronfman Sr. felt their children "would have a difficult time being accepted by Black or White society," a prediction that, though it would prove hilariously false, stung at the time. The couple eloped to New Orleans, and it was years before they returned to New York so that Edgar Jr. could take over as the head of Seagram's. They settled in a townhouse on Riverside Drive, high in the Nineties. "Edgar found it," says Sherry, "But everybody was like, 'Oh my God, she's taking him to Harlem!' "
While her husband went to work putting together a deal for the company's doomed acquisition of Universal Studios, Sherry set about redoing the house. She decorated in vivid colors, watermelon pinks and lime greens, had trompe l'oeil theater curtains painted on the elevator, and "painted the roof purple," she says. "And then I painted a big blue rectangle, like a swimming pool, in a real pool color. Then I put chairs around it, so that when helicopters flew over people would think, Those people have a pool on their roof."
At cocktail parties, the children mingled with guests like Arthur Ashe, Samuel L. Jackson, and Motown songwriters Nick Ashford and Valerie Simpson. "It was a really interesting dynamic," says Ben. "We would go to see my mom's family, who were not wealthy, and then go to my grandfather's house on Park Avenue, which is just very, very formal."
Sherry and Edgar Jr. divorced not long after Hannah was born. "It's hard for me to even imagine you together," Hannah says to her mother. "You are so different."
Sherry nods. "We once had a big fight because I always wore color," she recalls. "We went to a political fund-raiser, I ­wanna say it was for Bella Abzug or something. It was on Park Avenue. Everybody was there. Diane Von Furstenberg, Marisa Berenson. When we were on our way he was furious with me, because I had on this white dress with little spaghetti straps, and it fitted at the waist, it was matte jersey, and I had on these little strappy heels, and this big ceramic necklace—it was sculpted, and it was fruits in these bright, bright colors—and he did not even want to walk down the street with me. He was like, Haven't you ever heard of beige?"
Edgar Jr. has since remarried and created a new subset of Bronfmans on the Upper East Side. As for Sherry, she has found other people who appreciate her sense of style. "Kanye called me a couple of years ago asking for creative advice when he was making the video for 'Runaway,' " says Ben. "I was like, 'Dude, I don't know. You should talk to my mom.' "
Sherry had Kanye meet her at Henry's, the Upper West Side institution. "He had just gotten his gold teeth," she remembers. "He was like, 'You wanna see my grill?' I was like, 'Did it hurt?' He was like, 'Do you want to touch it?' I was like, 'Kanye, I am not putting my hand in your mouth.'" For two hours, they discussed Egyptian art, the Dead Sea Scrolls, and other matters.
"Kanye and I went on a date once," Hannah adds. "We went to the Jane Hotel, and then afterward we went back to his place and I helped him pack."
"Did you fold everything, like how you were taught?" asks her mother.
Hannah gives her a look. "By the way," she announces. "I didn't see Shaft until much later, because I didn't let my mom take me to films for a long time, because the first time she ever took me to a movie was The Learning Tree, when I was 6, and I was traumatized."
"They were honoring Gordon Parks at the Directors Guild, and they had all these people there," explains Sherry. "It was a very important movie. But she was maybe a little young for it."
"Maybe," Hannah says indignantly. "Who brings a 6-year-old to see a black person hanging from a tree?"
Sherry is unperturbed. "Well, you were a New Yorker. And you met all these people."
"I probably couldn't speak to them," Hannah protests. "I was probably too scared."
Sherry laughs. "Yes, you did! You went right up to them and said, 'I think you should put me in your movie.' "
*This article originally appeared in the February 18, 2013 issue of New York Magazine.