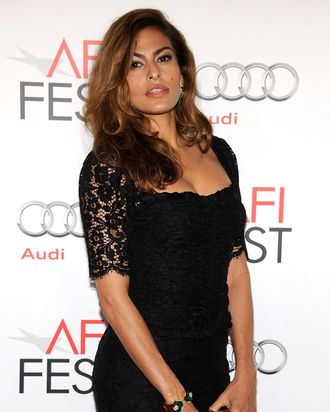 Photo: VALERIE MACON/Getty Images
Replacing Kate Hudson as America's latest actress/designer, Eva Mendes is working on a clothing and accessories line for New York & Co. as part of her new contract with the chain. She plans to turn out four Eva by Eva Mendes collections per year — there will definitely be dresses, pants, and jeans, WWD writes — and she's going to sign off on all of the designs herself.
Mendes has already participated in a few creative meetings. "The other day, I went to the office with half my closet," she said. "Part of the fun is coming up with the designs and looking through my closet. There are a lot of prints and lots of color. Black can be very chic and very New York," but Mendes realized that her wardrobe is comprised mostly of color and prints.
So, how did this odd-couple collaboration unfold? Greg Scott, CEO of New York & Co., told the trade, "When we asked our customers to name the celebrity they aspired to be, [Eva's] name came up again and again. Based on that, we went out and pursued her. It was a very long courtship." Eighteen months, by Mendes's calculation. Scott continued, "Our customer is not really sexy … She's confident. We don't use the word 'sexy.' Eva uses the word 'sexy' in a confident way. Now we can use the word 'sexy.'"
She will also star in New York & Co.'s ad campaigns and do some "interfacing with consumers," like Mrs. Gosling, no doubt.