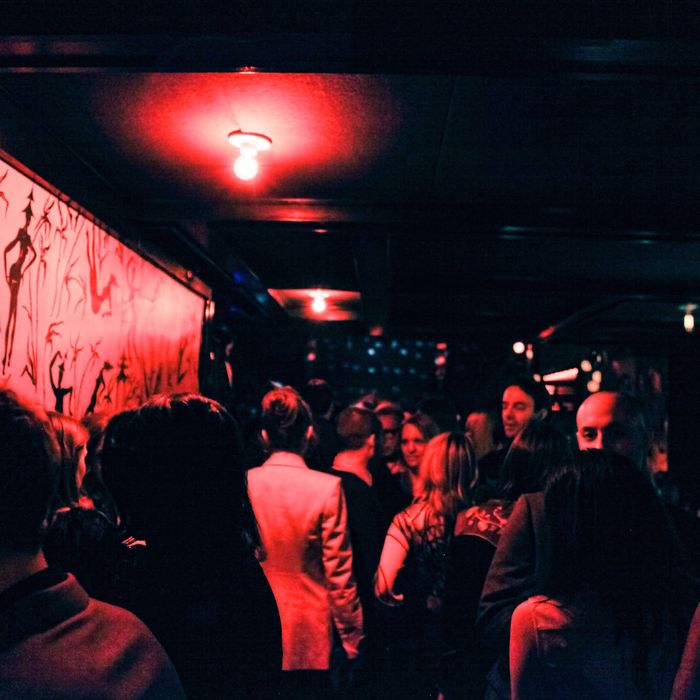 February Fashion Week is a fantastic time for crushing. Not only does it culminate on Valentine's Day, it also brings out a slew of perennial favorite fashion people from across the pond, and gives celebrities (of all levels) a reason to come out in the cold and interact with us in real life. Plus, everyone is dressed up. Last night at the Cut's party at Le Baron, we took an informal survey of our staff and contributors: Who's your Fashion Week valentine? "I feel like I was crushing on everyone this season," said Stella Bugbee, editorial director, refusing specifics and forcing us to guess. Ciara? "It's A$AP Rocky!" offered up fashion features editor Kurt Soller. "Totally! She got his number. And by that, I mean she put him in her phone. And by that, I mean she Vined it."
"It's true," Stella confirmed, buzzing from her encounter at Jeremy Scott. "I'm obsessed with A$AP Rocky."(She was later spotted rapping along at the bar when the nineties got a brief break for "Fuckin' Problems.") She added that her perpetual fashion crush — Emannuelle Alt — also ballooned to epic proportions this season. Read on for more new crushes, enduring loves, and surprising fondness for facial hair.
Kurt Soller, Fashion Features Editor
I crushed on Wang. I was impressed. It wasn't sweatpants. I had low expectations; I don't normally wear Alex Wang, but I thought it was really kind of beautiful and striking, and the kind of theatrics you don't get in New York.
The Cut: What about an actual person?
I just met Preetma [Singh] today, and I thought, "You're even better than in the pictures."
Stella Bugbee: And she has a band called Vomitface.

Charlotte Cowles, Senior Editor
Riccardo Tisci and his new 'stache. He is such a sexy man. His mustache is creepy, but I admire him for it anyway. It's so Bert from Sesame Street. [Ed note: That was actually a unibrow, Charlotte.] I like that he doesn't style it. It's wild and glossy and robust.

Diana Tsui, Senior Market Editor
The model, Soo Joo, with the bleached blonde hair. I want her hair.

Christina Han, Beauty Editor
My ongoing crush is on Paul Hanlon, a hairstylist out of the U.K. He did Proenza tonight. He did Altuzarra. He did a bunch of shows. He's the dreamiest. He refers to all the editors as "dah-ling." He's British; he's tall; he has dark hair. But he wears like, Japanese street clothes — like, OshKosh denim shirts and a little newsie cap. He has one of those incredible creative minds. He's so brilliant. I'm so not that person to be like, "I love him for his mind." But I love him for his mind. Because he's handsome. Because he's British. Every beauty editor looks forward to Paul Hanlon. 

Sally Holmes, Fashion Producer
Mine is Taylor Tomasi Hill. I see her in the street style blog so often; you become numb. And then you see her in person, and you're like, "Oh. Yeah." I saw her at Cushnie et Ochs. Her hair is just so freakin' red.

Amelia Diamond, Contributor, New York Magazine
Oscar! Oscar de la Renta reminded me why I like fashion. It's easy to get jaded and that show made me a total dork again. Fashion butterflies.

Ally Betker, Formerly of the Cut, now of Vogue
My new Fashion Week crush is Liu Wen, the model. She's so sweet in person, and is just as pretty in person as she is in pictures. I interviewed her at Carolina Herrera and she was very sweet, and then I saw her later that day at Philip Lim and she felt the need to come up to me and say, "By the way, I'm Liu Wen." And I was like, "I know who you are!" It was adorable. Now I love her.
Sarah Frank, Video Editor
My Fashion Week crush is looking at all the hot people in the live streams before the shows start. So I have a hundred Fashion Week crushes. It's the best people watching.
The Cut: So your ideal Fashion Week valentine might just be hanging out before a show.
Yeah, just tweeting with them from afar. It's 2013. You don't have to talk to someone in person.

Jessica Morgan, the Fug Girls
I have a crush on the same person every Fashion Week: Vogue's Hamish Bowles. I like it better when he has the mustache. I miss it. I think he looks like a dapper, English gentleman and I just find him delightful.

Heather Cocks, the Fug Girls
It did not suck squatting down in front of Matt Damon for five minutes. That wasn't so bad. 

Bek Andersen, Photographer
I have a crush on Koo. He's the other street-style photographer for the Cut. I have a crush on his work. I don't think he's here. He sees chic in a really specific way. He calls it out on people I would never think to shoot. His first slideshow was so full of movement and love. 

Emily Shornick, Photo Editor
My Fashion Week crush is sleep. I just want to go to bed. For Valentine's Day, I'm going to bed at 6 p.m. That's all I want. [Places empty glass on bar.]