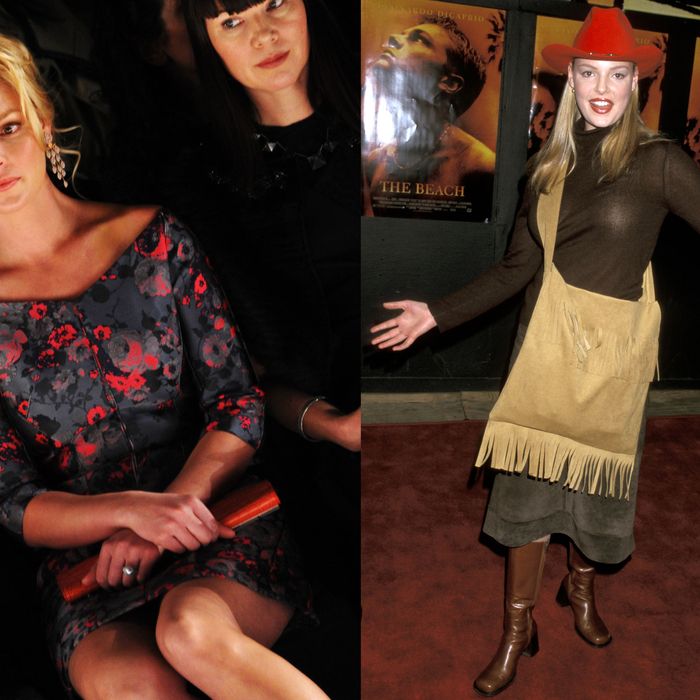 Photo: Mike Coppola/Getty Images, Jim Smeal/WireImage
Compared to having our spirits (and nearly our bodies) trampled during the Miley Cyrus circus at Rachel Zoe, the J. Mendel show on Wednesday felt like a really soothing spa day. Jena Malone and Katherine Heigl sat in the front row supremely calmly, and no journalists tried to puncture each other in an effort to get a scoop. It was almost like we'd all survived a near-death experience with a greater appreciation for humankind. Or that Heigl has been making the rounds a lot and nobody was going to get fired if they didn't get her photo. Regardless, we'll take it.
Heigl told reporters she's been making the rounds with a new stylist to sort through what kind of clothes they want to try for her, although she's not sure when, exactly, she can try them: "I don't have any red-carpet events coming up," she said. "So it's hard to say, 'Oh, I love that, can you hold it for me for, say, two years?'" She said the whole shopping and styling thing gets even trickier because of how often she gets photographed, meaning she feels like she can't splash out in a really awesome dress and then wear it as many times as she wants, or else people would think she'd lost her mind and/or her wallet. In that situation, you would probably catch us vacuuming weekly in all of our old fabulous one-off gowns, like some kind of servantless Norma Desmond. "There was one dress — my wedding dress. I was like, 'Please can I wear this one more time? Like, to cook dinner or something?'" Heigl said.
We overheard Heigl saying earlier this week that she considers herself hopeless at this fashion stuff, so we figured we'd ask her to elaborate. "I never know what works, and I get too matchy, because that's how I grew up — my mom always coordinated, so I always coordinated, and then people are like, 'No, that's too coordinated; it's not cool,'" she said. "And I also get too fixated on what's trendy, even though maybe it doesn't actually look good on me."
She shuddered visibly as she remembered her least favorite red-carpet fashion moment of all time. "I went to the premiere of The Beach, what, fifteen years ago or so? And I wore a red cowboy hat. A red cowboy hat," she repeated, thoughtfully offering details so specific that we were able to find an archived image of it (above). "I think my bag even had fringe. I thought it was so cool. I thought I was so cool." Ah, but who among us doesn't have a figurative, or possibly literal, red-cowboy-hat skeleton in our closets? She still seems pretty cool, and we don't need an impenetrable paparazzi scrum to tell us so.
See the complete fall 2013 J. Mendel collection here.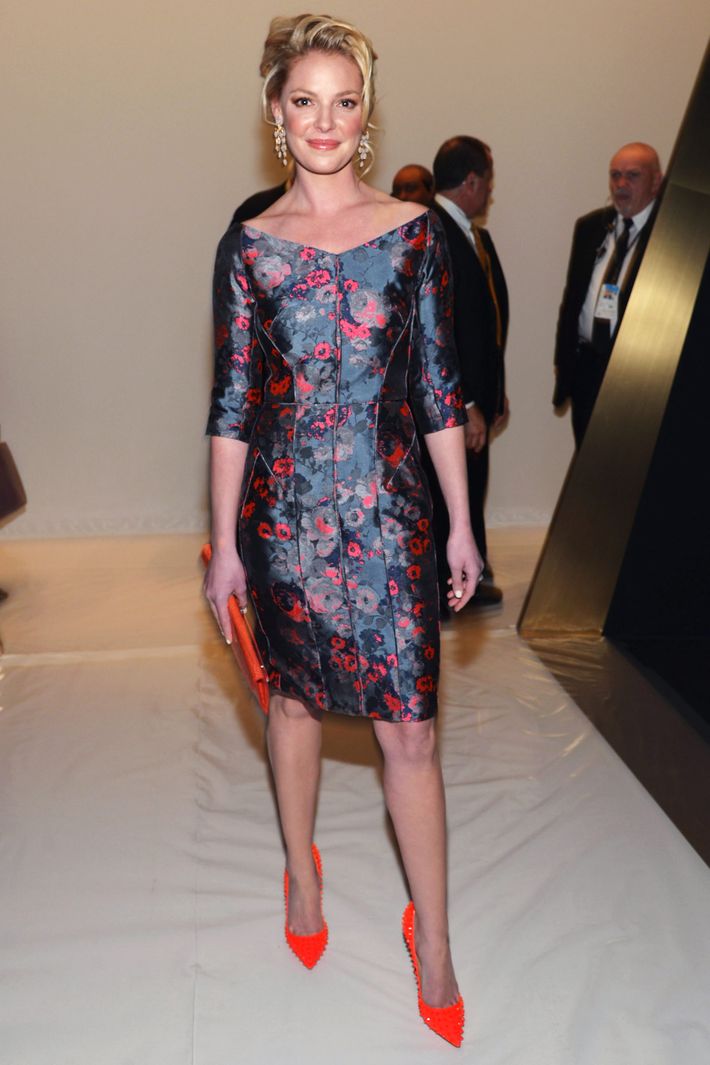 Katherine Heigl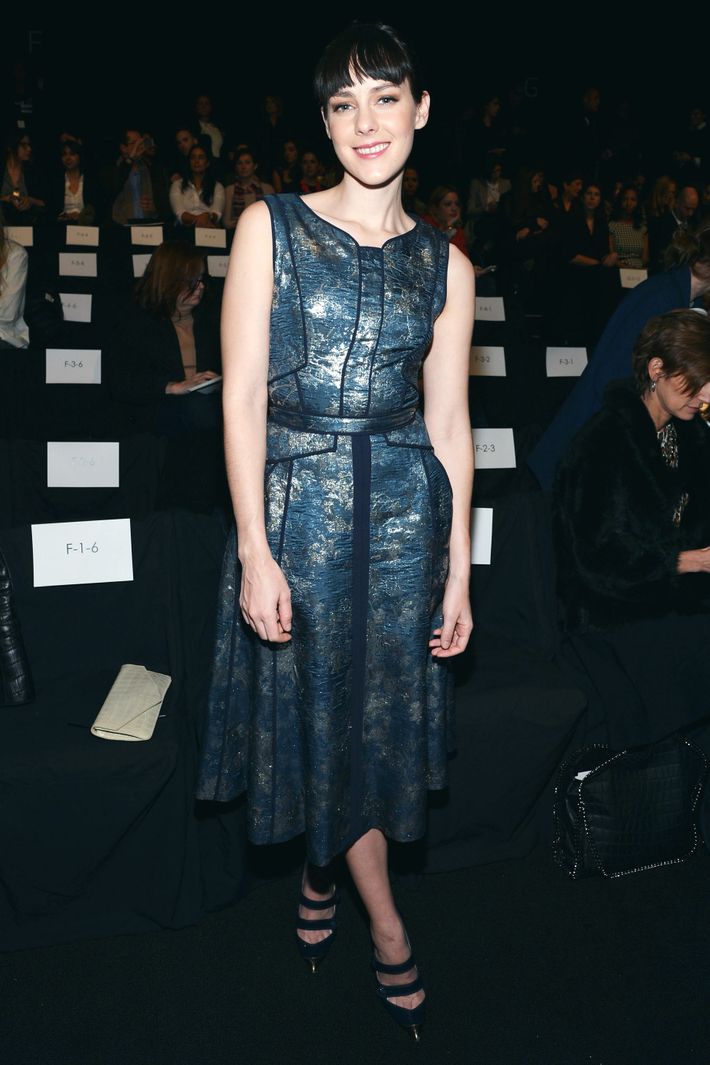 Jena Malone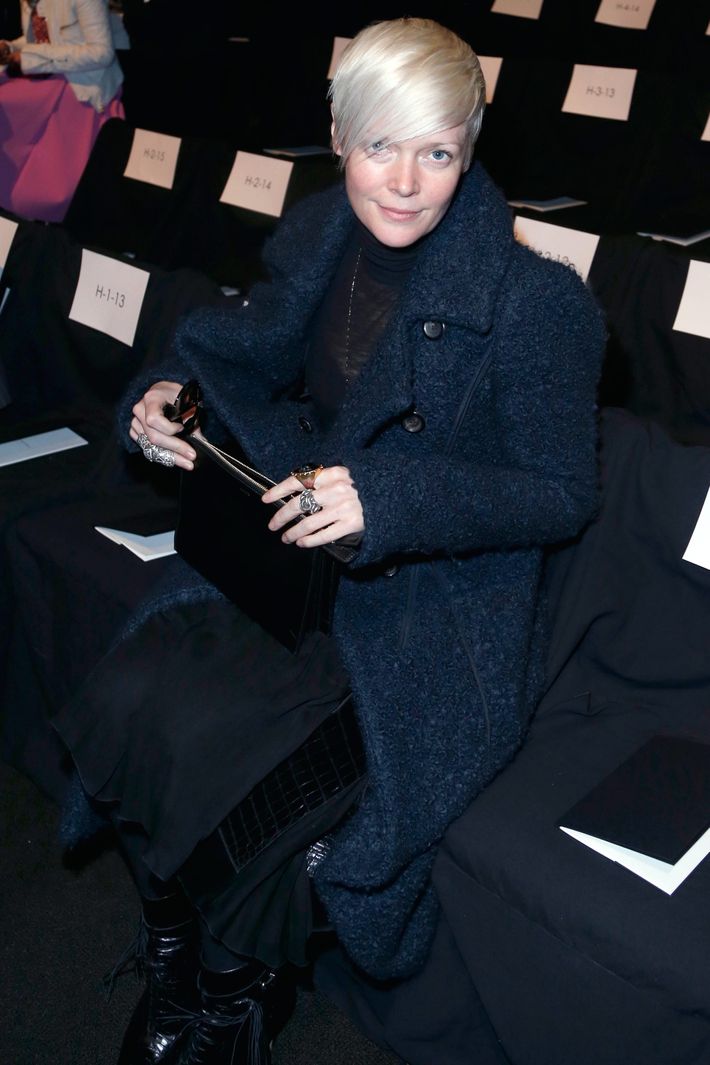 Kate Lanphear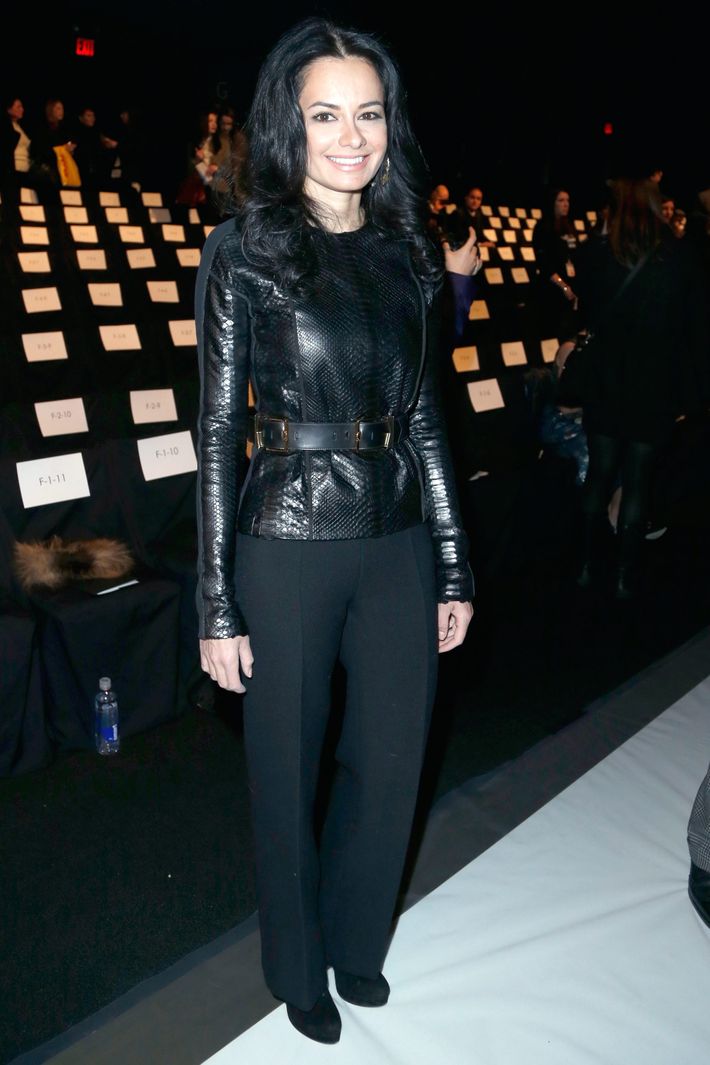 Dr. Lisa Airan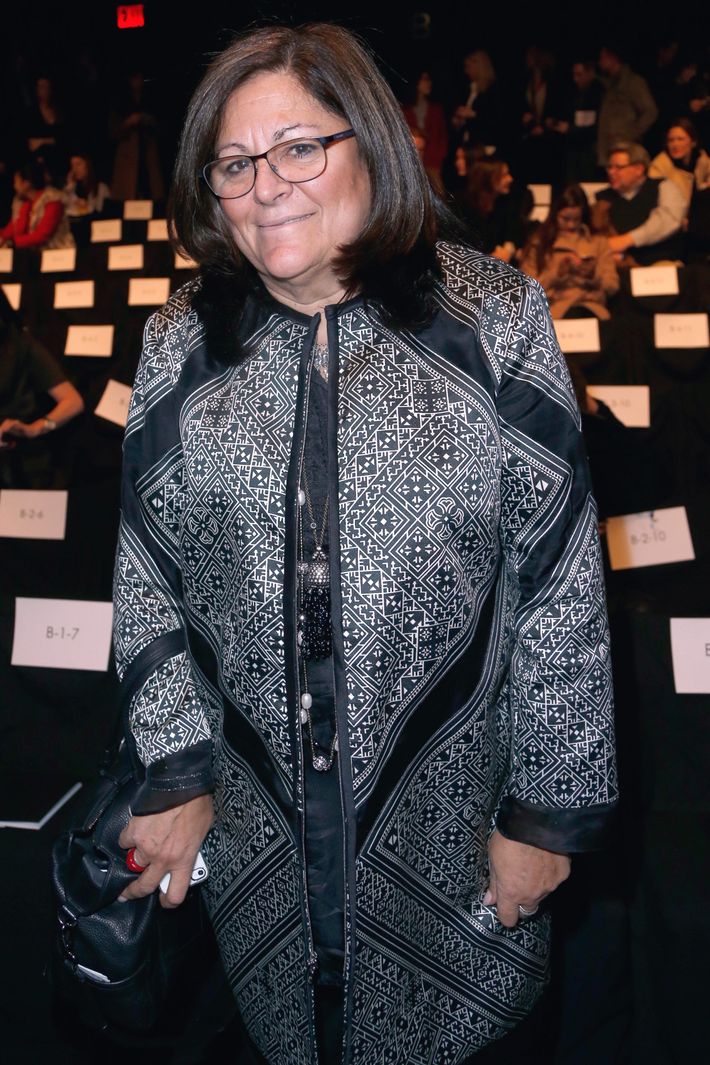 Fern Mallis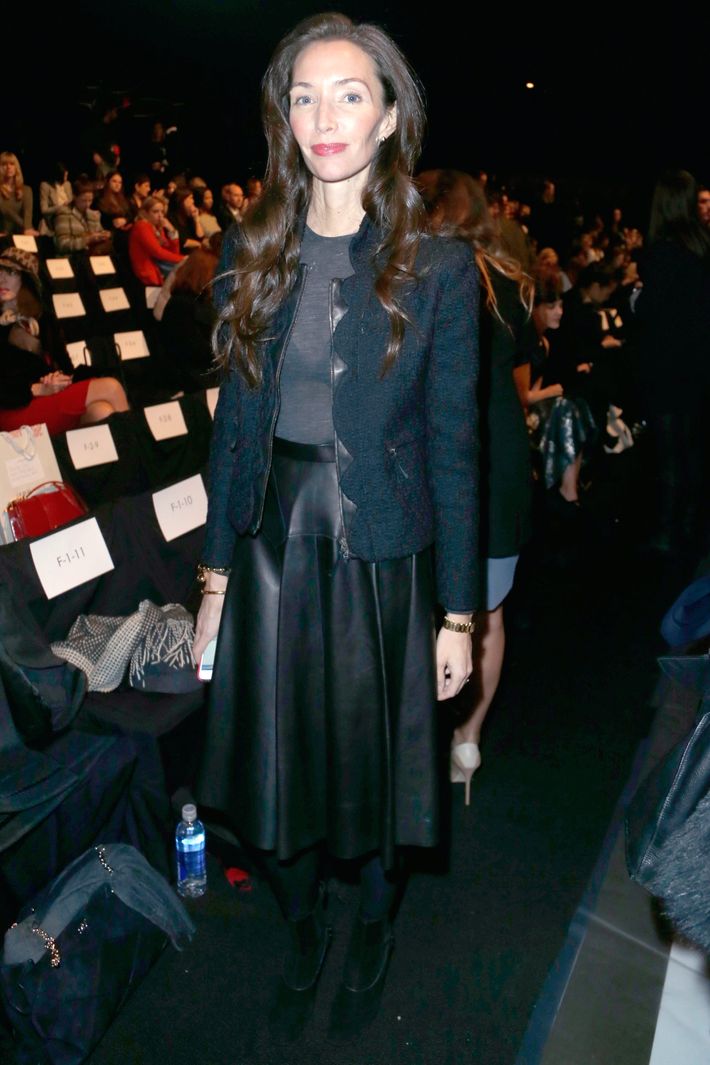 Olivia Chantecaille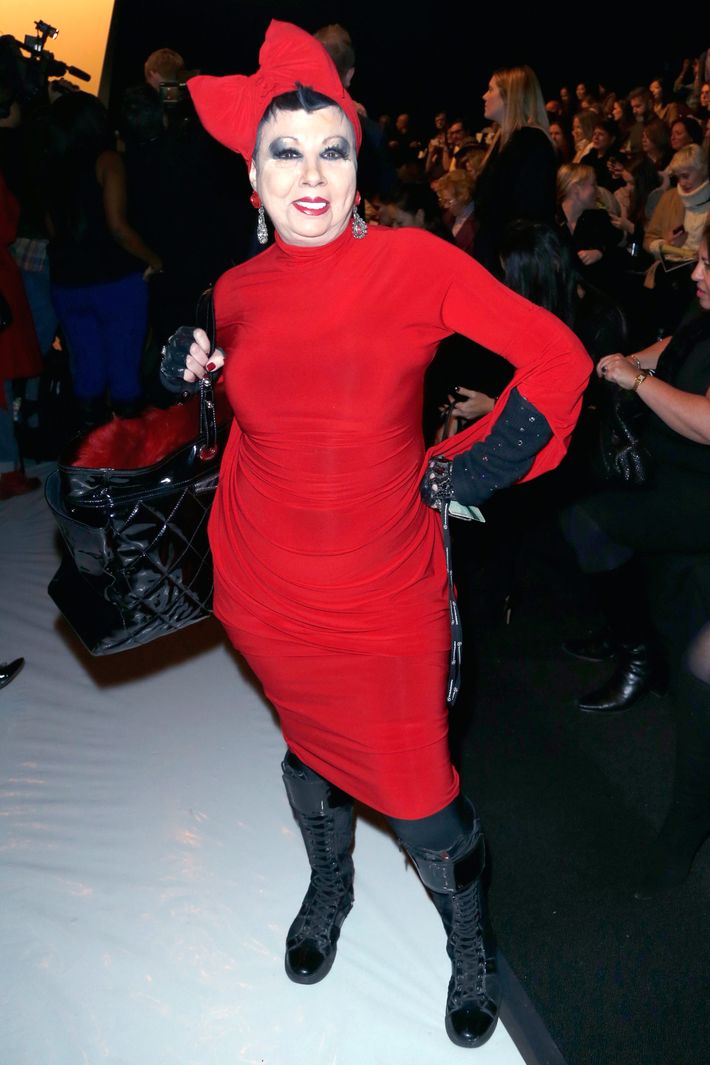 Rosemary Ponzo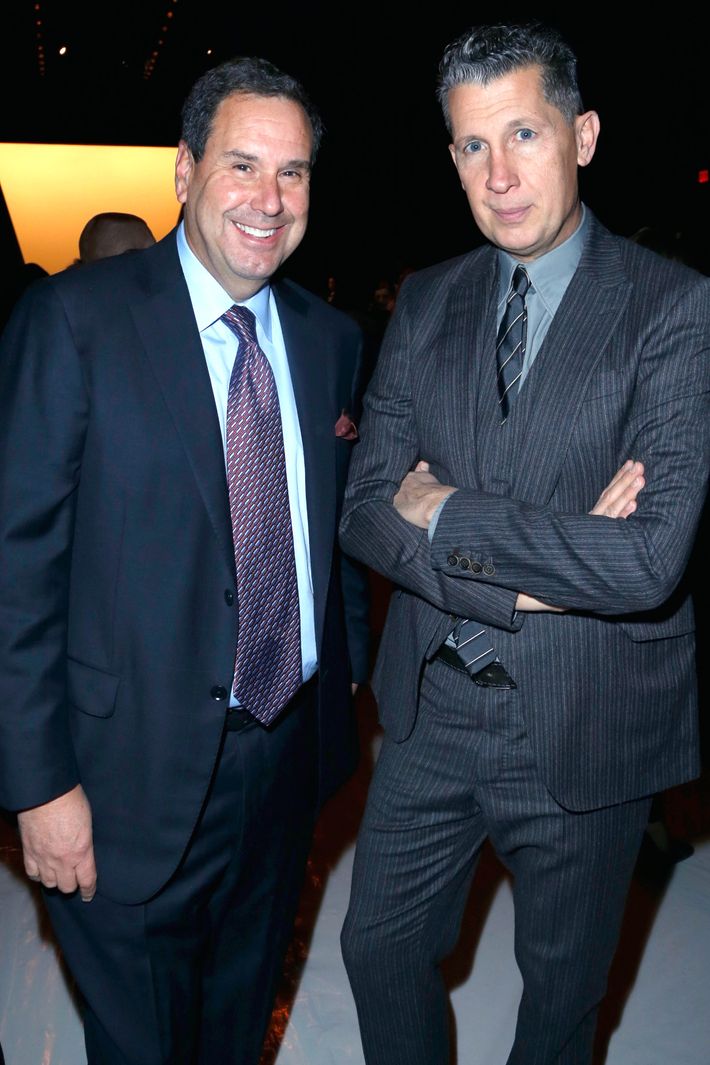 Steve Sadove and Stefano Tonchi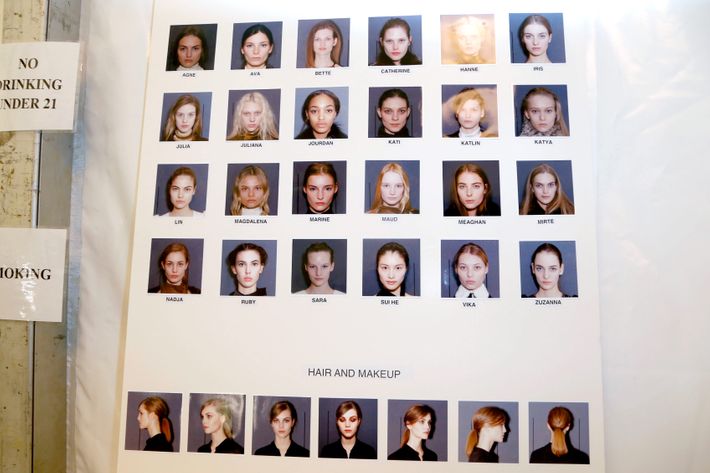 Backstage