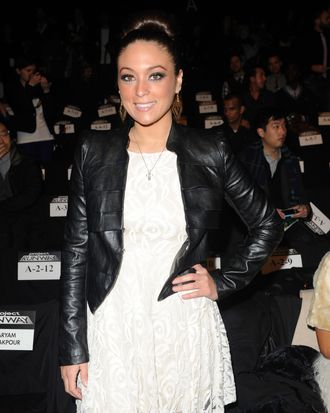 Photo: Harry Pluviose/Corbis
Every season, the front row at Project Runway is a mix of the show's celebrity fans, and famous people who weeks later we discover were guest judges. The trick is trying to sort one from the other.
At Friday morning's finale, though, it was a bit tricky. Marilu Henner sounded more like an aficionado than a participant; she arrived early (wearing a very shiny, very short dress by former contestant Michael Costello), entered with the rest of the civilians, and chatted vibrantly about how watching Runway has taught her a lot, comparing the team format to her 2008 stomping ground Celebrity Apprentice.  (We tried to listen for any gossip on Trump's grooming regimen, but came up dry.) On the other hand, if fellow front-row dweller Sammi "Sweetheart" Giancola from Jersey Shore served as a guest judge this season, then forget about the blizzard and batten down your hatches for a deluge of locusts and bullfrogs while you listen for the telltale sound of sixteen horse hooves. It is a bad sign for your brand when you're willing (even vaguely) to align yourself with the sartorial sensibilities of the Seaside Heights gang, and frankly, the fact that the Runway folks even let Sammi inside the venue has us, to quote Tim Gunn, "concerned." But if any of the guests we spied in the front rows this morning appeared on the current season, our money is on smoothly adorable New York Giants receiver Victor Cruz – sitting next to his teammate, cornerback Prince Amukamara – and sparkly spark-plug Kristen Chenoweth, who was clad in gold, and whom we overheard discussing one of her favorite jumpsuits. As charming as Cheno is, we also hope she wasn't a judge – does the world need anyone else championing jumpsuits to questionably talented designers?
Naturally, though, a jumpsuit is exactly what both Heidi Klum and Nina Garcia appeared to be wearing, the latter's being halter-style and all in black, and Heidi's a brightly patterned Gaultier paired with a black blazer, which seemed serviceable enough until she turned around and we saw a circle cut-out in the back with one lone, bubbling strip of black bisecting it. She must like making a big entrance and a big exit. Speaking of potential exits, the somber tone of Heidi's pre-show speeches this year – emotionally calling guest judge and former regular judge Michael Kors her brother, and expressing schmoopy love for all her fellow panelists – starkly contrasted last season, when she trumpeted that Project Runway would not be going anywhere. We're not looking to start any cancellation rumors, because we haven't heard any, but she certainly sounded nostalgic, and slightly sad. Should we blame Seal?
Usually, the show features collections from all the contestants who, as of the last airing, have not been eliminated. It is therefore the longest and most interminable hour in the world, filled with repetitively dramatic Project Runway music, half-hearted decoy collections from designers who've been out of the game for weeks, and a lot of speechifying from people who realize they may never get to do this again. But this time, we thought we had a reprieve: There are so many designers remaining in play for the folks at home that the show chose to show only a handful of collections, all anonymously. Obviously, we assumed this meant we'd see a maximum of five collections – the three actual finalists, and two bogeys to protect against spoilers. Mystifyingly, however, Runway decided it needed no fewer than EIGHT collections, and some of them were so awful that we are actually praying the designers phoned them in knowing they wouldn't have to associate their faces with them. One designer outfitted models in what looked like giant, boxy, red 3D glasses. Our notes from the third show say "boob squiggle," "hot pants," and "OVERALLS!!!! WTF." From the eighth and final collection, every description we wrote began with "ugly" or "messy" until our souls expired and we noted, "So awful we can't EVEN."  At one point we wrote, in all caps, "BORED" – which was also the body-language of everyone in the audience by the time half the collections had walked.
The good news, though, is that a few of the collections – hopefully the ones still in the running to win – were well-made and cohesive, plus interesting to behold: The seventh had some nice gold elements to it, and the fifth collection had intriguing shapes, and we were deeply amused by its knit sweater with a physiologically accurate heart depicted on it, dribbling blood down to a red hem. Considering that Fashion Week always falls around Valentine's Day, a sweater that nods to the idea of having your heart ripped out of your body feels deliciously snarky and macabre. Not to mention that, by that point in the spectacle, we were beginning to feel like our internal organs were failing. By the time Tim Gunn emerged from backstage at the end and noted aloud that the show had been "stunning," we could only sigh and agree: At times we did feel stunned. Maybe after eleven seasons, Sammi Sweetheart isn't such a strange reach, after all.
Click here to see all eight of the Project Runway collections in our ever-growing NYFW slideshows.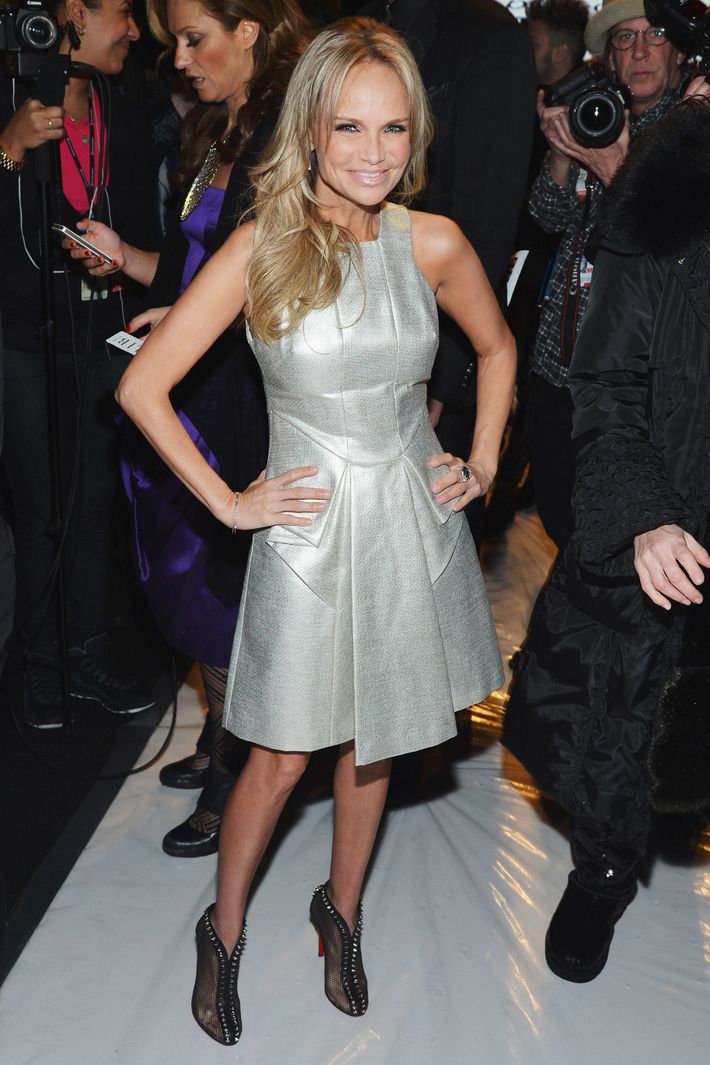 Kristin Chenoweth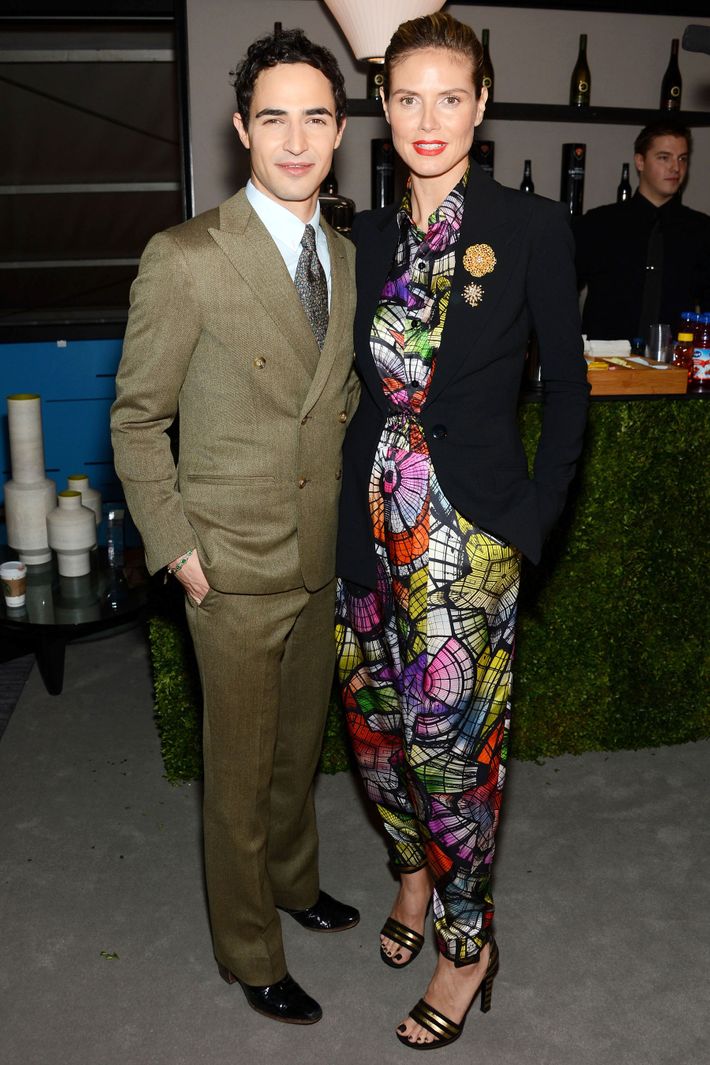 Zac Posen and Heidi Klum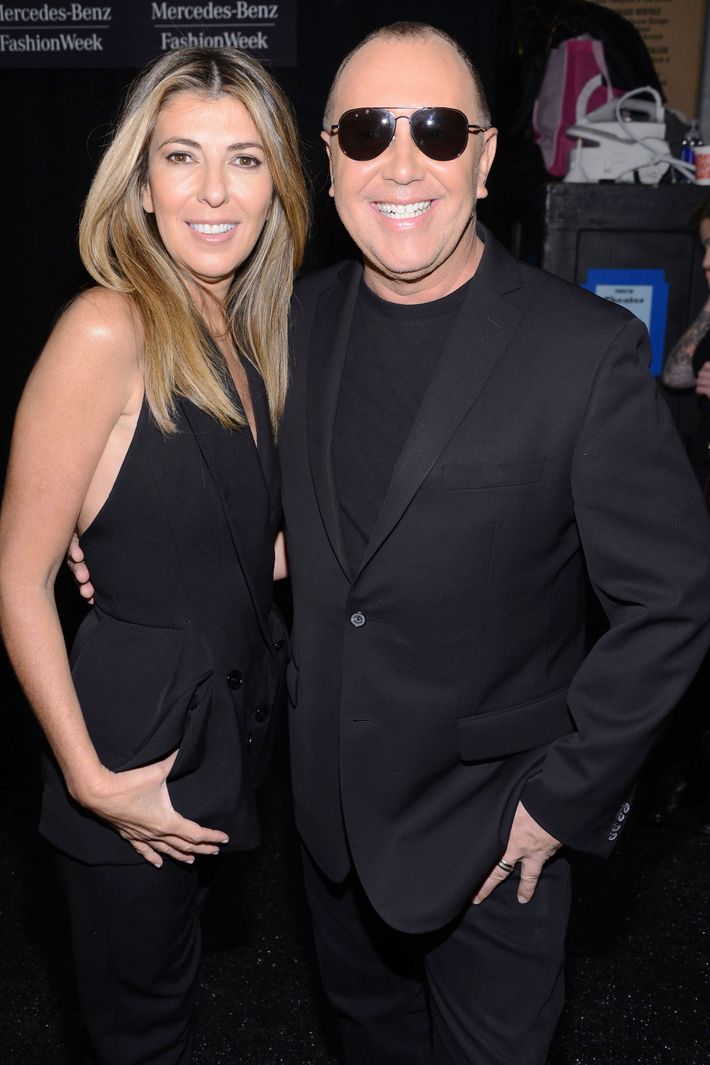 Nina Garcia and Michael Kors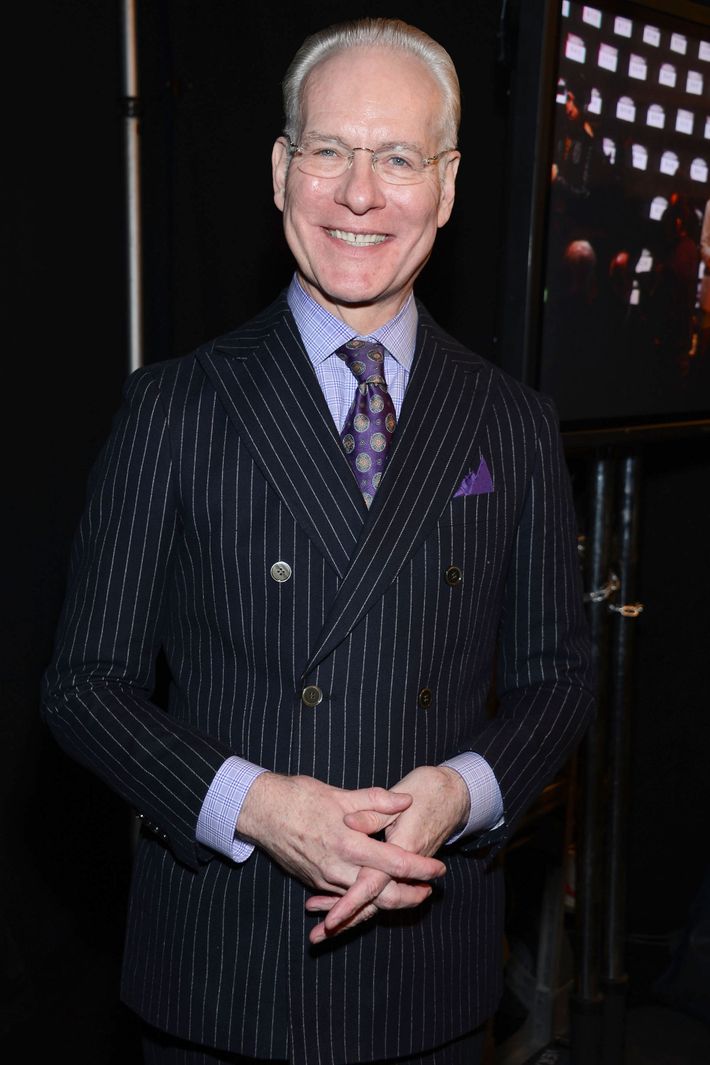 Tim Gunn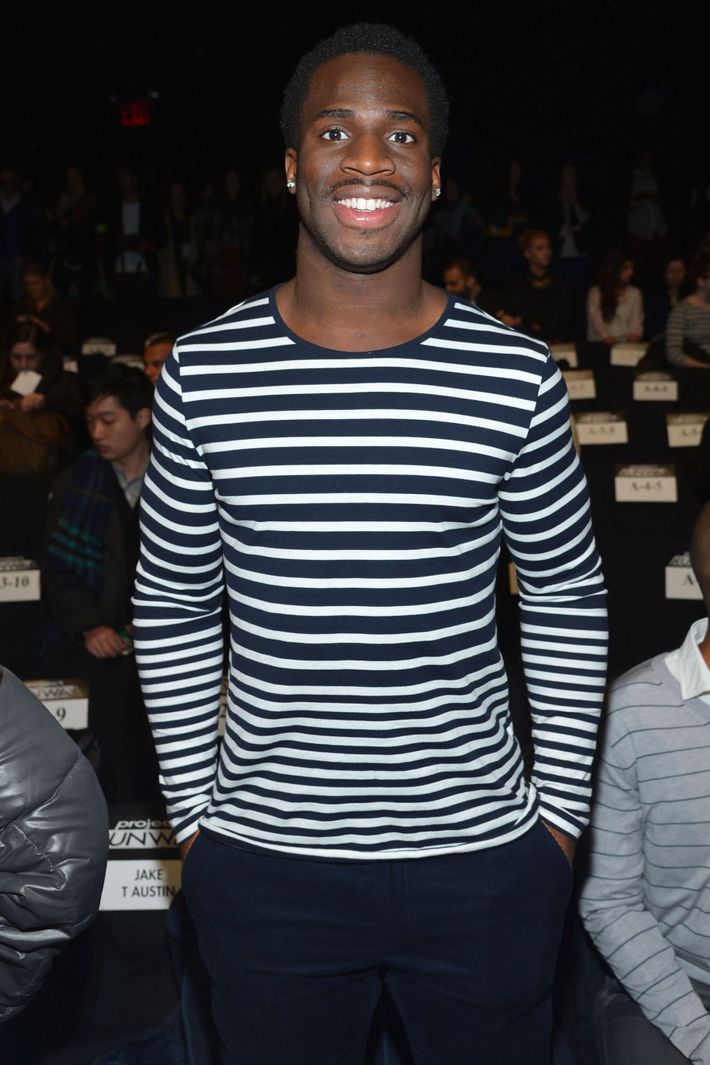 Prince Amukamara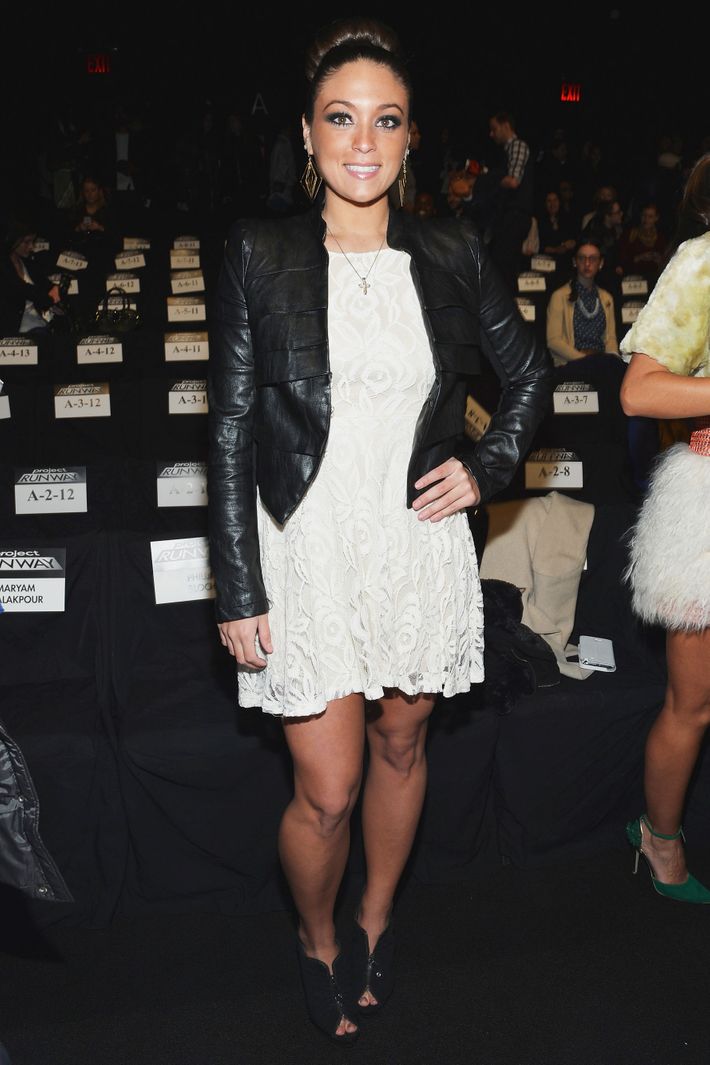 Sammi Giancola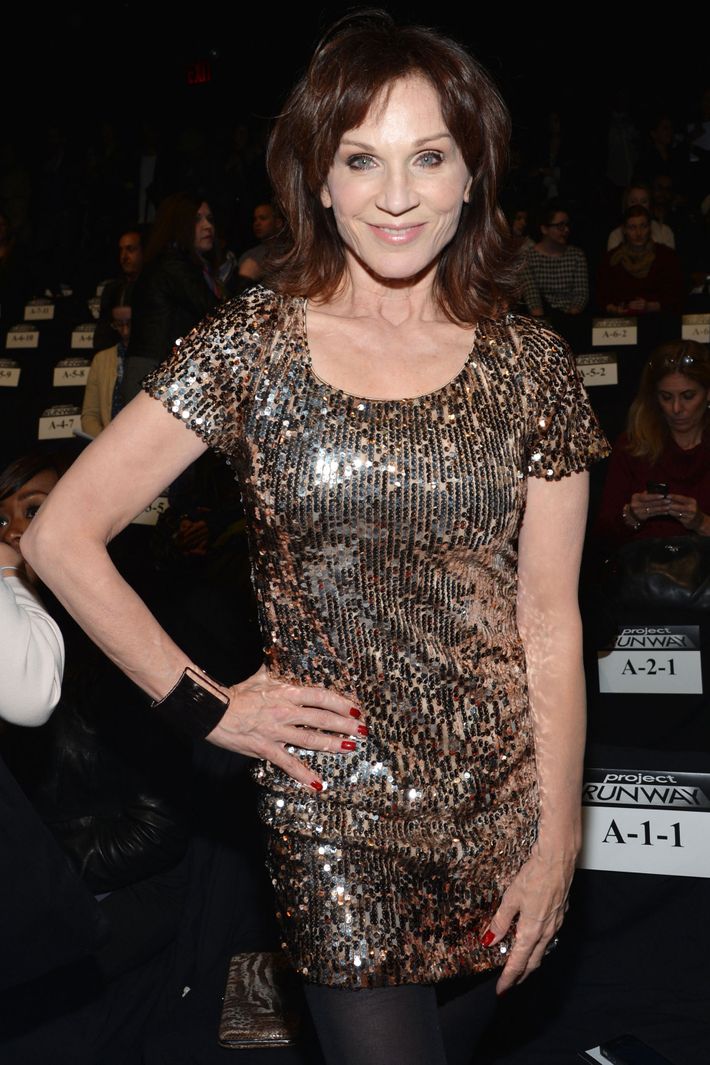 Marilu Henner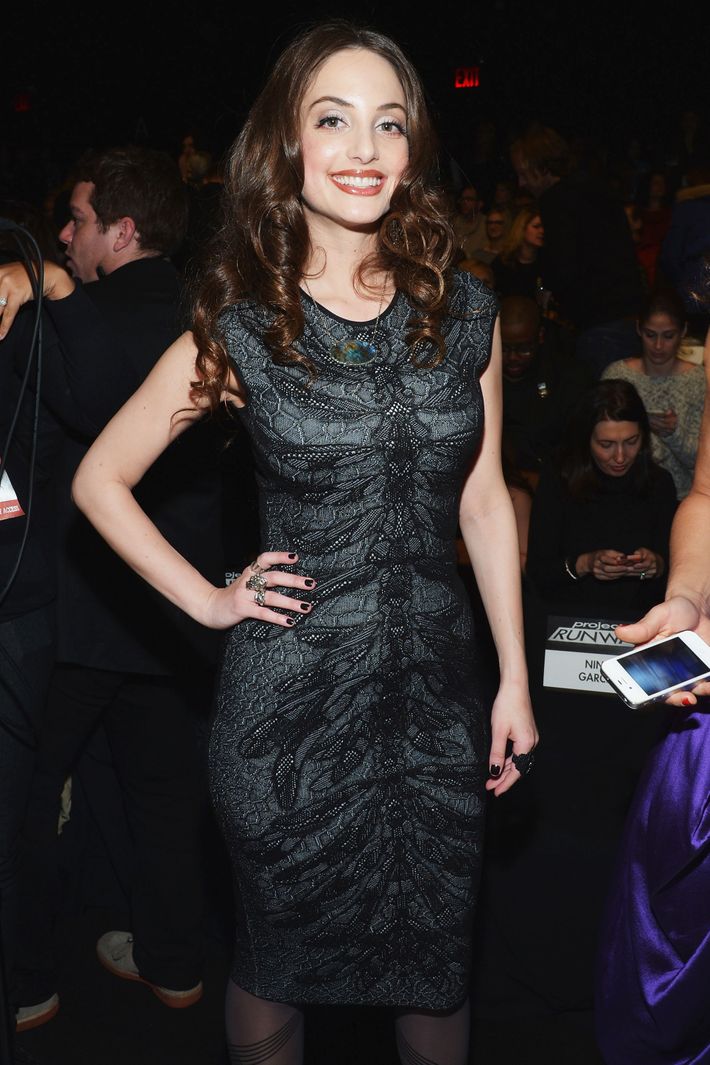 Alexa Ray Joel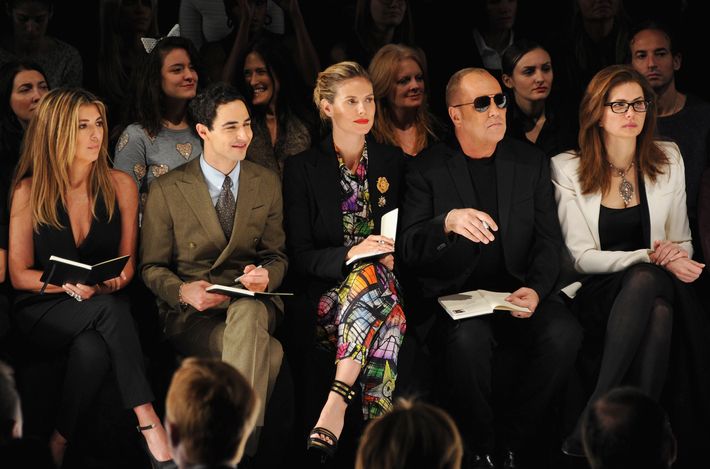 Front Row