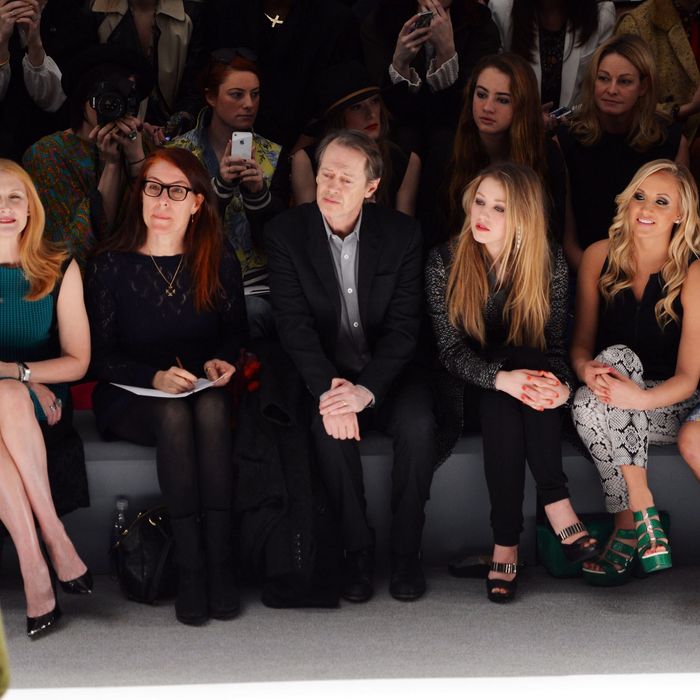 From left: Patricia Clarkson, Jo Andres, Steve Buscemi, Ella Rae Peck, Nastia Luikin, and Aly Raisman.
Photo: Stephen Lovekin/Getty Images
We'd been wondering what a post–Gossip Girl world would mean for Fashion Week; turns out the answer is "almost none of those people will come." Our first glimpse of anyone Xoxo-adjacent was at Nanette Lepore on Wednesday morning, and even then, it was the actress who was on the show the least: Ella Rae Peck, who spent some time on season four as Serena's cousin. Perhaps her attendance can be explained by her role on NBC's Deception, which really seems like it could use the PR help.
Down the way we saw Patricia Clarkson, who not only was gracious and warm with interviewers, but is ridiculously luminous in person — that kind of glow that makes you simultaneously hopeful for what's to come, and despairing because our wrinkles are already deeper than hers. And we had a great seemingly random sighting: After spying Noted Womenswear Enthusiast Matt Damon yesterday, we shifted today to Noted Corruption Enthusiast Steve Buscemi (of Boardwalk Empire). He took in the show with a very thoughtful and studious expression, and acted unfazed when June Ambrose stood in front of him for a photo op and treated him to a faceful of her giant fur coat. Watching him next to Peck was a trip — both seem totally pleasant, and it was not a frosty situation at all, but we didn't see them say a single word to each other and we suspect they may actually not HAVE any words for each other. Can we help? Steve, Ella is on Deception; your alter-ego Nucky really LIKES deception.
Rounding things out: medal-winning gymnasts Aly Raisman and Nastia Liukin, the latter of whom just moved to New York a month ago to get her sports-management degree from NYU. Nastia said now that she's hung up her leotards, she'll be doing some TV work for NBC, which she hopes will take her to the Sochi Olympics next winter, and possibly to some figure-skating. Ergo we had to ask her to weigh in on the greatest issue of our time: whether to wear those flesh-toned tights pulled over skates. "You know, Tara Lipinski is one of my good friends and I was just asking her, 'What is the deal with all that?'" she said. "I guess it's good when you pull it over because it's more of an elongated look." Makes sense that a gymnast would take that view, but unfortunately option B — wear your white skates proudly — is clearly the correct answer, so we can't give her a gold medal for that. Good thing she doesn't really need another one.
In fact, we can't let an Olympian pass without asking about whether that person ever pops by to pet his or her medals, or wears them to dinner, or orchestrates a high-school reunion just to show off the bling. "It's not even here! I keep it in a safe, all five of them, at my parents'," Nastia said. "I was actually asked to bring it to an appearance, and I don't have it, and they said, 'Can you FedEx it?' And I was like, 'NO! That's, like, so NOT replaceable!' I mean, you can replace a pair of shoes, but not an Olympic medal." Oh, don't worry about that; just look down your row. Surely TV demi-mobster Steve Buscemi knows some people who know some people, wink-wink.