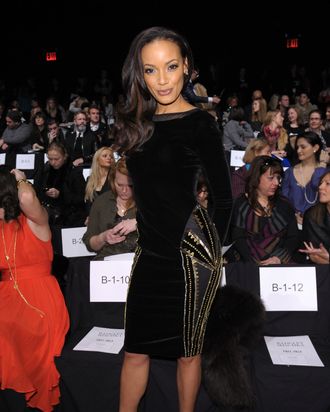 Photo: Michael Loccisano/Getty Images
By day six of Fashion Week, people — okay, we — are usually bleary-eyed and draggy and maybe a little frizzier than usual. That's why Selita Ebanks was so refreshing at Badgley Mischka on Tuesday morning: She was as garrulous and jolly as if it were 2 p.m. on day one, which we really hope turns out to be infectious. We first walked past her as she was regaling a reporter with the story of how she once won $1,500 (Vegas? Lotto? A bet with Miranda Kerr on who had the bigger Angel wings?). "I was like, 'Duh, of COURSE I'm rolling around on this," Ebanks said. "When am I going to win fifteen hundred dollars again? I even have pictures." We're guessing no matter how happy she was to have the money, that money was doubly grateful.
Selita also discussed her inability to put up with the Master Cleanse for more than three days ("I guess some people have more willpower than me"), her self-proclaimed obsession with house cleaning, and the fact that she is obsessed with Solange Knowles's personal style, which gives us something else in common besides being excited at the concept of $1,500. She said she frequently has moments of fashion regret, but mostly when she does her own hair and makeup. "This one time I had big hair, bright lips, the lashes, plus a colorful dress, the shoes had feathers on them … Look it up, I'm sure I looked crazy," Ebanks said. "I have to remember to do less."

Petra Nemcova fell in that camp — not that she looked bad, because she is Petra Nemcova. But she had a minimum of makeup on and her hair in a messy topknot. Petra hung out with former ESPN reporter Michelle Beadle in the front row until event staffers moved Beadle across the runway, leaving vacant the seat next to Nemcova. We assumed this meant a grand entrance awaited, fondly remembering the time Joan Rivers swanned into the show with a camera crew at the last minute and got a standing ovation. But after all that relocation drama, the seat was still empty when the lights went down, and had to be filled. Unless Beadle filed a ten-foot restraining order against Petra in the ten minutes they were together, we are guessing someone stood them up. So cruel this close to Valentine's Day.

Singer Colbie Caillat snuck in through the media throng with relative ease, though it was more nerve-racking for some. "This runway is so slippery," Olympic gymnast Aly Raisman said as the PR girls led her toward the front row. As might have been expected of a gold medal winner, however, she kept her feet and made it safely to her seat. Given that it took her several tries to even get to Fashion Week — we overheard her complaining that she'd had multiple canceled flights, thanks to the storm — it would have been awfully embarrassing if she'd fought her way here only to faceplant. In that way, Fashion Week is much like the Olympics, really. We're all just trying to stay upright until it's over.
See the complete fall 2013 Badgley Mischka collection here.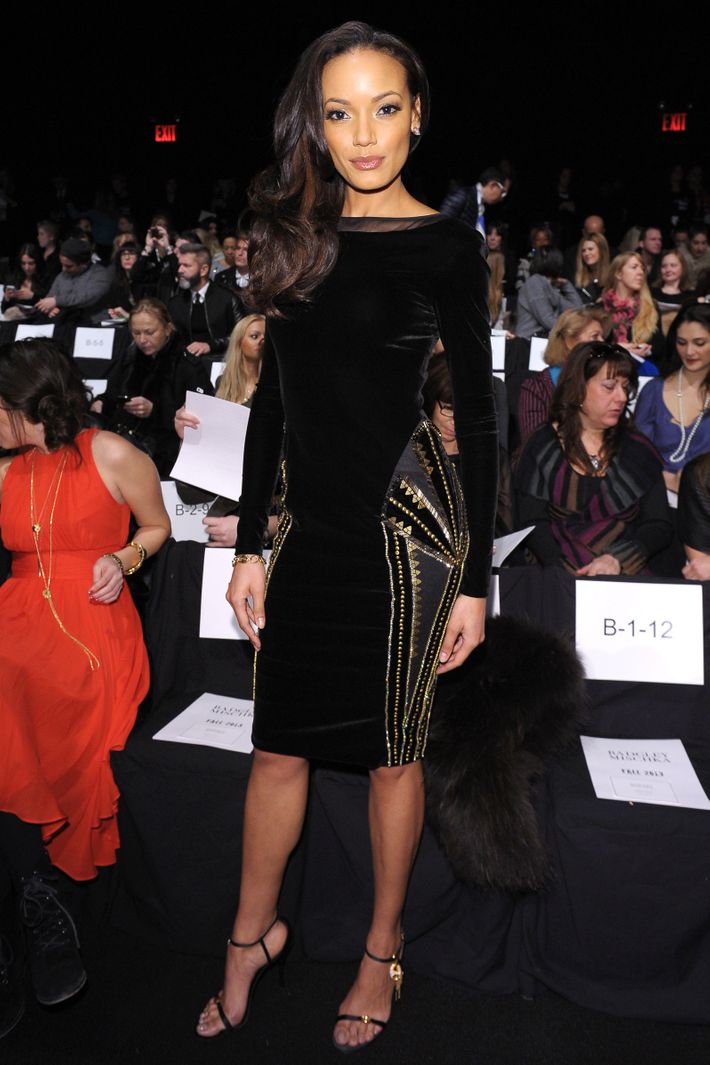 Selita Ebanks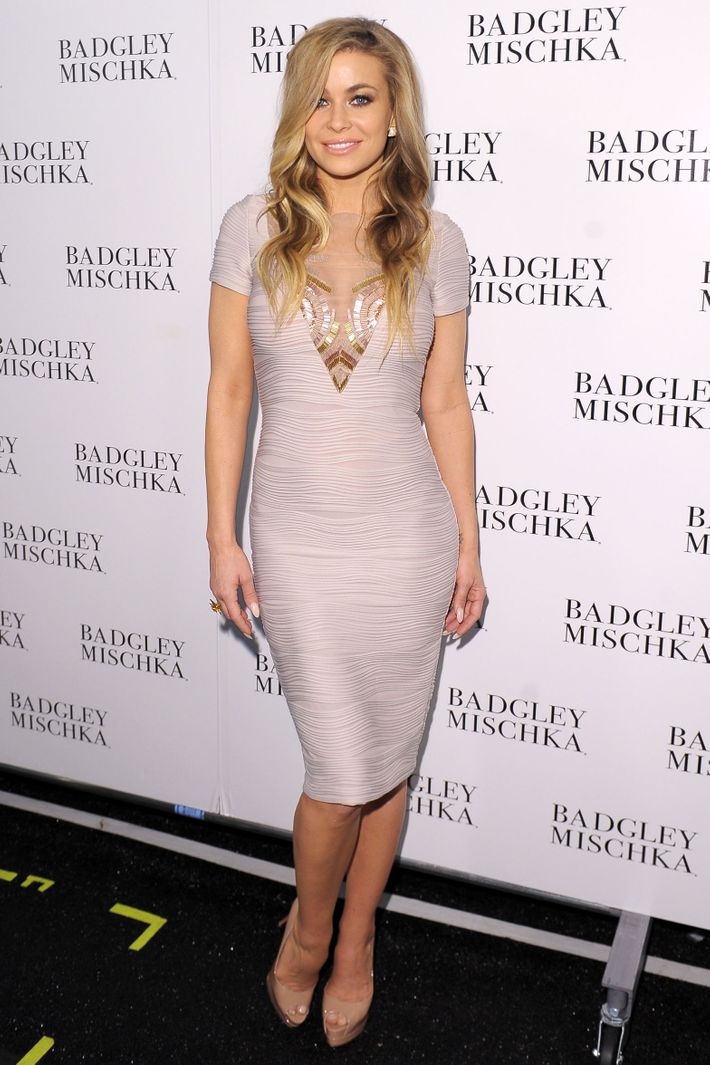 Carmen Electra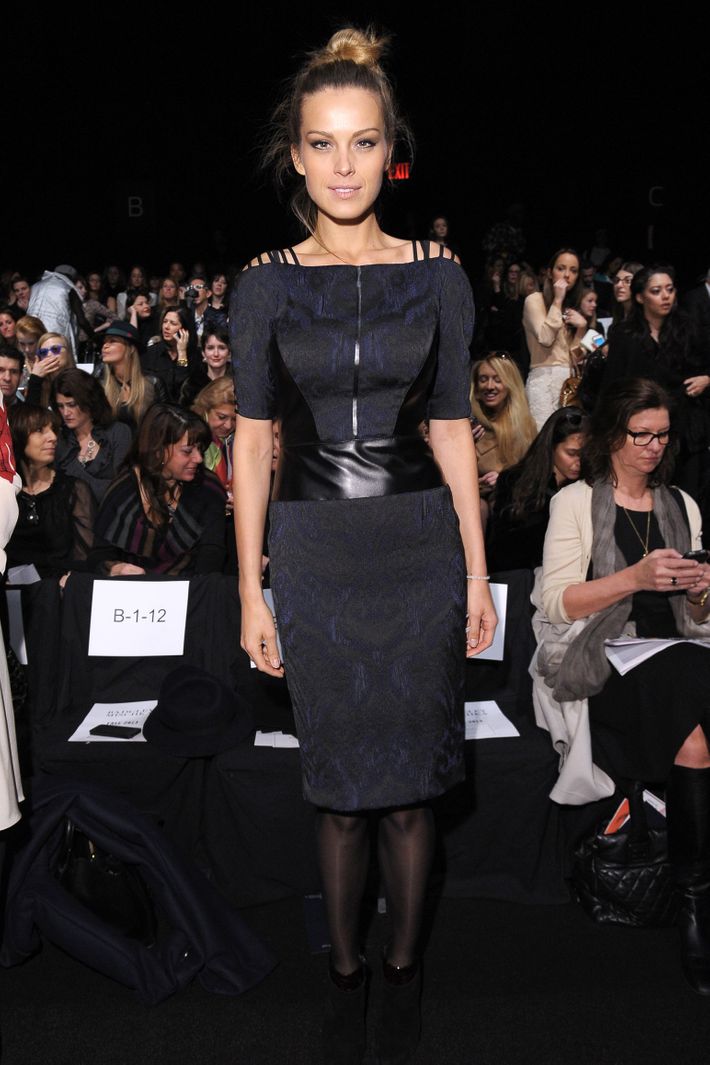 Petra Nemcova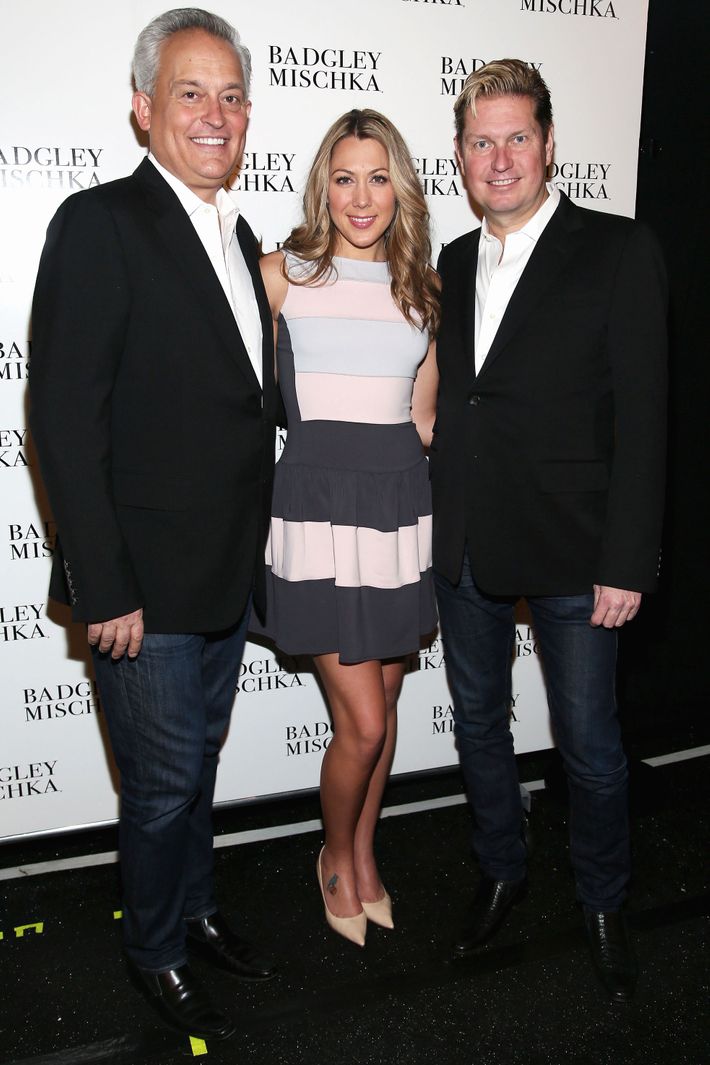 Mark Badgley, Colbie Caillat, and James Mischka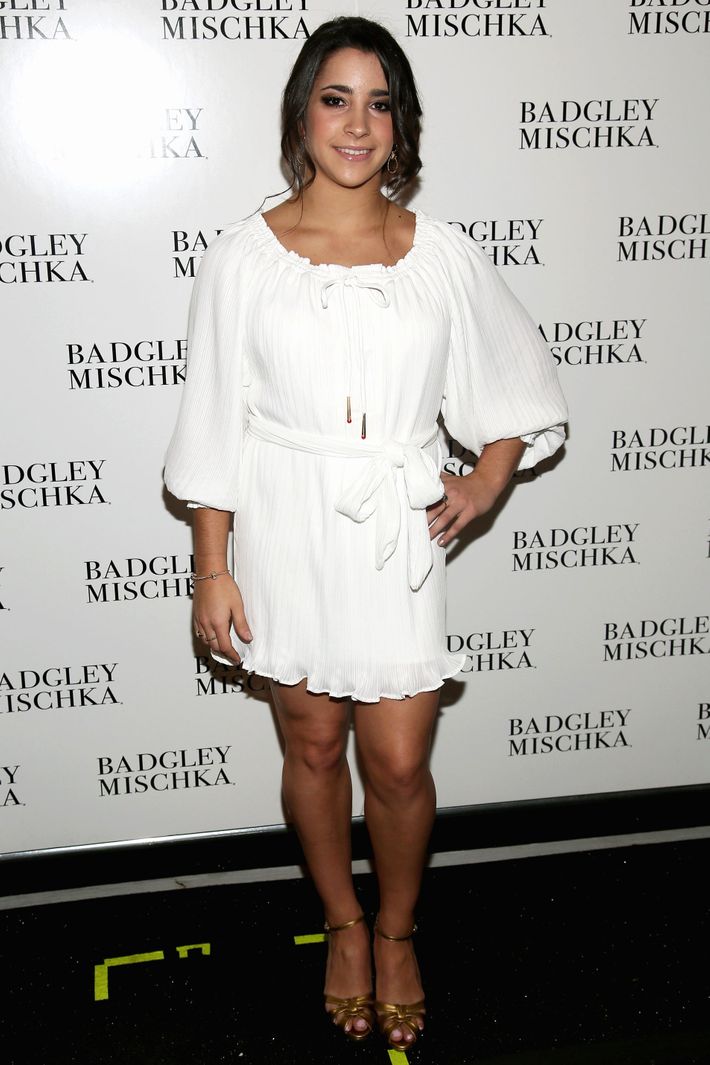 Aly Raisman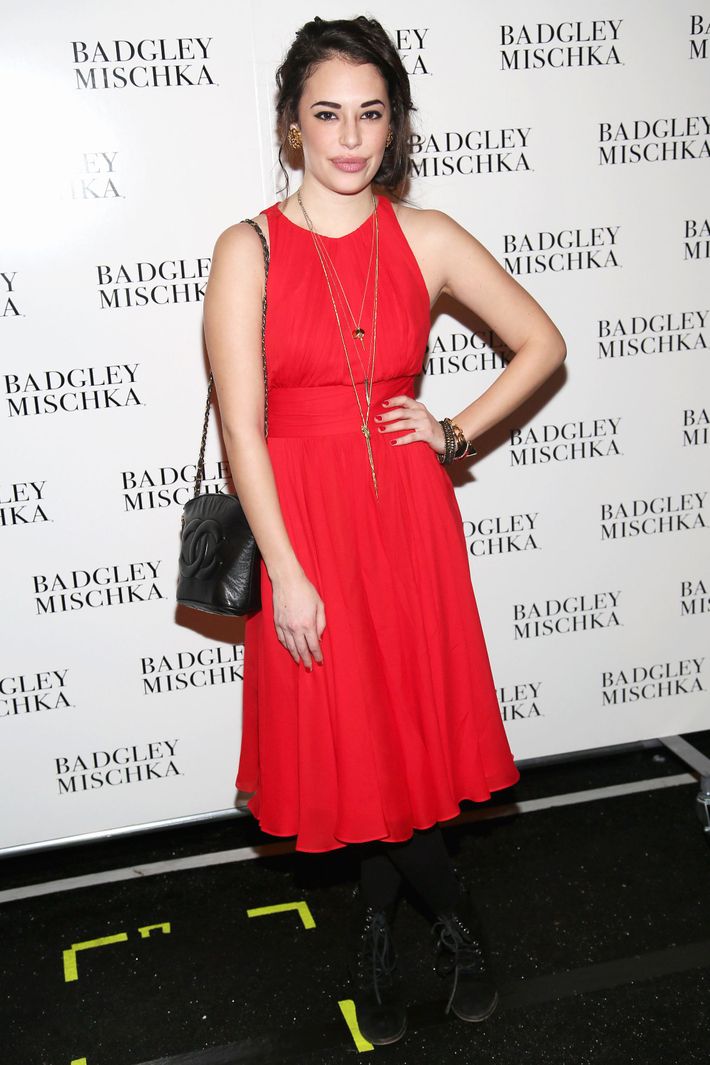 Chloe Bridges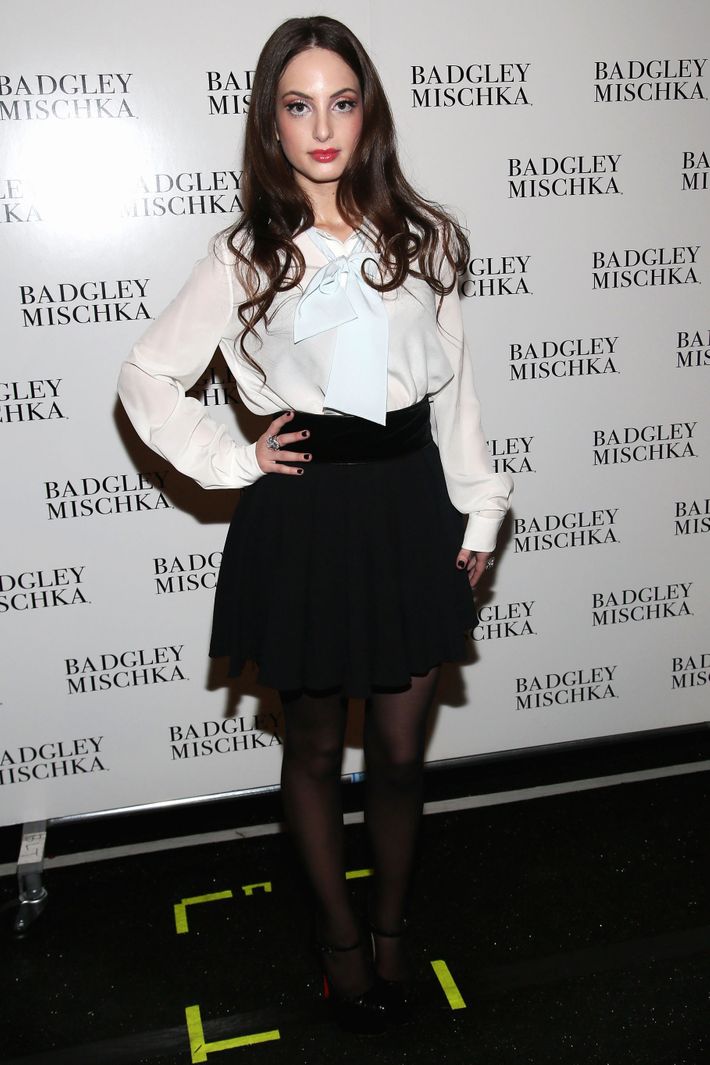 Alexa Ray Joel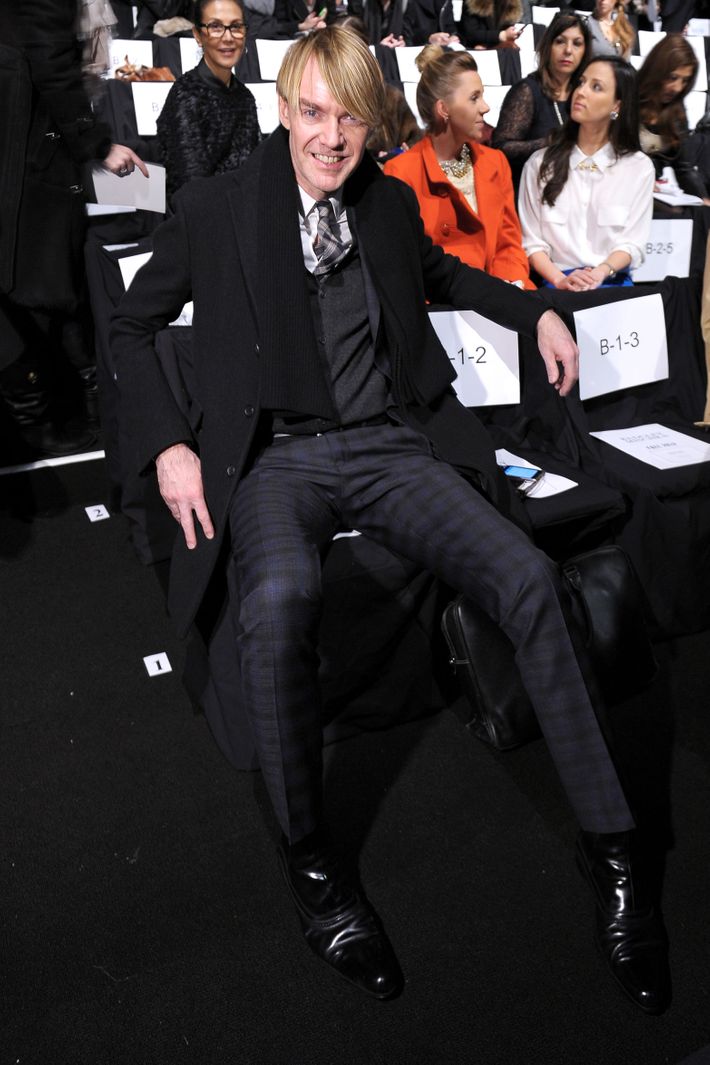 Ken Downing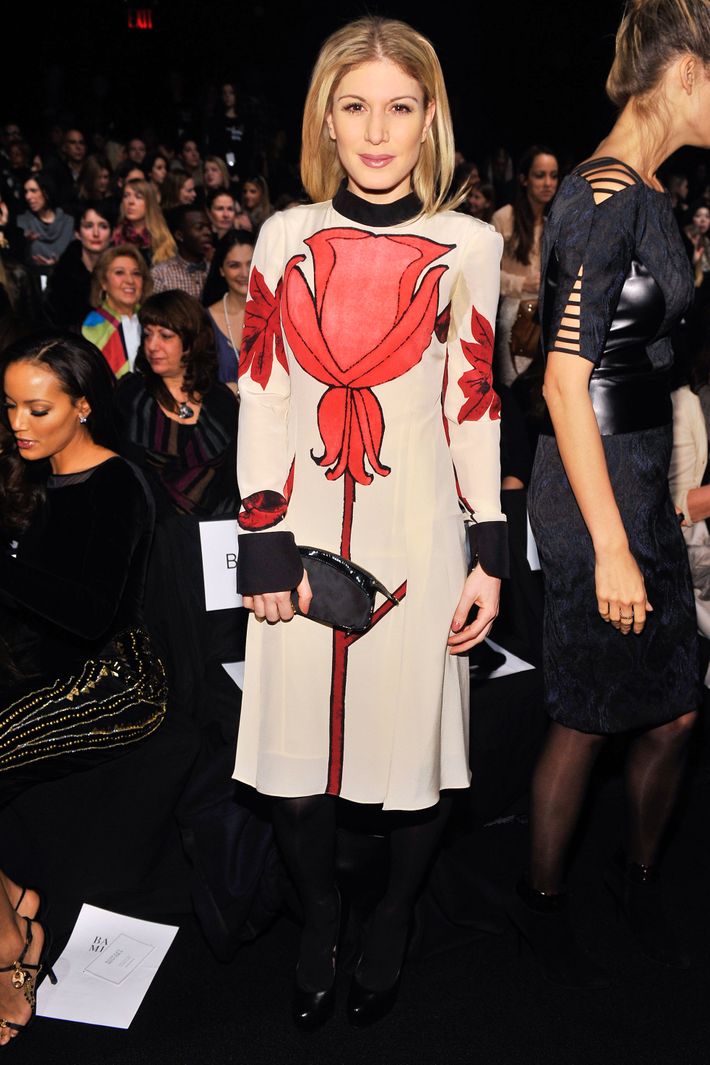 Hofit Golan