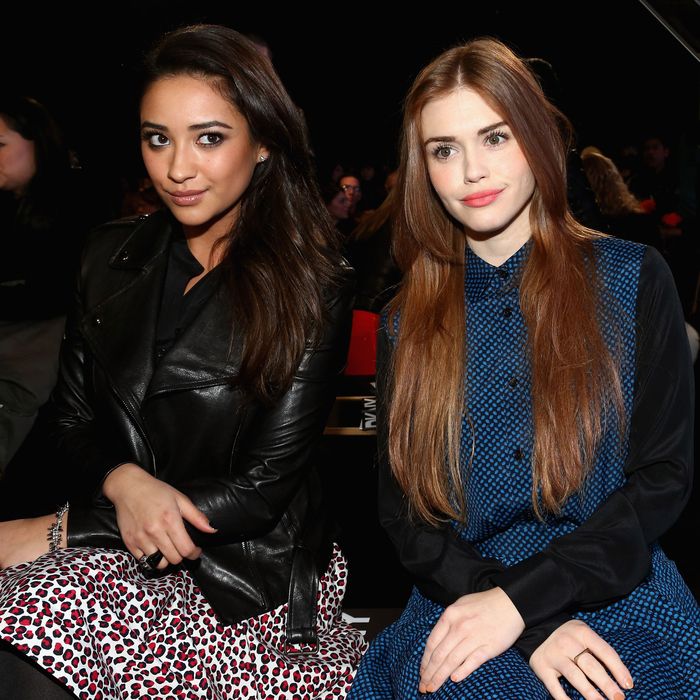 Shay Mitchell and Holland Roland.
Photo: Neilson Barnard/Getty Images
We may now be at the point of Fashion Week — brought on a touch earlier than usual, thanks to dirty melting snow and surprise icy curbside plunge-puddles — where people are a little bit tired, and more than a bit punchy. As we wandered into DKNY on Sunday, we overheard Hal Rubenstein complaining to a seatmate about all the TV shows that shoot on his block — apparently Blair Waldorf "lived" two doors down from him, so Gossip Girl was there all the time. "It drove me insane," he growled. Teen Wolf actress Holland Roden looked adorable in a blue dress, but her smile was tight. In fairness, her feet looked painfully squished into her nude patent pumps, so maybe it was the blisters doing the wincing. And one reporter almost bit it on the damp, slick floors at the entry. "Why am I not in boots? What is WRONG with me?" she muttered. 
However, most moods could not be dampened, neither by snow nor camera crews. Donna Karan did her usual pre-show tour up and down the runway and seemed as jovial as if it were 75 degrees and she had a piña colada waiting for her backstage. Teen star Victoria Justice — a ringer for previous attendee Nina Dobrev, causing some brief confusion — arrived a bit too late for interviews, but seemed crazy cheerful. Rightly so, given that her mouth was painted a covetable shade of dark red, and everyone knows a good lipstick cures all ills. And Pretty Little Liars' Shay Mitchell — in the kind of perfect leather jacket that makes credit-cards twitch — was having such a good time talking to the woman next to her that she didn't hear the photographers calling for a photo. So they got creative. "Shay. Shay butter," one shouted. "Shay Stadium," boomed another. Our favorite was, "Atta-Shay." If this is the level of punchiness in the photo mob on only day four, Mitchell will be lucky if she makes it to the end of Fashion Week without them busting out "Shay-ise lounges," "Shay Guevara," or, if one of them is an eighties TV enthusiast, "Rosalind Shays," that L.A. Law character who famously fell down an elevator shaft. And now that we're pulling out references THAT old, we officially may be overdue for a nap ourselves.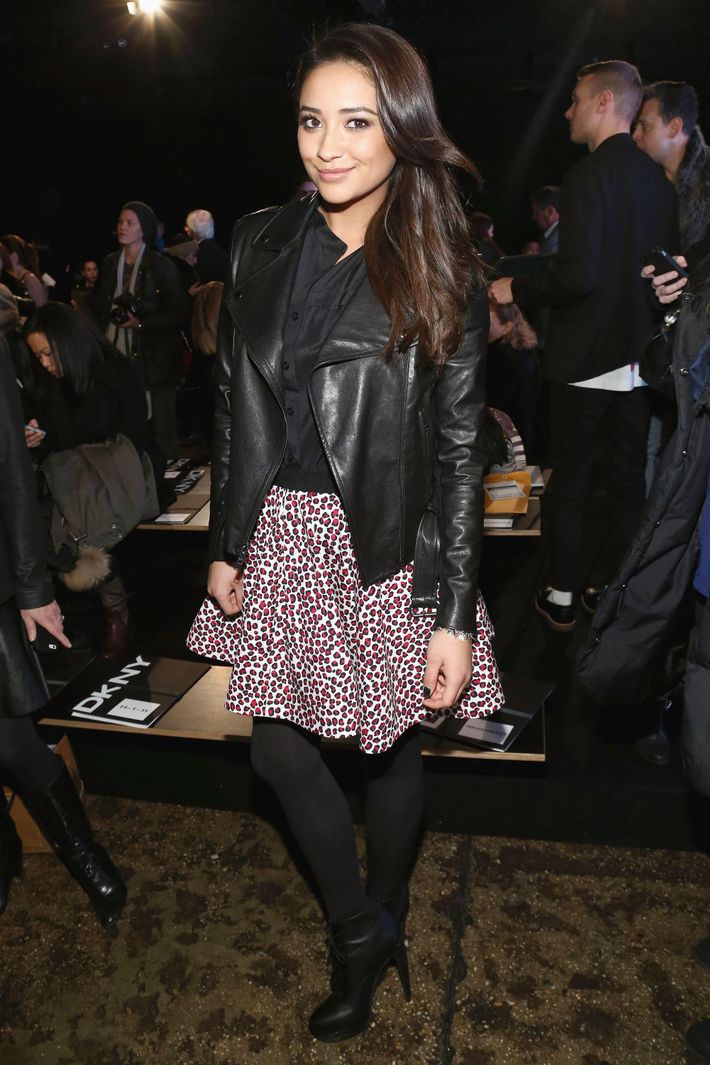 Shay Mitchell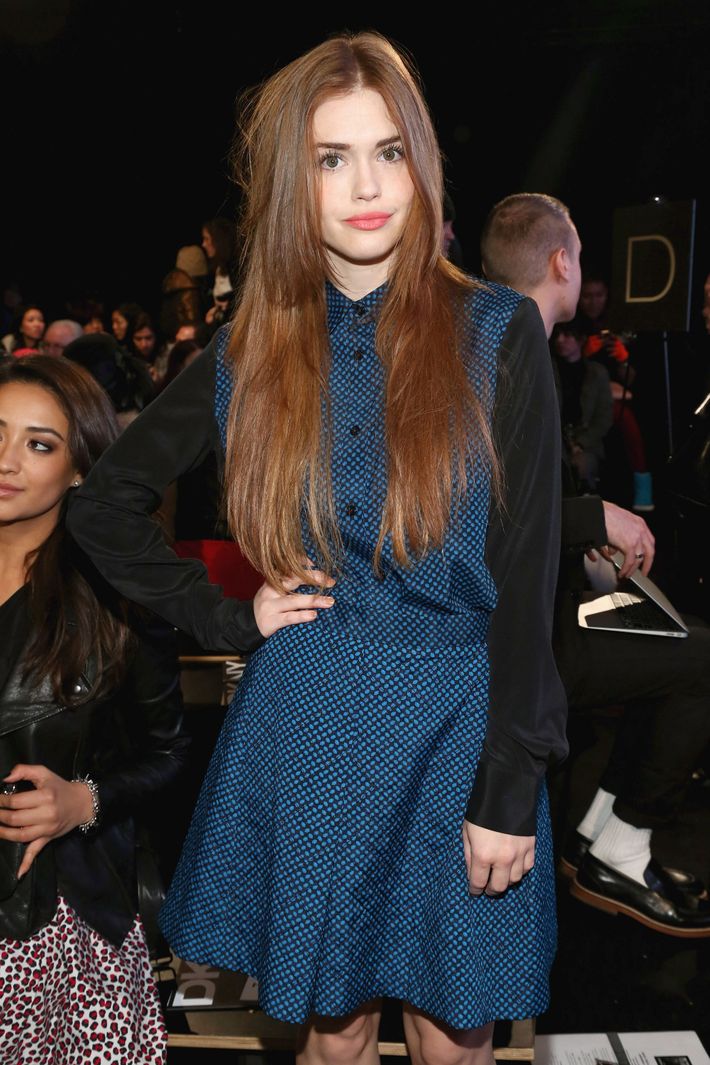 Holland Roden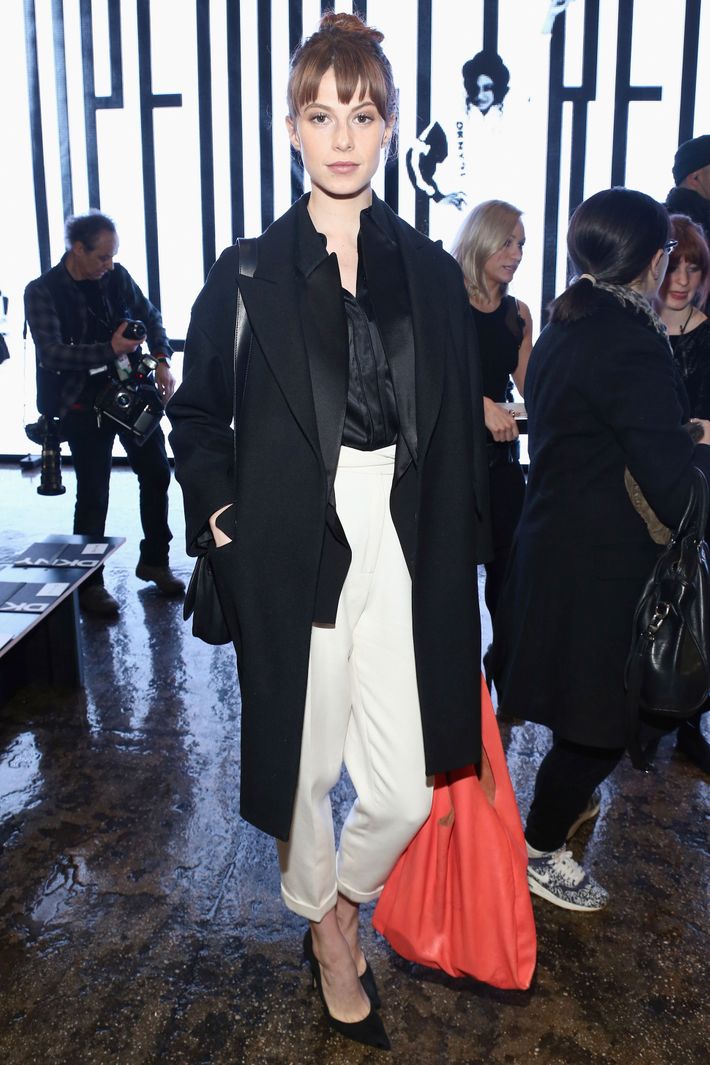 Elettra Wiedemann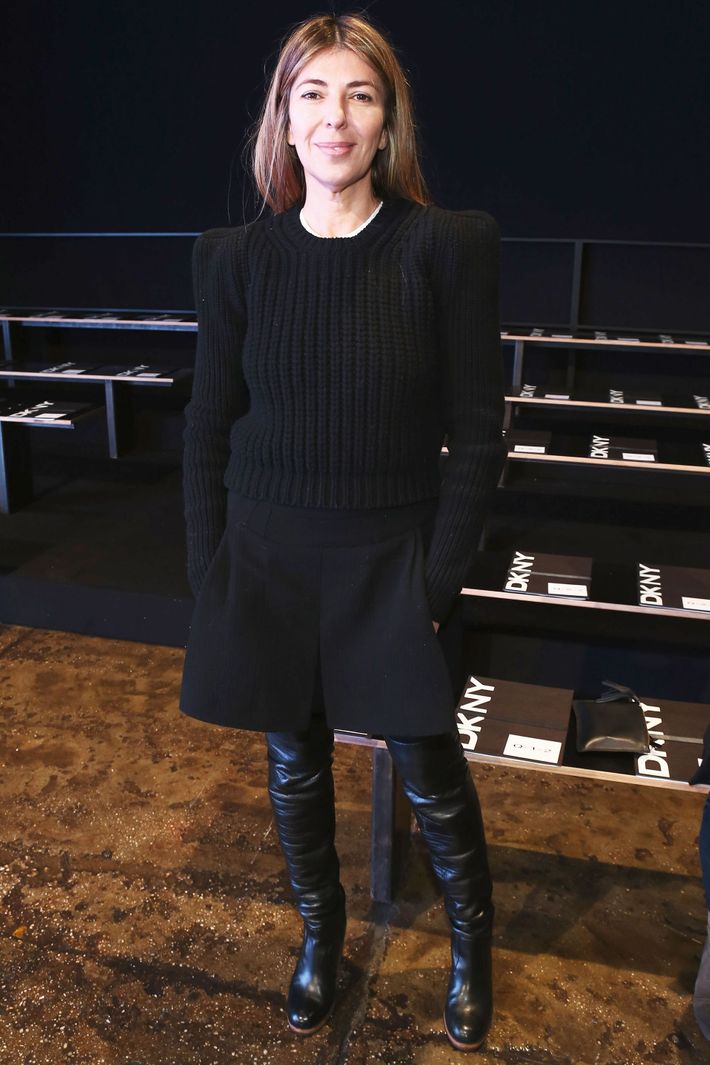 Nina Garcia
Bryanboy