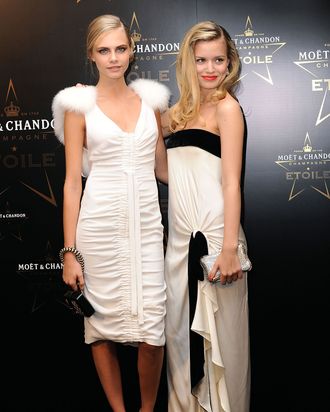 Georgia May Jagger and Cara Delevingne.
Photo: Ben Pruchnie/Getty Images
According to British tabloids, models Cara Delevingne and Georgia May Jagger are getting an apartment together. No, not like that; they're just going to be roommates, like normal twentysomethings in major cities. They do have lots in common: Both have fancy families, lots of money, famous older sisters who are also models, wealthy boyfriends, and nice eyebrows. And just imagine their collective closets, and how much money they'll save on bothersome things like nail-polish remover and cable bills! But let's get down to the important stuff, like the chore wheel.
See, even when you have a full housekeeping staff, there are still a few things that you wind up having to do yourself. We've compiled a list of duties that Cara and Georgia will have to split up at their new shared home, which is supposedly in north London:
- Emptying ashtrays
- Signing for deliveries
- Keeping tabs on the Diet Coke, vodka, and coconut water supplies
- Separating laundry when it comes back from the cleaners
- Making sure there's enough ice
- Covering for each other when dudes stop by to "say hi"
- Hiding clothes from each other's sisters/moms
Because personal assistants can only do so much.