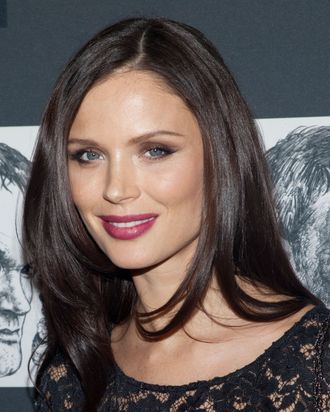 As part of J.C. Penney's inclusion of shop-in-shops (among them: Joe Fresh, Jonathan Adler, and Levi's), the department store plans to open 500 boutiques for Pearl by Georgina Chapman of Marchesa, a new dress collection, March 1. Chapman told WWD, "It's got a slightly different attitude [from Marchesa], a younger attitude, but it all comes from me. It retains the same sensibility and design aesthetic. I wanted it be fun … I really wanted to reach a larger demographic and larger audience."
The first delivery — to be stocked in 250- to 300-square-foot chandelier-adorned spaces — focuses on prom gowns, with prices between $50 and $250. Siiri Dougherty, J.C. Penney Co. Inc.'s senior vice-president and general merchandise manager of women's apparel, dropped the T-word: "There's a broad range of design, from beautiful long tulle dresses to lace shorts and matching lace jackets." Emphasis ours. During the month of April, shoppers can also donate to Chapman's Pearl Fund, a scholarship for Girls Inc. students.
WWD's article ends as such:
Asked what she'll wear for the [Oscars] red carpet, Chapman noted she's eight months pregnant. "I had to cut something special," she said.
Was the trade hoping she'd say tulle from Penney's? Oh, honey.