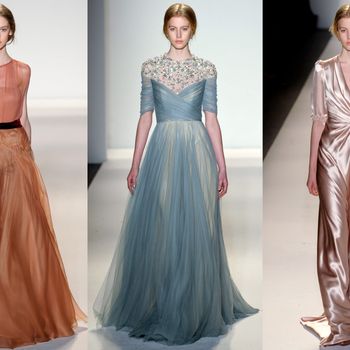 Kate Middleton bait.
Photo: Imaxtree
British-born designer Jenny Packham is one of the very few people at New York Fashion Week who can claim Kate Middleton as a client. Her princessy dresses have been worn by the Duchess on several formal occasions, and she was even under consideration for the royal wedding gown. Now their names have become so melded in our heads that we couldn't look at a single thing on Packham's runway today without thinking, Ooh, Kate would TOTALLY wear that. (At one point, we may have murmured it out loud, to no one in particular.)
Sure, a few things might be a bit of a stretch for Kate — the spaghetti-strapped designs, namely, and a few with sheer-paneled cutouts — but those will be snapped up quickly by less modest starlets like Vanessa Hudgens, who sat in the front row in a beige jumpsuit. The rest were just begging to be shepherded into the palace, particularly several with sheer overlays up top (just enough to look conservative, but not dowdy) and intricate beadwork. And there's no doubt Packham knew exactly what she was doing when she sent out a few high-waisted, peplum-skirted options with baggy midsections, perfect for when — well, you know.
See the complete Jenny Packham Fall 2013 collection here.