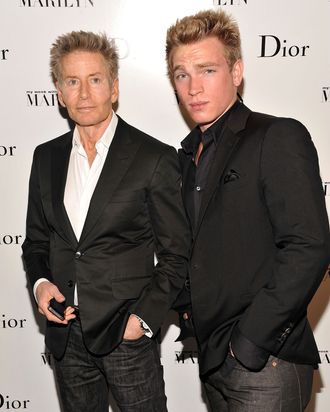 Photo: Gary Gershoff/Getty Images
Calvin Klein's 23-year-old ex-boyfriend Nick Gruber has abandoned his plans to write a book about his two-year-long relationship with the designer, TMZ reports. Tentatively called What Came Between Me and My Calvin (and at one point, Obsession: My Life With Calvin Klein), the tell-all "incited a bidding war in the publishing world" after "just days on the market," the Daily News claimed last August — and his ghostwriter said, "This is the only way he can get closure." The only way.
Gruber even went on a preemptive media tour, informing Page Six Magazine, "I was the first man [Calvin] fell in love with … I don't know why, but there's, like, something about me that attracts everyone. I have a nickname called Romeo. I get every girl, and even guys. Something about me draws them all in." He added that after reading his memoir, "I think [people] will have a better understanding of me … [and] get to know me for who I am, as opposed to a boy toy … I didn't get anything. I didn't ask for anything [from Klein]."
However, Gruber told TMZ, "I decided I no longer want to do [the book] anymore. There was a ton of interest," and supposedly a $375,000 offer, "but I just did not want to hurt him or others. I am a good person, not a mean person." He went on, "Love is a beautiful thing. Money doesn't matter at all." Exquisite prose. What a blow to the literary canon.