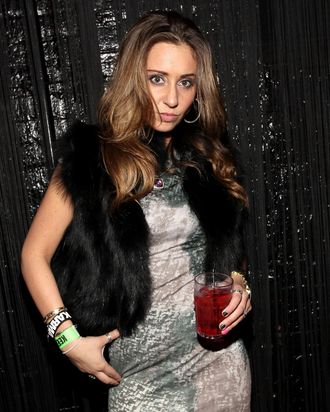 Photo: Steve Mack/Getty Images
Well, that was fast. The reality television production company that was trawling Craigslist last month for the real-life equivalents of Lena Dunham's Girls characters has cast its first lady — reality television veteran Hailey Glassman. Glassman is best known for dating Jon Gosselin, the Ed Hardy–clad star of Jon and Kate Plus 8. They met through Glassman's father, plastic surgeon to Gosselin ex-wife and co-star Kate.
Since then, Glassman has appeared on CMT's Sweet Home Alabama and a Lifetime special, My Life Is a Lifetime Movie. Now her life is an HBO series. Does that count as a promotion? According to Radar's source, the unscripted series has been picked up by ABC, and "each of the characters will be loosely based off one of the characters on the scripted show," who are loosely based off Dunham's friends in real life. Also, Radar reports that it was Dunham who came up with the idea for the unscripted series. (Not that you can believe everything you read about her.) Does your head hurt yet? And, more important, which character does that make Glassman, a home-wrecking plastic surgeon's daughter who once dished about her ex's micropenis? The Jessa? This is going to be so much better than Girls.
Update: Lena Dunham gave this report a Twitter fact-check. "Please do not worry, the Girls inspired reality show has nothin to do with us! We are not those kinds of animals #keepingitrealwithfiction"