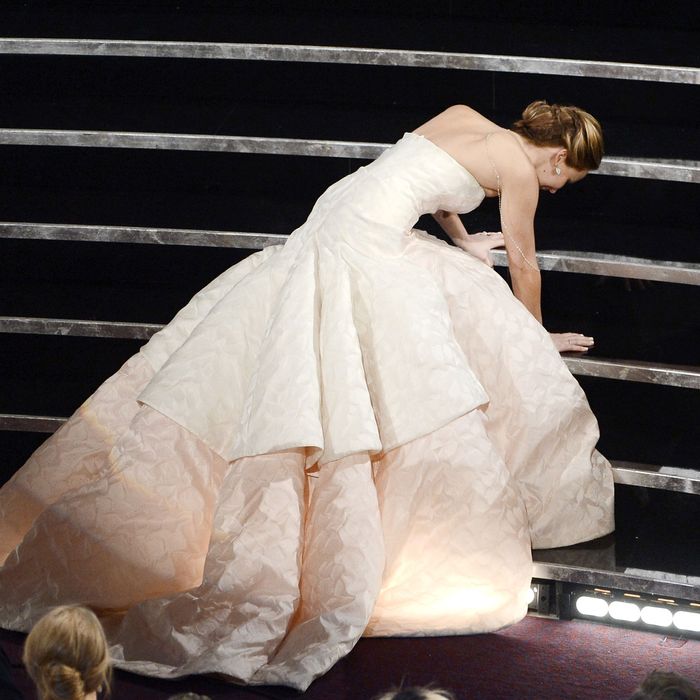 Photo: Kevin Winter/Getty Images
Coming to you LIVE from an Internet-enabled living room, this is the Cut's Oscars Hit List, curating the best, worst, and all-around juiciest moments from the red carpet and telecast. Who will butcher the pronunciation of "haute couture"? Who will have the most glorious pose? Join the party in the comments section, and see all the red carpet looks here.
1. Jennifer Lawrence Falls, Gets Back Up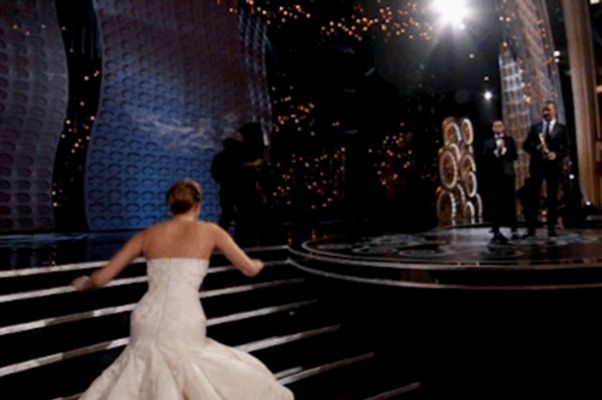 "Most gracious fall ever," tweets Buzzfeed. She didn't even need Hugh Jackman's hand, notes our sister site Vulture: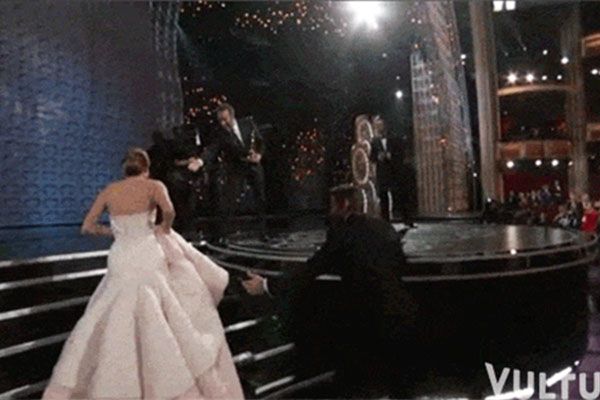 In other endearingly awkward J.Law news, the face of Miss Dior purses had to say "haute couture" on live television, a nerve-wracking experience for anyone. We prefer her delivery of "Your ass is mine, Stone":
2. A Pipe Burst in the Women's Bathroom
It happened when the mother of an Oscar-nominated director flushed a toilet, and it flooded the building's lobby, TheWrap reports:
A burst pipe in a women's bathroom of the Dolby Theatre flooded the star-filled lobby about 30 minutes before the 85th Oscars kicked off. … "The poor woman came out looking like a scene from 'Carrie,'" [filmmaker Lucy David] told TheWrap, referencing the 1976 horror film. "She was drenched."
3. Mobama Presented 'Best Picture'
The dress is Naeem Khan and she wore it to the Governors' Dinner, too.
4. Did Anne Hathaway Have a Wardrobe Malfunction?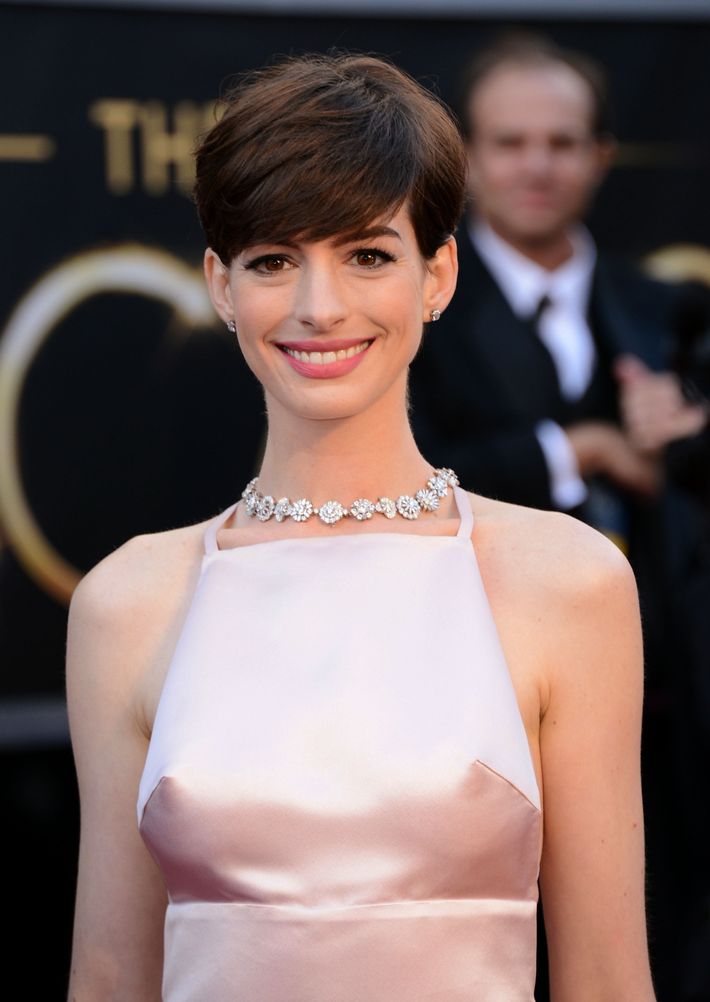 Or was that just the shape of her Prada dress?
5. This Is What 200 Carats of Diamonds Looks Like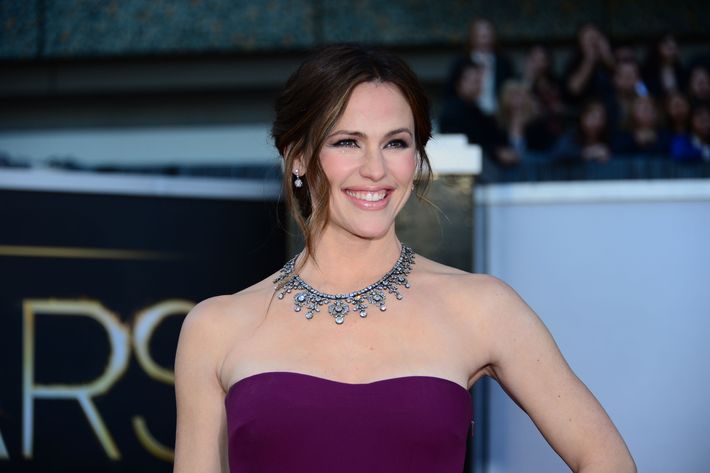 Quoth press release from the Neil Lane Archival Collection: "Jennifer Garner - Wearing a 200 carat darkened platinum extravagant neckace and darkened diamond and platinum earrings and matching bracelet. Total Look: 2.5 million dollars."
6. Kristen Stewart's Crutches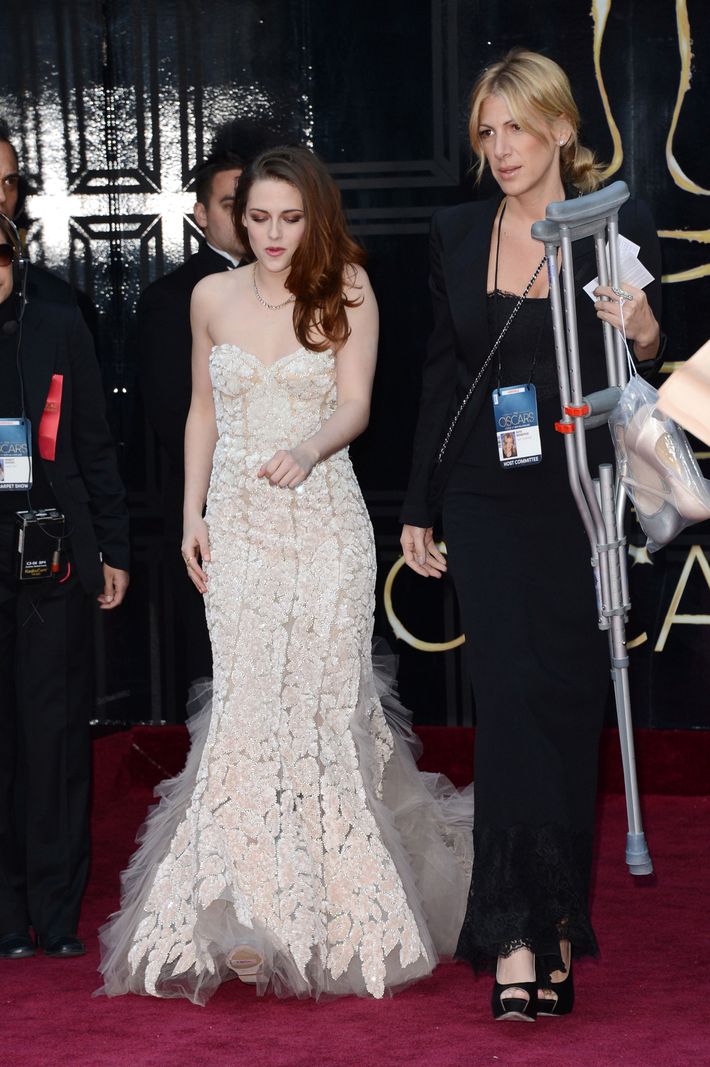 Are those why she was shaking her leg on the red carpet? What does this mean for her sneakers?
7. Quvenzhané Wallis' Best Puppy Purse Yet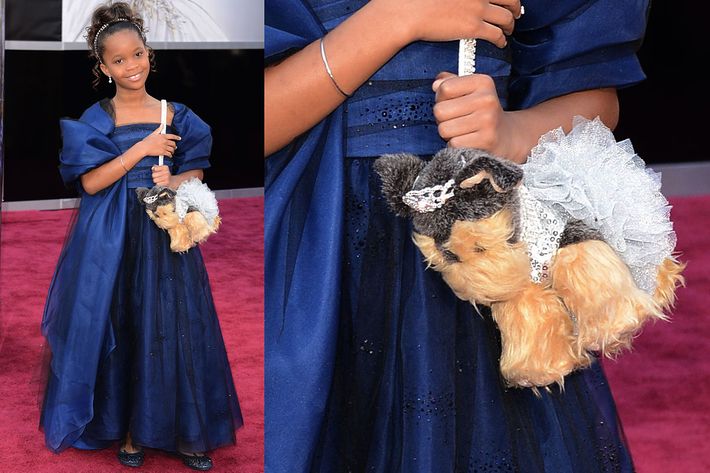 When Ryan Seacrest asked how she chose her dress, the 9-year-old Best Actress nominee replied, "Well, it's sparkly." Check out the glammed-out version of her signature puppy purse.
8. Quvenzhané Wallis' Flex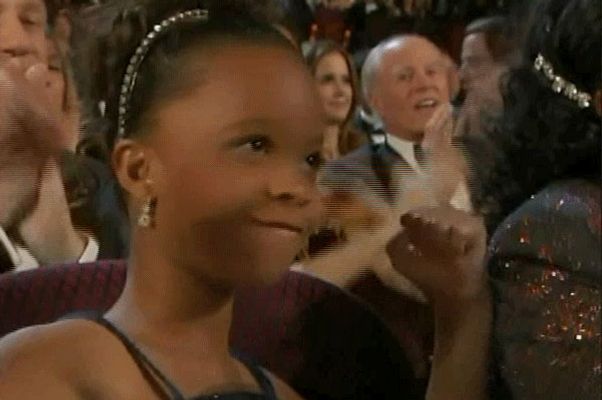 9. Beautiful, Badass Robin Roberts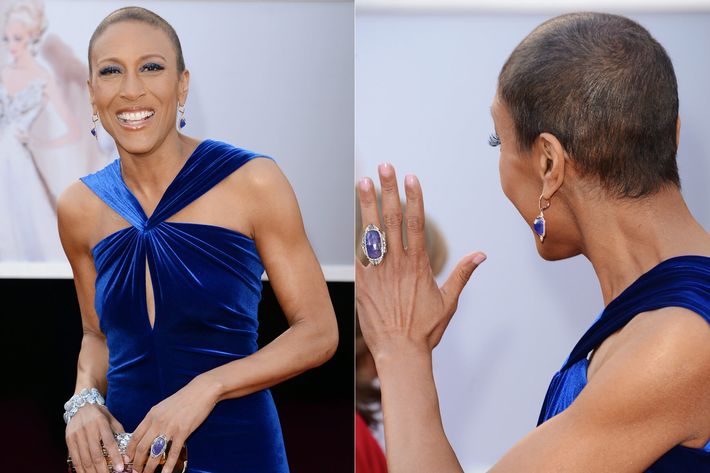 On the heels of an emotional interview on The View, describing being diagnosed with myelodysplastic syndrome shortly after her battle with cancer, the Good Morning America anchor did red carpet interviews for ABC, and looked stunning doing it. Badass bald women, indeed.
10. And a Lot of Sexist Jokes
Here are the transcripts from host Seth MacFarlane's jokes about women. Here's the video from his "boob song." Hey look, another sexist joke controversy. In summary: a night of literal boobs, metaphorical boobs, and a booby-trapped couture gown.