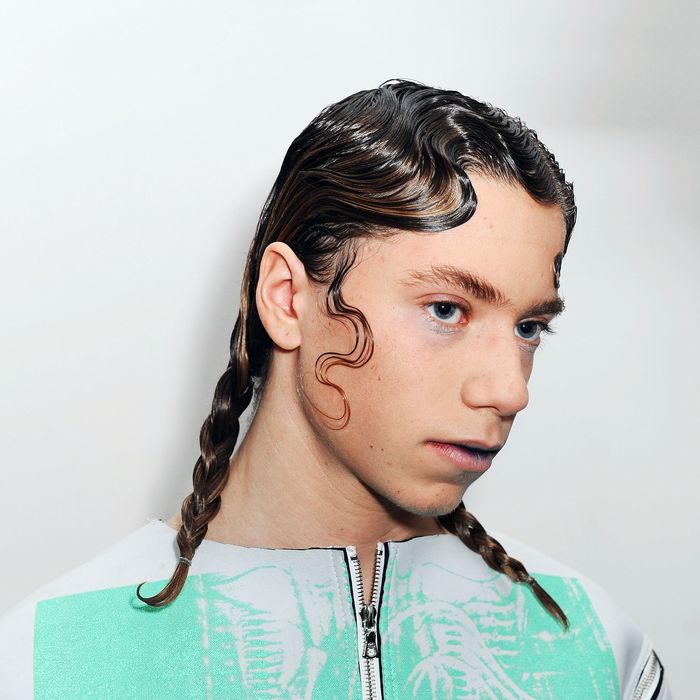 Photo: Wendell Teodoro/Getty Images
When global climate change has sunk Lincoln Center and Fashion Week is relocated to the International Space Station, there will be no "menswear" and "womenswear." The children of the post-apocalyptic era will share a practical uniform of zip-off pants, cropped hoodies, tunics, and leather gaiters, and they will freely trade sparkly eye shadows and nail polishes across gender lines.
At least that was the aesthetic leaning behind "Boychild," the name of the fall 2013 collection from Hood By Air, Shayne Oliver's rapper-beloved streetwear label that gave a presentation yesterday.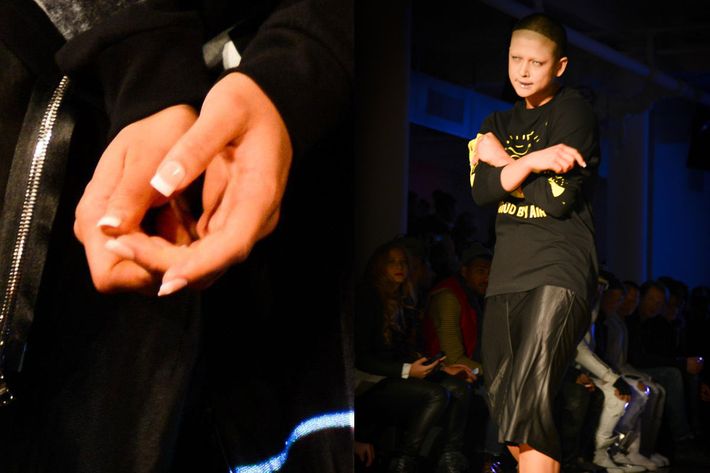 Boy Child is not just the collection's name, but also that of the San Francisco drag performance artist who opened Sunday's show, staggering and shivering around a smoke- and laser-filled room in Milk Studios like patient zero in the zombie flu epidemic — except with a fresh French manicure. Boy Child was followed by a cast of androgyne models who wore pin curls and lip gloss with face tattoos and Dr. Martens boots.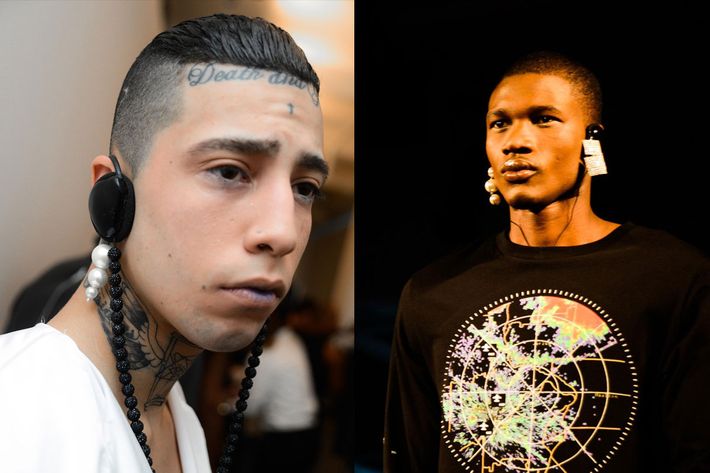 Two models walked wearing earphone-earrings that were a collaboration with a British milliner named Nasir Mazhar, designer Shayne Oliver told The Cut. "The collection is a mix between the school kids I grew up with, who always had headphones on and were listening to Limp Bizkit, and glamour — being excited about being dark and pushing things forward." Pushing things forward by, say, attaching some blonde hair extensions to your do-rag?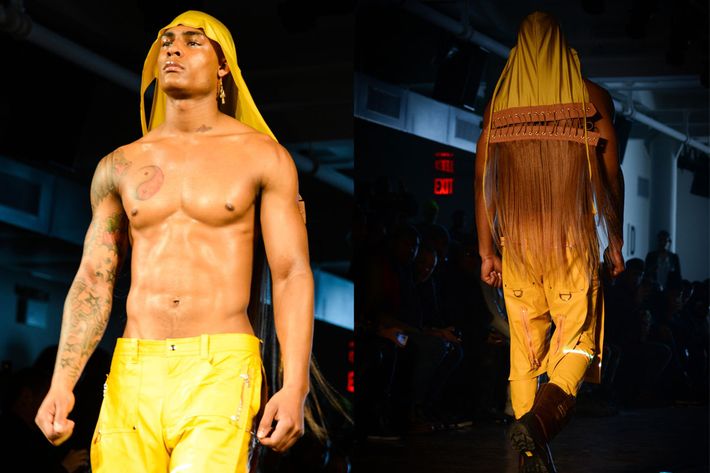 More inspiration came in the form of the ankh, the so-called Egyption key of life: jewel-encrusted on chains and dangly earrings (zoom above). Having exhausted Judeo-Christian religious symbols in previous collections, Oliver said, "We were like, let's take something sacred that is kind of dusty and more earth-driven and make it blinged out and crazy." To our disappointment, the cis-swaggeriffic rapper A$AP Rocky closed the show without any discernible makeup or jewelry. But he's already proven he's not afraid to wear a skirt.