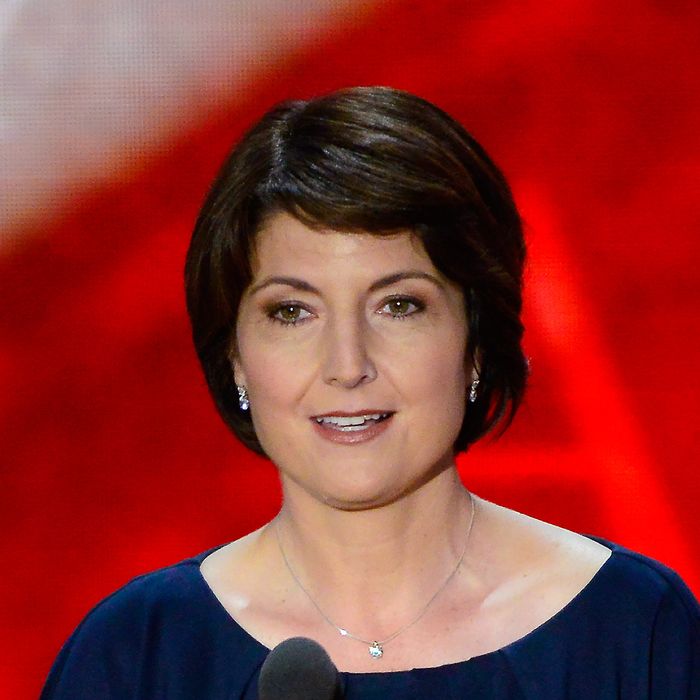 In today's Friday afternoon news dump, House Republicans quietly released their version of the Violence Against Women Act reauthorization bill, which provides funding for victims of domestic violence. Unlike the Senate version passed earlier this month (no thanks to GOP men), the bill omits LGBT-specific protections and tweaks the language of protections for Native Americans. Washington's Representative Cathy McMorris Rodgers (pictured) will sponsor the bill, which will be rushed to a vote on Tuesday.
According to Talking Points Memo, the Human Rights Campaign is concerned about the LGBT exclusions, which include removing a requirement that any program that receives funding through the bill provides services regardless of a person's sexual orientation or gender identity. A House GOP legislative aide reportedly pushed back on that claim.
"The House bill protects all people from discrimination," the aide said. "The Senate bill continues to add people to an enumerated list, therefore excluding those categories not on the list and requiring constant updating. The House bill also allows states, through which VAWA grants flow, to determine the best recipients of those funds, based on the victim populations in their areas."
Sounds suspicious and/or religious. However, in a departure from last year's fiasco, the House bill also grants tribal courts the authority to prosecute non–Native Americans who abuse Native Americans on reservations, with the caveat that they could move their case to a federal court if they felt their constitutional rights weren't being upheld. We're no experts, but that, at least, sounds like a compromise.