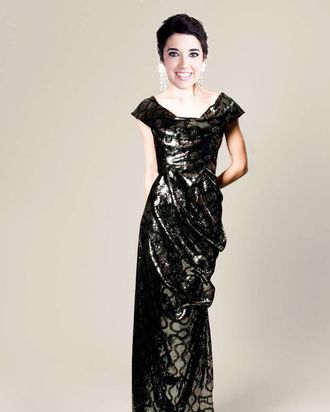 When I meet stylist Penny Lovell in late January, we already have a lot of catching up to do. For a client attending the Oscars, Penny will typically start pulling images of gowns, gathering sketches from designers, and calling in actual dress contenders beginning in December or early January. The most important thing for her to know, she says, is what you don't like and what you already think won't work on you — "It doesn't even matter if it's true or not if you feel it, because by the time you get on the carpet, that's scary enough, you don't want to be feeling awkward or weird." I tell her about my arm thing and my unwavering attraction to sleeves. Also, yellow is not my color. She pegs me as modern and says she's not feeling a flouncy look on me. I agree, still traumatized by a puberty childhood spent in Laura Ashley, and I suggest we try for a "cooler" vibe. Thus our imaginary mood board is born.
"Would you do something figure-hugging?" She asks. I haven't been piloxing five days a week for nothing, Penny.
We start looking through racks of dresses, and Penny is like a veteran sample sale shopper on a mission while I'm like a timid child at a museum because these are all gown gowns. When she sees one she likes, she holds it up so I can give it the thumbs up or thumbs down. "Now, I would avoid something like this because Jennifer Lawrence just did that," she says pointing to a navy gown with boob eyelids. Also on her list of no's: red, black, and white, colors that have been very popular on the previous carpets this season.
After sorting through mullet cuts, architectural bodices, and plunging necklines, we see It: Fully sequined with sleek ruching at the hip, the Vivienne Westwood gown looks like liquid silver when Penny pulls it off the rack. Sweet mother of Anna Wintour, it has sleeves. When I hold it up against me it looks like a metallic mermaid tail and I feel like breaking into "Part of Your World." "You like that one," Penny states, and it's true, how could you not? It's so damn shiny. "I think this could be it," I tell her. We spend some time looking at a nude Marios Schwab gown with long sheer sleeves and enough blue bling at the neckline that no extra jewelry would be necessary. "That would be a hot dress,"Penny says, checking me out, "That's definitely the riskier option." Safety first! I'm going with the first option.
One problem: I am not a sample size. So this baby would have to be custom. "What we would do is get this in your size, and then we would sew it on you," Penny notes, adjusting the position of the dress, which was being held up against me using the old hanger over the head trick. "We would have a tailor come and he would just stitch it on you, so that every single pleat would be in the exact place it should be." Even just under a month until the red carpet, Penny says there's still time to get the new dress made.  Many Oscar gowns are born from sketches, come from the current couture season, or are even styles from past collections that were never made for commercial sale, and all are expected to be custom-made in a matter of weeks.
Still using the sample as an example, Penny takes a photo of the look from a few different angles and in different lights. At some moments the dress looks dark gray, in others it's pure gunmetal with the black squiggle pattern showing up strong. In some light, it looks almost green. "We take tons of photos,"she says. And this camera-testing strategy starts at the initial fitting, which usually takes place at Penny's house after she's called in her top dress picks for clients like Rose Byrne, Bella Heathcote, and Mary Elizabeth Winstead. Everything is tried on en masse and photographed Cher Horowitz–style, never spending too long focusing on one item. "You can get caught up in a dress in front of you and then in a photo it doesn't translate," she says. "The fitting is really about the pictures, because the look lives in pictures."
At this point, I think I've found my dress, but Penny is still going to keep her eyes open. There's apparently an Oscar-gown totem pole, so if a nominee decides she won't wear a certain gown, it's suddenly up for grabs for those actresses who aren't up for an award. Depending on how far down you fall in the pecking order, there's a chance Valentino will give you a call to say that Anne Hathaway has finally given that frothy couture number you've been wanting the kibosh. Like online dating, once you think you've found the one you snag it, but you're always on the lookout in case something better comes along, because what if Ryan Gosling decided to join Match.com?
Penny also starts thinking about accessories as soon as the Dress is identified, but there's rarely a jewelry fitting before the big day because it's so difficult to the coordinate the schedules of a busy actress and all the security guards who have to be present to babysit the bling. "Jewelry we'll literally choose twenty minutes before they leave," Penny says, as if choosing millions in diamonds is as easy as picking a Ben & Jerry's flavor.
And with that, the process is finished. Almost. "After we've made the final choice, we try to figure out the nastiest things people are going to say, just for fun," Penny tells me. "It takes the sting out of it, if we've already thought of the nastiest things. And then we have a little bet on it to see who's right." I'm all for cooking up a good dose of self-haterade to lessen the blow later on, but with hair, makeup, and fabulous dress on my model body (literally, that's my head on a model, above), I'm feeling very happy about the look. "The important thing is that together, we love it, and this is your night, enjoy it, you can't worry about what everyone else is thinking," Penny counsels. I agree, I am beyond content. But I will, of course, keep my eye out for Ryan Gosling.