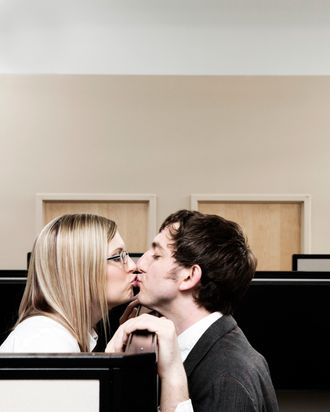 40 percent of employees have dated a co-worker at some point in their career, the Wall Street Journal reports. Though office dating bans have gone out of vogue, employers and their general counsels described to the Journal's Jennifer Smith how they manage the romances that can make workplaces uncomfortable and topple careers, including, recently, Best Buy executive Brian Dunn. The Cut has reinterpreted their collective wisdom into a five-point guide for cock-blocking everyone you work with.
Gossip.
Salt Lake City trucking company C.R. England, Inc. told the Journal it tolerates dating but relies on "tips from other employees" to find when an in-office relationship has become "a distraction." A most aggressive HR department could reverse-gossip, tipping the tipsters off to employee factoids that might make the relationship less attractive. Did you hear Brian claimed seven dependents on his W-4? And he's never been married.
Plant the seed of doubt.
Making a couple sign an office hookup pre-nup stating that the relationship was consensual and no one was coerced — just in case it ends badly — can provoke a relationship-ending fight. "The couple is looking at you as if, 'You don't think our relationship is going to work out?'" C.R. England associate general counsel Michael K. Woolley told the Journal. "No lawyer ever sees any workplace relationship as working out.…We are just planning for the worst-case ending."
Threaten public shaming.
Many companies require employees to disclose their romantic relationships to a manager, the Journal reports. For some, the prospect of having that conversation is embarrassing enough to forgo the whole affair. A more aggressively anti-love employer could raise the stakes for disclosure: Mandate employees provide the history of the relationship from first date to present, via Power Point, with photographs. Start up an Office Kiss Cam.
Cancel office spin the bottle indefinitely.
Ditto office Valentine exchange. The Journal wisely advises that companies do not openly encourage the relationships that become a legal headache. "Jeffrey S. Klein, head of the labor and employment practice at Weil, Gotshal & Manges LLP, recommends that companies limit the supply of alcohol and steer clear of situations—such as dangling mistletoe—that could provoke untoward behavior." On the other hand, companies should encourage — no, require — employees to introduce fellow employees to their single, non-employee friends, right? Mixers!
Desexualize the office.
What the Journal's sources failed to consider are environmental changes that might make it impossible to feel attraction or flirt in the office. Install harsher-than-usual fluorescent lights, incorporate harem pants into the employee dress code, swap elevator Muzak for Christmas With the Chipmunks, introduce BBQ rib Fridays. If couples can overcome these obstacles to sex, it was probably meant to be.