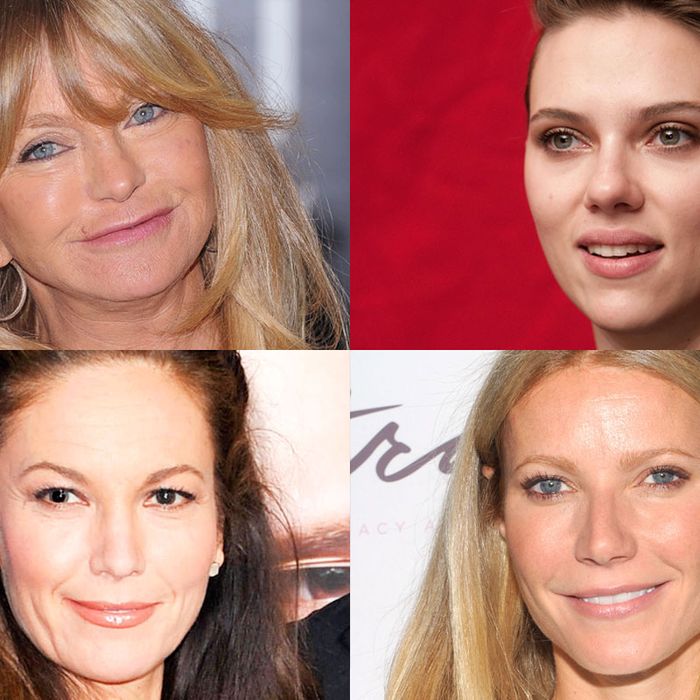 Dr.  Harold Lancer's office, sandwiched between a Ralph Lauren and a Giorgio Armani on Rodeo Drive, looks like a modern art gallery turned nightclub.  Stark white walls surround the huge empty space and bright purple chairs shaped like the Sydney Opera House sit as art installations in the center of the room. There's a Picasso on one wall. And a Cassat on another. A Renoir, on loan from the Louvre, is hanging somewhere else.
Lancer has all this art because he's a dermatologist for famous people. He sees about 60 patients a day, a good chunk of whom are women like Goldie Hawn and Diane Lane who have visited him regularly for years. "At this year's Golden Globes, we had 39 faces on the red carpet and I can tell you not one of those faces started their skin-care routine [just] a month before." Lancer, who looks like the Dos Equis man with thick white hair and a matching beard, has good skin himself. He preaches about obsessive maintenance and a good diet, and was one of the first dermatologists to use laser technology. Big surgeries, fillers, "going under the knife," even mini-procedures are on their way out, he tells me. The future is a skin-care program.
For someone like me, who would be a new patient looking to be red-carpet-ready as quickly as possible, what would he do? First off, I would be counseled on nutrition, which is protocol for all new clients. "No salt," Dr. Lancer says, "It has nothing to do with weight gain or loss — it has to do with skin texture and pore structure, which is severely influenced by excessive carbs and salt." I can see my mom, the ultimate condemner of salt, doing an I-told-you-so-dance all the way from the East Coast. "Salt is giving you the puffiness right here," he says, pointing to the bags under my eyes.
In Lancer's world, the perfect skin diet is 40 percent protein (ideally from an animal), 40 percent fat (of the avocado, grapeseed oil variety), and 20 percent carbs, but not the fun kind. "They have to be the deep green stuff: kale, broccoli, asparagus, Brussels sprouts." Also, no fruits that you would eat on a tropical island or find in a drink that comes with an umbrella: Those are loaded with sugar, screw up your insulin levels, and thus, eff up your skin tremendously.
Lander also tells me that I look more "holistic" and "unaltered" than the average Los Angeles person, which means I use Neutrogena face wash and basically nothing else. He immediately puts me on his famous Lancer Method: Polish (an exfoliant), Cleanse (a wash), and Nourish (a moisturizer), as well as an Eye Bright Cream and Q10 serum to start "contouring my facial skin." So his face wash and skin creams would give me cheekbones? Well, after two days, my skin looked noticeably fabulous. Glowing, tighter, and the area above my cheeks did seem more buoyant. Obviously, that was from following his skin-care regime properly, which meant washing my face religiously, twice a day.
I also wasn't supposed to drink. And still the doctor suggested that I follow up his regimen with a visit to the aesthetician to get "lympatic drainage" that would make my chin area look better. (My goddamn chin.)
Apparently people in Hollywood are obsessed with the jaw. Three weeks out from the Oscars, on top of the skin-care routine and drainage, Lancer's best clients also get a treatment that uses ultrasound or radio waves to bring up the jawline and lift the skin to give it more definition. "If you look at those people on the red carpet, they have very tight jawlines. And that doesn't happen naturally," he points out. "You don't fall off the turnip truck at 50 and have a tight jawline." Five to ten days out, they might also get placenta applied on their face, neck, and chest — this nourishes the skin and supposedly makes it glow. And, on the morning of the award show, a touch-up LED light treatment makes everything look more perky. "If they start going with the styling and hair and makeup at 8 a.m., they may show up here at six in the morning."
If you're a younger actress like Hilary Swank, Scarlett Johnasson, or Gwyneth Paltrow, then you've also got to see Nichola Joss, an expert at Sanctuary Spa Skincare. What sets Joss apart is that she attacks the skin from the inside: She gets all up in your face, literally inside your mouth, to massage the muscles and improve the tissue and texture, making the facial skin look plumper. In the week before the red carpet, Joss will see her clients three or four times for facials and full body treatments that can last anywhere from two to six hours.
In the lead-up to these events, Joss also prescribes a little self-tanner (which you mix with body cream to make it less streaky) and at-home facial massages with Sanctuary's Secret Facial Oil every day to get that glow. "You're feeding the skin with the massaging oils, and then you're really addressing the muscle underneath," she says. The oil smells nice and comes in a dropper, which makes applying it while sitting on the couch watching Revenge easy and safe. Until you realize it's a prelude to someone sticking her hands in your mouth.
Check back in to read more from our ongoing Oscar prep series: hair and makeup on Thursday, and, of course, the Dress on Friday. Plus, see Monday's post on getting an Oscar body with a celebrity diet and fitness routine and Tuesday's on liposuction.