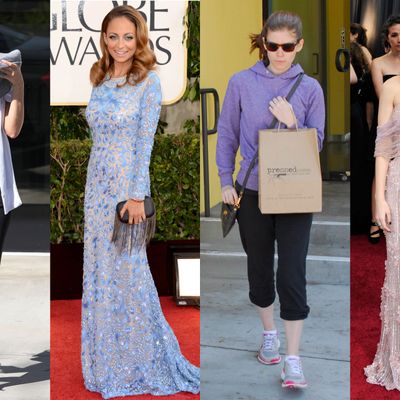 Photo: London Ent/Splash News/CorbisJason Merritt/Getty ImagesV Labissiere/Splash News/CorbisEthan Miller/Getty Images
With so many awards shows clumped together — the SAGs following the Globes on top of the Grammys and BAFTAs — Hollywood stars spend most of January and February having to look really freaking good, basically all the time. But between the moment when a star hears that she's been nominated for an Academy Award and when she's walking down the red carpet, what actually happens? My immediate thought would be Holy shit, I have to be in a gown in a month standing next to Jessica Chastain and Naomi Watts and telling Ryan Seacrest who I'm wearing and remembering not to say something weird when I see Bradley Cooper. So, to test that impulse out, I started my own Oscar challenge: With one month to go, how would celebrity-me get ready for the big night?
First, I started a juice cleanse. I'd never done one before, but doing something really drastic, really fast, seemed like the way to kick start a new routine. I live in Los Angeles, where there are more juiceries than people walking down the street, so I had a lot of options. I decided to go with Pressed Juicery (when I Googled it, I saw a photo of Reese Witherspoon holding a juice). I walked into the West Hollywood location ready to chug those green juices like a pro, and the guy behind the counter was everything I'd hoped for: enthused and eager to recommend his favorite combination, "Greens 1; it's almost earthy tasting, so good."
The biggest problem was that it was so much liquid. The next issue was that, apparently, I don't like the taste of earth. By the end of day one, I had drank three quarters of all my juices, except for the second dose of greens, because the thought of putting it down was a better appetite suppressant than the Pressed chlorophyll water that's meant to stave off hunger. The one juice I did enjoy was the "melted ice cream" concoction — almond milk, dates, vanilla bean, sea salt, filtered water — because it tasted good, especially as I watched my boyfriend eat ravioli and chicken.
Waking up on the second morning, I felt like I had one of the worst hangovers of my life. So, naturally, I Googled "juice cleanse headache," "juice cleanse hangover feeling," and "juice cleanse want to die." One result told me this was totally normal; another alerted me to the fact that it might have to do with how you prepare for the cleanse. I went back to the juicing website and realized there was an entire part that I hadn't read at all. "If there is one thing you must know before you start your cleanse, it's that preparation is essential." In the three days before you begin your cleanse, they recommend a pre-cleanse meal plan that contains wholesome foods. No meat, bread, alcohol, or caffeine. (Of course, the night before starting the cleanse, I had eaten a dinner of chicken stir-fry over rice and two glasses of wine.)
Many people raved about the "glow" juicing gives you, and the renewed energy. In reality, you're out of it and tired. I can't imagine spending the day singing and dancing around the set of Glee or being nice to people during a press tour. I could barely concentrate long enough to sit in front of my computer to work. You can, however, definitely fit into a gown more easily; on the day of my return to solid foods, my boyfriend told me that I felt skinny. I was excited to eat, but after reading Pressed Juicery's directions (progress!), I knew I had to be mindful about reintroducing food to my system. A soy latte, poached eggs over roasted kale and tomatoes, and part of a blueberry muffin felt glorious entering my body until half an hour later when I needed a bathroom. Like, right then, at that exact moment, à la Bridesmaids. After an emergency trip to a coffee shop where everything that had entered my body ever, in my entire life, exited it, I felt okay. But this persisted for the next few days: After eating anything real, my body didn't feel right — stomach ache, cramps, followed by an abandon-ship trip to the bathroom. How could Gwen Stefani do this on a tour bus? What happens if I choose a pastel gown?
I am definitely addicted to caffeine. I eat too many things that involve white sugar and carbs and not enough vegetables. I definitely do not drink enough water. So, while I probably will eat a cheeseburger before I do another juice cleanse, the experience made me think more about what kinds of things I eat and it definitely made the transition into my Oscar diet — a light-on-carbs and even-lighter-on-snacks regime — easier.
When trying to figure out what kind of diet and fitness routine to go for, I talked to Hollywood PR people and workout gurus who were hesitant about the language of the whole thing. No one says this is what you have to do to lose weight, because no one wants to promote the idea that being skinny is the goal. It's all about being "healthy" for awards season.
I decided to do something that sounded extra-Hollywood: piloxing. Part pilates, part boxing, the one hour class is supposed to tone muscles while burning up to 900 calories per session.  After being given a brief tutorial on the art of the jab and punch, I was outfitted with the half-pound weighted piloxing gloves and introduced to Viveca Jensen, the studio's founder. She looked like a super-hot Bond villain complete with a thick Swedish accent. She instantly put me on her 60-day "Sleek, Sexy, Powerful" plan, which made me want to die from the name alone. Her regimen involved exercising six days weekly and following a nutrition plan.
The diet is a two-parter where you consume 1,200 calories a day for the "Sleek" period, which lasts two weeks, and about 1,400 to 1,500 calories during the following six week period, the "Sexy & Powerful" stage. Designed by celebrity nutritionist Dr. Melina Jampolis, it's basically the kind of regimen where you can't have more than two glasses of wine a week and discover that the normal portion of pasta you make yourself for dinner every night is the equivalent of a McDonald's super-size meal.
The plan spells out exactly what you can have and gives you recipes, so it should make the whole thing a no-brainer. What it doesn't take into account is how hard it is to follow when you live with a boy and have no self-control. Breakfast is easy: yogurt parfait, oatmeal, or a vegetable omelette and fruit —  great, yum, fantastic! Lunch is fine, too: tuna melt, grilled chicken salad, or turkey hummus wrap? Totes. Dinner is even doable, except when there is someone suggesting pizza or Indian food or going out to get burgers. Also snacking, the damn snacking. One apple or two celery sticks covered in peanut butter is like an appetizer for my typical snack. So, basically, during awards season, when your entire celebrity posse is in town and you're attending fabulous parties every night, you can't actually enjoy the appetizers or open bar.
When I stepped into the studio on the first day of piloxing, I felt like Lady Gaga walking into an Ann Taylor. If you've ever been to SoulCycle or are a member of a fancy gym you probably know that there are cool-person gym clothes and uncool-person gym clothes. It wasn't until I walked into the small studio, which has one long mirror running the length of it, that I realized I stood out in my leggings and big white Boston College T-shirt. The other women were all wearing layered tank tops or shirts that strategically showed off their neon sports bras. Even the older women in the class looked like Lululemon mannequins.
Viveca's classes are what it would be like if a military sergeant took over training Beyoncé's backup dancers. You're moving the whole time, shuffling in place, punching the air, holding squats, doing arabesques over and over while she sings along to "Scream and Shout" and makes eye contact with you through the mirror mid-lunge. I'm not a dancer and I quickly learned one thing: If I think too hard about moving my hands up and down while moving my legs side to side, I end up looking like a scarecrow on a trampoline. By the second class, I started to almost know what moves were coming next. I also learned the value of standing directly behind someone so you can't see your own reflection in the mirror.
After the first week of three clasess, two "ass-burning" DVDs, and one bout of outdoor exercise which involved me almost puking in a CVS after running 0.8 miles, I was hooked. Viveca ends her class standing over you while you do constant reps of sit-ups and leg-lifts, but somehow it's actually fun. It's painful — there's always a moment halfway through the class where I think I can't believe humans pay money to have this done to them — but this shit works.
After only a few weeks of heavy piloxing, I did feel healthier. When I came into the New York office for Fashion Week, people told me my legs looked skinny. There also appears to be some sort of muscle forming on my upper arm, which certainly has never been there before. The one thing about having a fitness plan that you have to stick to is that it's hard to do a lot of other things. Even to make it to three classes a week, piloxing has to be a priority. I had to switch my normal class so I could have dinner with a friend who was in town, and ended up missing another class because I had to work late. For most celebrities who work out regularly — many twice a day — exercising isn't just a priority, it's part of their job, but it's hard to imagine being able to maintain that on a weekly basis for, uh, forever? Even thinking about that has me wondering how these women have the energy to be a celebrity in the first place.
Stay tuned as I delve into liposuction on Tuesday, skincare on Wednesday, hair and makeup on Thursday, and, of course, the Dress on Friday.