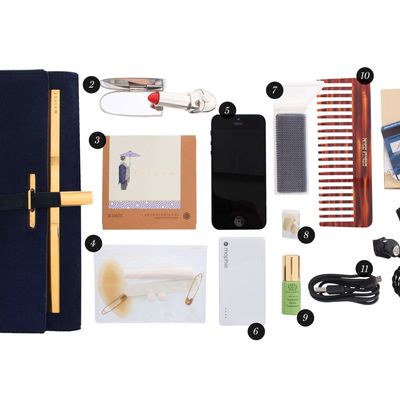 Before the frenzy of street photography, editors and buyers would sling normal totes and handbags over their shoulders without giving it too much thought. In recent years, however, the bags have shrunk to ever smaller sizes. There's been a proliferation of slim clutches, little "camera" bags, and minaudières. Obviously, the end game of this trend is to carry no bag at all. Meanwhile, we marvel at the challenge of fitting so much into something so little, so we've taken a beautiful, thin pony-hair clutch and filled it will loads of things that will get any person at Fashion Week through a long day. Zoom in on the photo and click ahead to buy any or all of these tiny essentials.
1. Maiyet Calf Hair Ceres Clutch:
Understated in luxurious navy, pony hair, and black leather, this clutch will go well with a wide range of looks, so pack it once and pack it well. $1,850
2. Guerlain Rouge G Lipstick:
A classic red lipstick comes with a built-in mirror that pops up when you remove it from its elegant, spylike case. $48
3. Tatcha Original Aburatorigami Blotting Papers:
These powdery sheets will dampen down any shine. Use them in the cab before you step out and get photographed by a street-style photographer. $12
4. MUJI Clear Zip Case:
Transparency is key to keeping all the tiny things visible, organized, and within reach. $1.50
- Tampax Compak Pearl: You know you or someone you know will need one. $5
- Singer Safety Pins: Wardrobe malfunctions happen.  $5.99
- Topstick Tape: Tacks fabric together, or to your skin, so that everything hangs just the way you want it to. $5.85
- Band-Aid Advanced Healing Blister Cushions: Heels for days! $5
- Tylenol: Looking at so many clothes can be a headache. $9
5. Apple iPhone 5, 16GB: 
The best way to take blurry Instagrams from the front row. from $199
6. Mophie Powerstation Battery Charger:
Avoid FOMO with this handy backup battery for iPad, iPhone, iPod touch, DROID, HTC, and BlackBerry. $80
7. MUJI Portable Dress Cleaner:
Don't let lint ruin your look. $3.75
8. Nature's Bounty Pure Vitamin C:
Ward off illness and give your skin added glow. $12

Boiron Oscillococcinum Quick-Dissolving Pellets:
Being a carrier of the super flu isn't an option; take as soon as you feel symptoms. $14.35
9.  Tata Harper Aromatic Stress Treatment:
Those elevators at Milk are stressful. Rub the soothing blend of neroli, linden blossom, and rose oils onto temples or into palms, then inhale. $80
10. Mason Pearson Rake Comb:
No one wants to carry a full hairbrush, even in a big bag. This impossibly thin Mason Pearson comb hardly takes up any space but is still sturdy enough to smooth the most wind-tousled hair. $30
11. Your trusty USB cord:
You'll need it for charging your iPhone with your Mophie mini charger.
12. A Slim Business Card Case:
Keeping essentials like your ID and credit cards, or business cards (for anybody who still uses those). $7
13. Molami Bight Stingray Earbud Headphones:
The mini microphone makes taking calls in between tracks super-easy. Plus the stingray buds look like cool, weird ear-jewelry that everyone will ask you about. $200