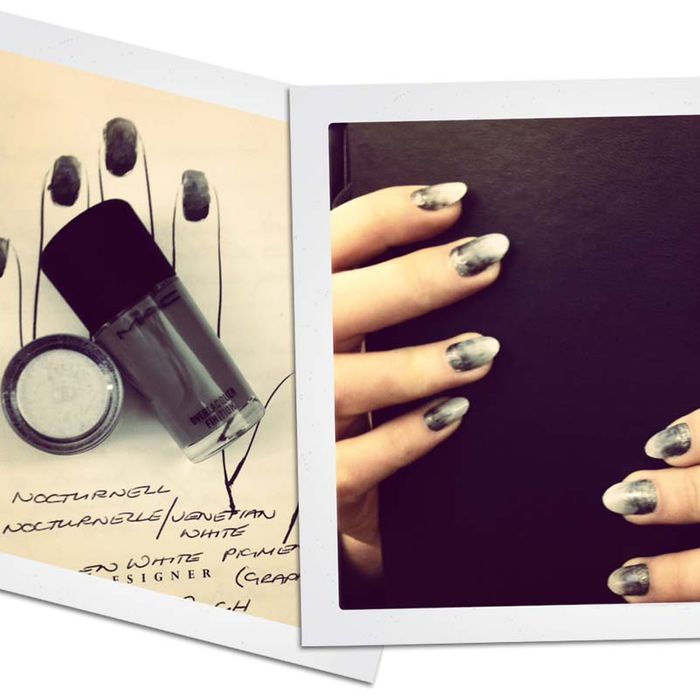 At the Gareth Pugh show, the designer conjured up a vision of women clutching the skirts of their dresses in the middle of winter, fleeing from a burning chateau. No word yet if he's giving away the plotline for Downton Abbey's next season early, but manicurist Marian Newman translated this idea into a dégradé charcoal nail. "There's a coldness about the whole story," she says, referring to Pugh's nightmarish scene. "So I went for a frostbitten look with a touch of white pigment on top for a bluish frostiness." While she custom-blended MAC's Nocturnelle with Venetian White for the show, any ashy grey shade can play substitute the next time you try this at home.
Marian's tip: Keep all bottles of polish open, because you will need to quickly switch between coats while the nail is still wet.
1. Paint one third of the nail, closest to the cuticle, in black polish.
2. While the nail is still wet, layer over one coat of the grey polish, smudging the brush into the black for an ombré effect.
3. Finish the effect with a layer of white polish towards the tip of the nail.
4. Using a makeup brush, apply MAC's Frozen White pigment over the entire nail for a "frosted" finish.
5. Seal in the paint job with top coat.