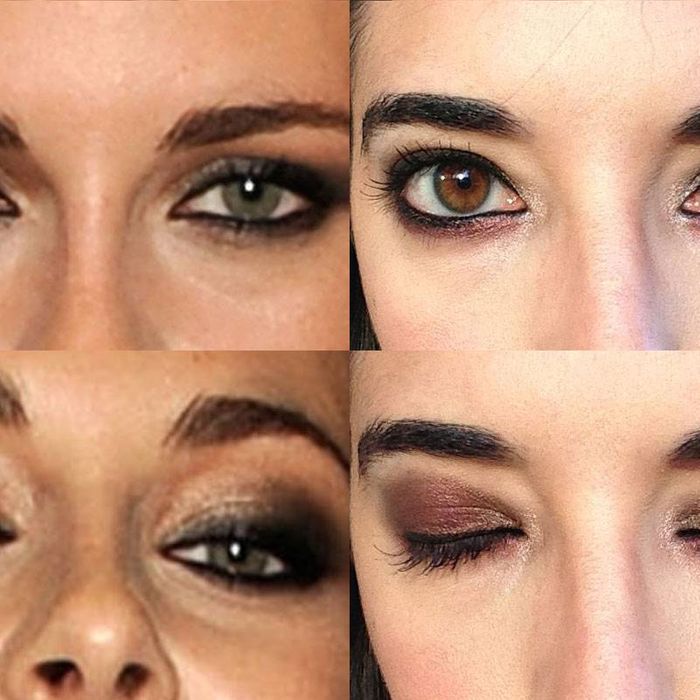 At any red-carpet event, there is  going to be at least one beauty look that you wish you could wear yourself, but the idea of actually attempting it is daunting. This is where Blushington, a new company that re-creates red-carpet looks on regular folks, comes in. All you do is bring in a picture or describe the look you want, then the artists recreate it. When I brought in a picture of Kristen Stewart at a screening of On the Road, for instance, Jessica Scantilin was able to give me a custom version of KStew's eyes along with some general tips on translating a red-carpet look:
Keep It Simple.
You need to tone it down with the foundation. On the red carpet, some serious foundation might be necessary to counterbalance all those camera flashes, but when you're sitting across from someone at the dinner table, it's best to look like all you're wearing is your own skin. For that, tinted moisturizer, some concealer, and some pressed powder is enough.
Choose a Celebrity You Look Like.
Know that the colors might not look the same on you. "A lot of people want a bronze eye like Charlize Theron and Reese Witherspoon, or skin like J.Lo, but if I came in with a picture of J.Lo, the exact look wouldn't be right on me because I look nothing like her," Jessica explains. Choosing the right shade in the same color family is key.
Never Go Full-Kardashian.
Know that a Kim Kardashian eye is going to look intense on you. Really intense. Jessica says clients often come in asking for a big dramatic smoky eye, but if you don't usually wear a lot of makeup, it's going to look like a lot. One way to tone it down without losing the drama is by using brown shadow instead of black, which will create a softer look.
There's No Need to Splurge.
Celebrities have makeup artists with a zillion products in front of them, but instead of cleaning out a section of Sephora, work with what you have in your arsenal. "With a dark brown, a light brown, a pop of color, and some kind of shimmer, you can get a variety of looks with what you have," Jessica explains.
Test a Sample Out.
Make sure your concealer and foundation are right for your skin tone. "You can't trust the light in department stores. They always go half a shade darker because of the lighting," Jessica says. So take a sample home with you and see what it looks like in your bathroom or outside.
Lose the Eyeliner.
Subbing a powder shadow for eyeliner on the bottom of the eye is an easy way to soften a sharper look from the red carpet.
Just Let Loose.
Celebs have people making sure they look perfect all the time, hiding behind the scenes for some stealth touch-ups. If you have a long night ahead of you, create a look you know you can maintain or come to terms with the fact that if you have a good time, your makeup will show it.