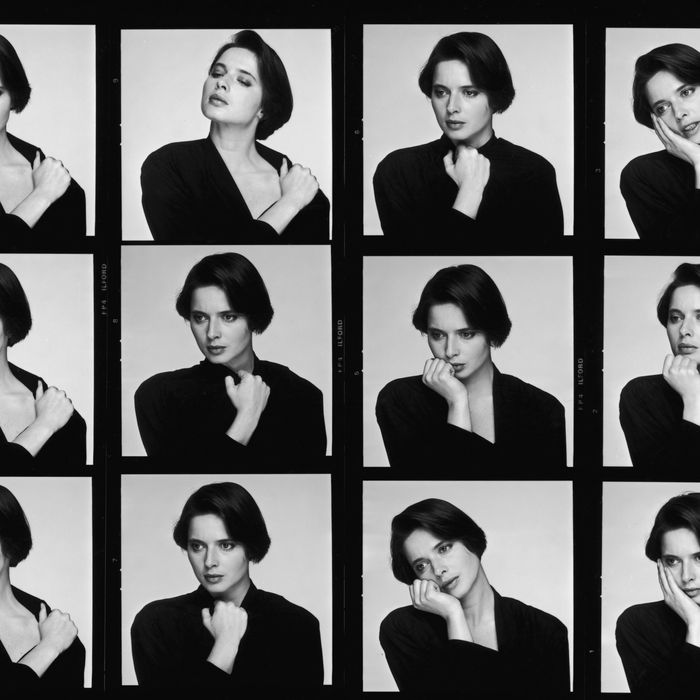 Photo: Terry O'Neill/2005 Getty Images
The latest installment in our series of vintage contact sheets, featuring never-before-published images from photography archives.
As we kick off our Fashion Week interview series with Elettra Wiedemann, we must momentarily pay homage to her mother. Probably best recognized for her heavy-lidded eyes, flawless round face, and delicate smile splashed over high-fashion glossies like American Vogue, British Vogue, Harper's Bazaar, and Vanity Fair during her fourteen-year-run as the face of Lancôme, the Italian model (and love child of Roberto Rossellini and Ingrid Bergman) also showed off her acting skills in Hollywood.
Before Isabella Rossellini starred in one of her most recognizable roles as the tortured, sexual nightclub singer Dorothy Vallens alongside Kyle MacLachlan in Blue Velvet, she appeared in the thriller White Nights, her first American movie. See her looking gorgeous and youthful in 1984, decades before she appeared as Jack Donaghy's ex-wife who proclaimed her love for "big beef and cheddar." Zoom in above to catch her tugging at her collar and looking wide-eyed and pensive in a contact sheet for Taylor Hackford's film. After that, take a look below at a 1990 commercial from Lancôme featuring her stunning complexion.