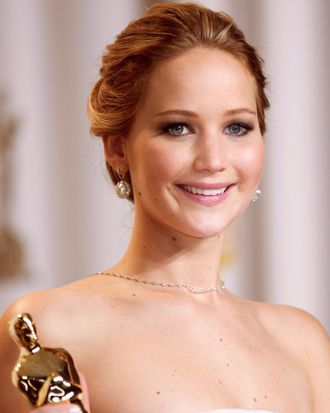 Jennifer Lawrence.
Photo: Xinhua/Yang Lei/Corbis
Some photographer got a picture of Jennifer Lawrence smoking something that looked like pot, resulting in a torrent of weed-related headlines cluttering up the Internet all day. Weirdly, they were disappointingly pun-free — no one even went after low-hanging fruit like Winter's Stone, or a Hunger Games munchies joke. Anyway, we've rounded up some of the more awkward, creative ones for your perusal. Enjoy.
"Jennifer Lawrence winds down with funny-looking cigarette" [NYP]
"Here's Jennifer Lawrence Smoking a Fat Joint, Maybe" [Jezebel]
"Jennifer Lawrence Chills With WEED & Red Wine In Hawaii?!" [CocoPerez]
"Is that why she's always coming a-cropper? Oscar-winner Jennifer Lawrence enjoys a suspiciously large 'roll-up' on holiday in Hawaii" [Daily Mail]
"Jennifer Lawrence unwinds after Oscars win with wine, suspicious-looking cigarette in Hawaii" [NYDN]
"Smoking Hot! Jennifer Lawrence Spotted With Suspicious Looking Cigarette In Hawaii" [Radar]
"Jennifer Lawrence Lets Loose in Hawaii" [USAT]
Everyone brace themselves to get even more obsessed when she admits that, yes, it was indeed a joint, and she'd totally share it with you.