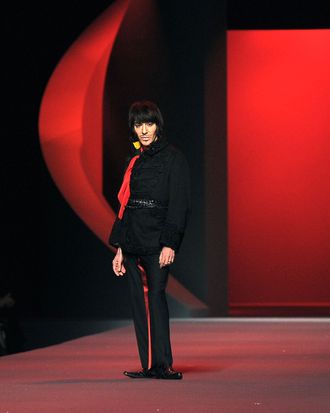 John Galliano.
Photo: Dominique Charriau/WireImage
At a preliminary legal hearing in Paris today, a French court green-lit John Galliano's lawsuit against Dior concerning the circumstances of his scandalous dismissal in March 2011. The case will now proceed to a commercial court due to the complex nature of Galliano's former contracts with Dior. But enough of all that legal jargon — what did Galliano wear? What kind of money are we talking here? We've weeded out the most interesting tidbits from WWD's report, including details on the designer's clothing allowance from back in the Dior days.
His court outfit: A skinny-trousered black suit and black shirt, probably designed by himself.
His mode of transportation: A black Citroën C2 car, driven by a chauffer.
What he consumed at the court house: Sips of water from a "small bottle."
How much Galliano was paid for his work at Dior: An annual salary of 1 million euros ($1.3 million at current exchange), plus annual bonuses of up to 700,000 euros depending on sales figures (about $906,400), an annual clothing allowance of 30,000 euros ($38,850), and a grooming budget for personal appearances of 60,000 euros ($77,700).
How much Galliano was paid for his work at his eponymous brand: An annual salary of 2 million euros ($2.6 million), minus a percentage dependent on how much money the house lost every year, since it never made a profit. He also got another annual clothing budget of 70,000 euros ($90,650).
How much more Galliano made doing other things: According to Dior's lawyers, Galliano commanded additional fees for consulting on his own brands' ad campaigns and making appearances at catwalk shows.
Total maximum value of Galliano's compensation per year, approximately: €3.86, or about $5.22 million.
It's unclear what exactly Galliano is seeking from Dior; last August, his spokesperson wouldn't even confirm the lawsuit's existence.