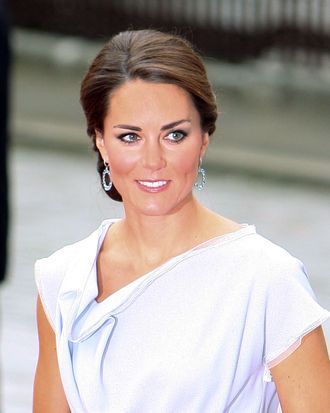 Photo: Neil Warner/Corbis
Yesterday, it emerged that Italy's Chi magazine bought the pictures of pregnant Kate Middleton wearing a "skimpy bikini" in Mustique and already printed one on its cover (which you can see here). As anticipated, St. James's Palace wasn't too happy — a spokesman told People, "We are disappointed that photographs of the Duke and Duchess on a private holiday look likely to be published overseas … This is a clear breach of the couple's right to privacy." St. James's Palace must be even more disappointed today, since Star and Australia's Woman's Day also sprang for the pics.
But disappointed? I'm "disappointed" when Grey's Anatomy is a repeat. So, it seems like the palace isn't flipping out. Compare this statement to the one released in September, after Closer ran photos of Kate sunbathing topless in the south of France:
Their Royal Highnesses have been hugely saddened to learn that a French publication and a photographer have invaded their privacy in such a grotesque and totally unjustifiable manner … The incident is reminiscent of the worst excesses of the press and paparazzi during the life of Diana, Princess of Wales, and all the more upsetting to the Duke and Duchess for being so. Their Royal Highnesses had every expectation of privacy in the remote house. It is unthinkable that anyone should take such photographs, let alone publish them.
Grotesque? Unthinkable? Reminiscent of the worst excesses of the press and paparazzi during the life of Diana? That's a 9.5 on the Palace Scandal Scale. By contrast, let's look at St. James's Palace on Prince Harry's strip billiards loss in Vegas last year. (Granted, Harry isn't next in line for the throne; however, he was the nakedest.)
We remain of the opinion that a hotel room is a private space where its occupants would have a reasonable expectation of privacy … Prince Harry is currently focused entirely on his deployment in Afghanistan, so to pursue a complaint relating to his private life would not be appropriate at this time and would prove to be a distraction … We have concluded that it would not be prudent to pursue the matter further, and we will have no further comment to make about the matter.
Now, that's a negative 5 on the Palace Scandal Scale.