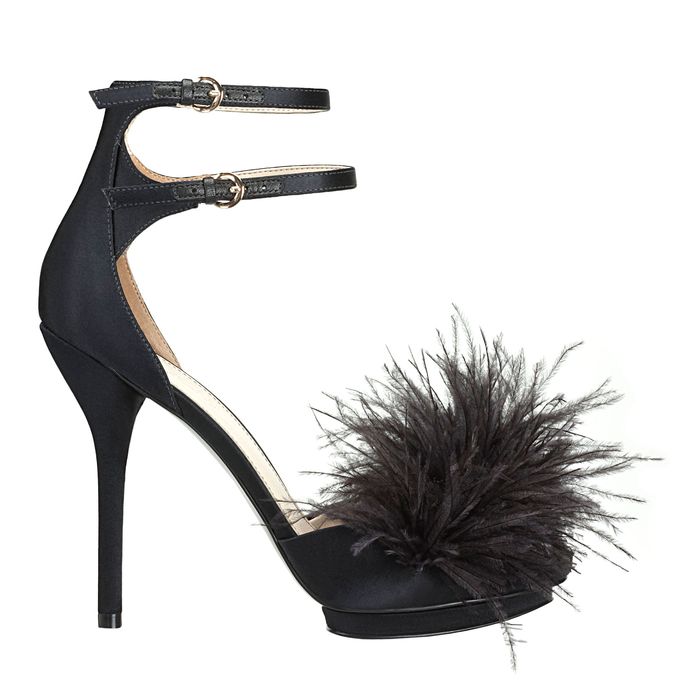 Ostrich feather show, KZ for Nine West, $89.
Photo: Courtesy of Nine West
"Ostrich feathers for February! It's very indulgent," exclaimed Sarah Easley. She was not talking about a dress with a four-digit price tag sold at Kirna Zabête, the high-end boutique she runs with her longtime best friend and business partner, Beth Buccini. Instead, she was describing an $129 shoe that they've designed for their new Nine West collaboration, which hits stores this month. "What mood are we in February?" she continued. "We're so over winter, and we want to escape with some fashion fantasy, like ostrich feathers in red and black."
With their matching pixie-cut brown hair and colorful, up-to-the-minute outfits, Easley and Buccini are ubiquitous at fashion shows, and unlike most of their front-row cohorts, they always look like they're having fun. In other words, they're the kind of people who could convince anyone to wear feathers on their feet in the middle of winter. Last summer, they expanded their purview beyond high fashion with a Target collaboration; shortly thereafter, Nine West came calling about a spring shoe line. We caught up with the two perkiest, most stylish women in the industry on the etiquette of midday shoe-shifts, the ageless foot zone, and why everyone should always carry a second pair.
How did you first team up with Nine West?
Beth: They reached out to us, and we had just come off this Target collaboration, which was six weeks, we were looking to do something that stretched out longer than that. We love getting dressed from the ground up; we always say you can wear last season's clothes with this season's shoes, but every single month you want to have something quite unique. So we went through six months of the spring season, starting in February even though it's the dead of winter and reaching into summer, to July, and talked about specific wardrobe needs that women have within that six month period. 
Sarah: For every month, we imagined three styles that you probably don't already have, didn't know you need, but how can you live without? But we also factored in reality. It rains in April, so we came up with a glamorous, waterproof little puddle jumper, which is really fun but also a good solution for rainy weather.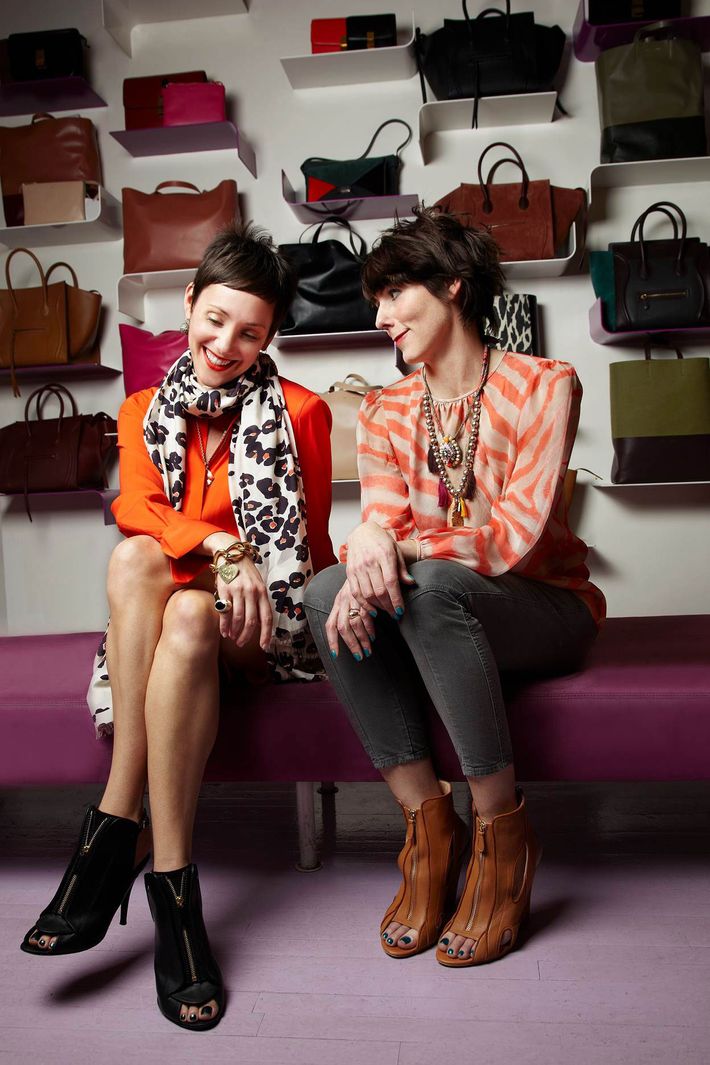 Can you tell me about your individual shoe tastes?
Beth: I don't think we actually have very different shoe tastes. We really had to shut each other down. Like, "You are not allowed to own any more leopard shoes." But we're working women, and mothers, and fashion people, so we lead complicated lives, and what we wear on a daily basis really runs the gamut. During fashion week, you need your highest best heels, but then you need to be able to change into a Charlotte Olympia kitty flat later. I am now at the point where I can no longer wear high-heeled shoes all day long every day.
Sarah: The footwear category is where you can really be inappropriate on a lot of levels. You can be weather appropriate, or you could push the envelope on the fashion frontier a little bit more. Feet are sort of an ageless zone where you can break a lot of rules and take a lot of risks. Which is why women should feel comfortable changing their shoes multiple times per day — sometimes that risk is only okay after 6 p.m.
Do you always carry extra shoes in your bag?
Beth: We always have extra pairs of shoes with us. You have the leopard stiletto and then you have the leopard flats. A shiny patent red Repetto flat, and then a high-heeled red pump. Ideally, everything footwear choice should be in pairs.
What's your etiquette for changing shoes? Do you do it on the sidewalk?
Beth: We're still ducking in an alleyway. But ideally, it's happening in a taxi.
Sarah: It's a universal wink. You see the girl in the elevator, and you know she was hoping no one else would get in the elevator, but you dash on last minute and she's mid-shoe-shift. You know not to say anything. Everyone does it. Just soldier on. 
Beth: The sisterhood of the changing shoes!
So are we really supposed to wear an ostrich feather shoe in February?
Beth: It's actually my favorite shoe for February. It's just completely frivolous, and nearly ludicrous. But that's what's so amazing about it. It's just a bit of fantasy in the shortest and darkest month of the year.
Any footwear trends you're excited to see go away?
Sarah: All the platforms. That just got completely out of control, where you were wearing sculptures on your feet that you could barely walk in. Lately we've seen a lot of the more refined pointy toe, which is really pretty. We've bought into that, from Celine and Alexander Wang and Dior, a lot of that silhouette, for next season.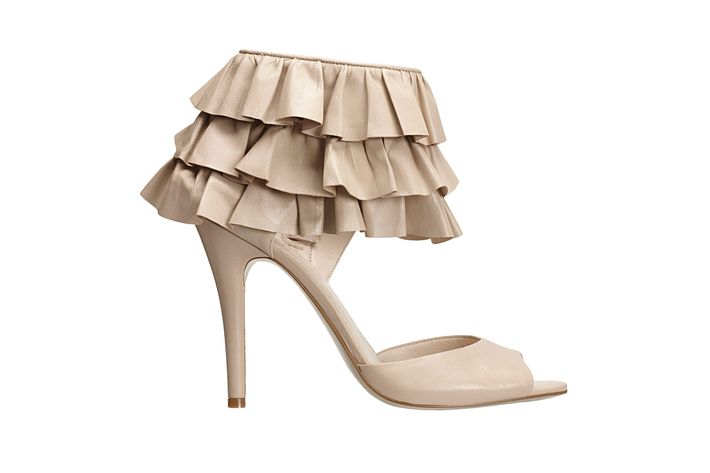 How do you see this collaboration moving forward? 
Sarah: If they invite us back, the answer will be yes! They just let us be the designers, and let us do whatever we want, and taught us a lot about the actual mechanics of making shoes. We really did design the collection, and sketch it out with them, and go to a million design meetings. We weren't just like, "Oh that's cute, put it in the line."  
Sarah: Beth and I fancy ourselves to be experts in the luxury market, and knowing what women want at the top price point. But Nine West had a lot of wonderful data and information about the mass market of shoes. And so we came to the table with such varied information, and they let us do a luxury shoe and taught us how it could be produced from $49 to $149 retail.
Who's your ideal customer?
Sarah: This collaboration lets customers who normally wouldn't dare buy ostrich feathers for a Thursday afternoon be like, "All right, I'll give it a whirl for $89." She can take a risk and it won't be like, the once-a-year-for-a-wedding ostrich feather shoe. Maybe she'll wear them on a weekday for a little perk up in February. And that's our hope, that you take a risk, because it's not so precious. You can go ahead and test drive it and not just leave it in the box in your closet.
Between this and your Target collaboration, you've really been designing a lot lately.
Beth: Don't get us wrong: we absolutely love the high-end land we live in. But it's been super enjoyable and fun visiting the mass market land. At the end of the day, Mike Bloomberg takes the subway. Everyone wants a bargain. Or everyone wants a splurge. And we realize that for some people, these shoes are splurges.