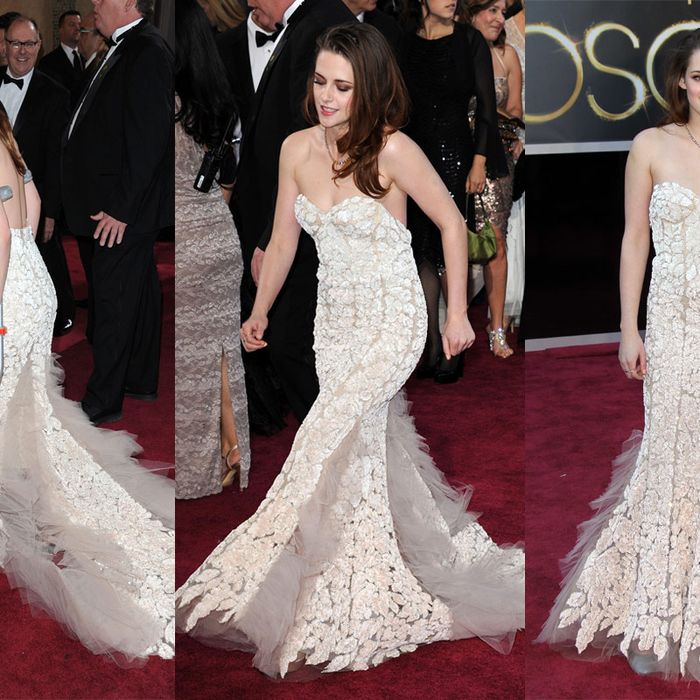 Last night, as people tuned into ABC's live stream of the Oscars festivities, the "Breaking" banner changed within a matter of seconds from "Kristen Stewart arrives on the red carpet!" to "Kristen Stewart arrives on crutches!" The feed trailed Stewart — a seashell-and-tulle covered vision actually smiling for the cameras — but, wait … there was side-stepping, grimacing, and ultimately an assistant with said crutches. So, what was R. Patz's level of involvement, here? How hard did K. Stew have to chase after him this time, even though it was probably all her fault? (Before you call us insensitive, how about Anne Hathaway telling her to "Break a leg … Oops!")
From StyleWatch:
The star's makeup artist, Beau Nelson, tells PEOPLE she "cut the ball of her foot, quite severely, on glass two days ago." But a true pro, Stewart, 22, managed to pose for photographs without any crutches, showing off her cream-colored Reem Acra gown. Nelson adds that Stewart is in "a little bit of pain."
If there were ever an occasion to pull from her extensive sneaker collection, this would have been it.