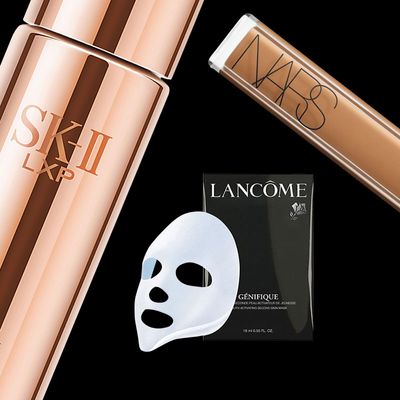 Each weekend, I test out a few of the many beauty products to hit my desk so you can decide if you want them, too.
Lancome Genefique Youth Activating Second Skin Mask ($80 for a set of 6): After opening the package, the mask's mesh encasing is a little difficult to maneuver, so it might take a few minutes to finally get it on your face. Once slicked onto the skin — and it really does stick onto the skin rather seamlessly — it immediately cools and refreshes. There's hardly any fragrance throughout the twenty minutes recommended. Each mask is saturated with half a bottle of the brand's potent Genefique Concentrate, which is formulated to leave complexions appearing radiant, super-hydrated, and plump. While I used this in the evening and slept with the remnants of the somewhat sticky serum on my skin, I recommend wiping the leftover residue off pre-moisturizer or makeup application.
SK-II LXP Ultimate Revival Essence ($250): The latest from SK-II is a super-version of their signature Facial Treatment Essence. Loaded with the highest concentration (hence the price tag) of their patented Pitera ingredient, this tonerlike treatment should really be reserved for destitute skin days. While it's too hard to tell the long-term effects so soon, it immediately recharged the driest and dullest areas of my skin, particularly the cheeks and chin. They appeared less chalky and felt smoother to the touch.
Nars Radiant Creamy Concealer ($28, available on February 20): This hydrating, creamy formula is easy to blend and melts into the under-eye area. It also leaves behind light-diffusing particles which help diminish the appearance of dark circles. I especially love it for its easy-to-use doe-tip wand (kind of like a lip gloss), which allows you to easily target application.