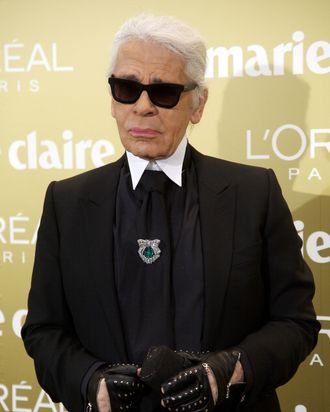 Live-stream THIS.
Photo: Jack Abuin/Corbis
Now that ehhhveryone live-streams their runway shows, people have to come up with a new way to make the world feel almost-but-not-actually invited to exclusive fashion events. Forever ahead of the curve, Karl Lagerfeld is on it: He'll livestream the opening of his eponymous brand's new store during Paris Fashion Week. Three cameras will transmit a feed of the party onto Karl.com and the brand's Facebook page, and, according to WWD, "Virtual guests can also pose questions on a Twitter wall." Who will be answering those questions is unclear, but no matter — it's more about letting viewers feel included.
Sure, live-streamed parties are a new frontier, and while we'd all love to watch famous people get sloppy in real time, this may not work in practice. As soon as people know they're being filmed, they'll be on their best behavior and fanny about for the cameras. If all the world is observing, how will celebrities manage to cut loose, blot their faces with cocktail napkins, and chase after the waitstaff for an extra helping of chicken salad on toast without fear of judgment? If this becomes a widespread practice, these shindigs won't be any fun to watch or attend.