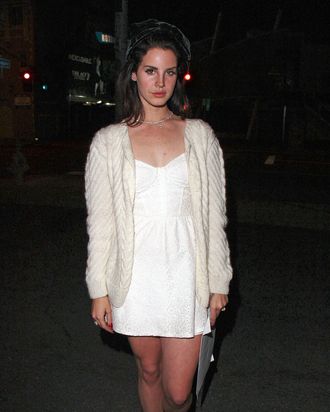 Photo: Josephine Santos/PacificCoastNews.com
On Tuesday night, Lana Del Rey's left ring finger was busy signing autographs for her L.A. fans while wearing a substantial diamond and sparking rumors the singer is engaged to her boyfriend, rock star Barrie-James O'Neill. We never pegged her to be a Zales girl and always hoped O'Neill's proposal would involve something moodier, like a mood ring. However, given Lana's hand-block and decent manicure, we'd say this is it! Lana hasn't said much, other than tweeting, "GATSBY" — either a reference to the upcoming film (she's said to be working on the soundtrack) or Chinese hackers growing bored.
To go with her maybe-engagement ring, she selected a lacy white dress, cardigan, velvet bow, slippers, and a bauble on her right ring finger. For those of you who thought she was dating Axl Rose, O'Neill previously remarked, "The deal is I get Lana during the week and Axl gets her at the weekend." That could explain the two rings.