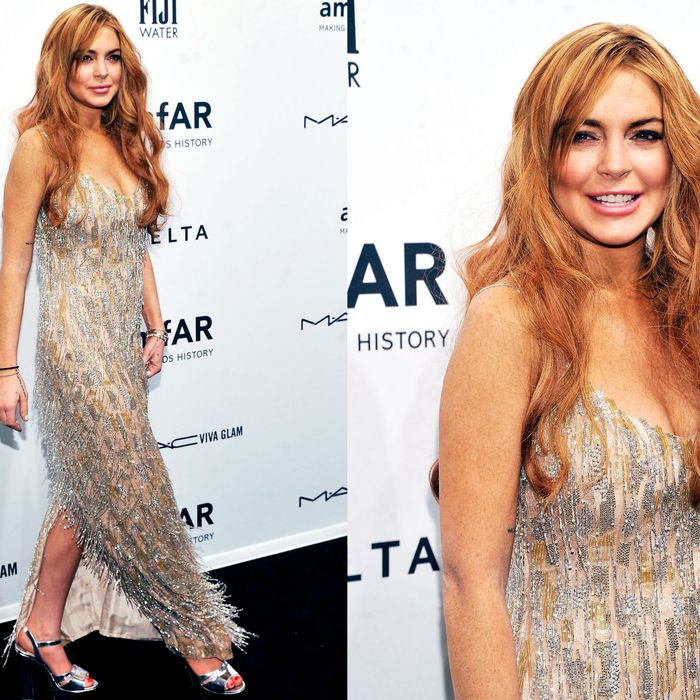 Photo: Stephen Lovekin/Getty Images
You may recall Lindsay Lohan's white-fur-hooded appearance at the amfAR Gala during New York Fashion Week, which became the source of much Internet debate. Did she crash? Did she look bad? No, she looked good! But wait, was she invited? Was that fur real?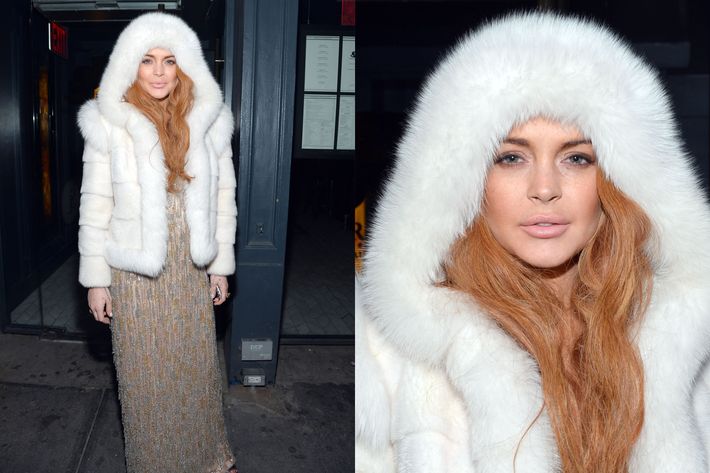 Most of those mysteries went unresolved, except for the matter of her tinselly dress: Us Weekly reported that she borrowed it from the fashion label Theia at the behest of Charlie Sheen (no, really), whom she befriended on the set of Scary Movie 5. He put in a call to stylist Phillipp Bloch, who in turn secured the $1,750 dress for her — no small task these days, as she's notorious for holding onto borrowed items. Well, it's about time to debunk that myth, because she did return the item, or at least some of it. Us Weekly's source, who submitted a post-Lohan photo of the garment today, says:
She said that the dress had ripped [at a club after the fundraiser] — she couldn't possibly wear it like that — so her stylist friend went to the club bouncer and requested some scissors to repair the torn part of the dress … But what bouncer has scissors?
The bouncer's possession of scissors seems unimportant, but anyway, there's a silver lining, figuratively AND literally: When Lohan chopped off the bottom half of the gown, she left the hem longer in the back, thus demonstrating her knowledge of spring trends.
"She turned it into a mullet! Only a fashiony person would do that!" the source continues. "She's out of control and behaving really badly."
And lo, out of the tatters, a backhanded compliment.