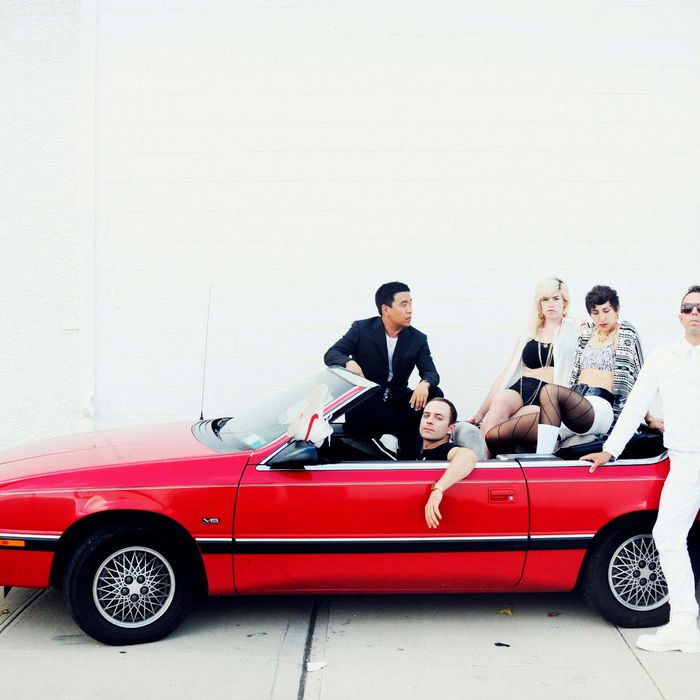 You might recognize the beats of AVAN LAVA, an electro-pop group from Brooklyn, if you've been wasting away work by watching fashion ads on YouTube. The group began composing and remixing music for campaigns shot by photographers Inez & Vinoodh — including Nina Ricci, Viktor&Rolf, and a Mango ad starring Kate Moss — after producer/drummer Ian Pai met the duo at a dinner party. "Vinoodh was like, 'We gotta do something! We're always looking for music!,'" Pai said. "In the morning we sent them our two EPs and it just took off from there … our relationship has blossomed into a consistent collaboration." (AVAN LAVA's track "Feel Good" was also showcased in one of our Model's-Eye View videos during New York Fashion Week last season, and you can see their music video for the song here.) AVAN LAVA will also help you get your dance on this Saturday, March 2, at Music Hall of Williamsburg. As they prepare for that show, the group has created a special playlist for the Cut of their favorite songs right now. They've had a hand in some of them, and others they just can't get out of their heads.
Click here to listen on Spotify (it's free to sign up and download). Full track list below.
1. "Interstellar" by Frankie Rose
2. "Real Love (Narcisse Remix)" by Delorean
3. "The Giver" by Duke Dumont
4. "Supply and Demand (Moguai Mix)" by Fischerspooner
5."Xybots" by Shadow Dancer
6. "Journeys" featuring Ekhi by John Talabot
7. "Know Me (Le Chev Remix)" by Frankie Rose
8. "Suede" by Zombie Nation
9. "Hood" by Strip Steve
10. "Beautiful People" by Chris Brown
11. "Globes" by Rustie
12. "Take it to the Head" by DJ Khaled
13. "As Long as You Love Me" by Justin Bieber
14. "Gax" by Boys Noize
15. "Flutes (Sasha Remix)" by Hot Chip
16. "Mutual Core (Matthew Herbert's Teutonic Plates Remix)" by Bjork
17. "Softkiss" by Lemonade
18. "Tricycle Express" by Mr. Oizo & Gaspard Augé
19. "Gold Dayzz" by Ultraista
20. "UniverCity" featuring Jhene Aiko and Steezy by Dominic Lord, UniverCity, Kid Ink
21. "Embrace" by EDX
22. "EFX" by Teengirl Fantasy
23. "Blue (Casey Spooner and AVAN LAVA Remix)" by R.E.M.
24. "Square Biz" by Teena Marie
25. "3, 6, 9" by Cat Power