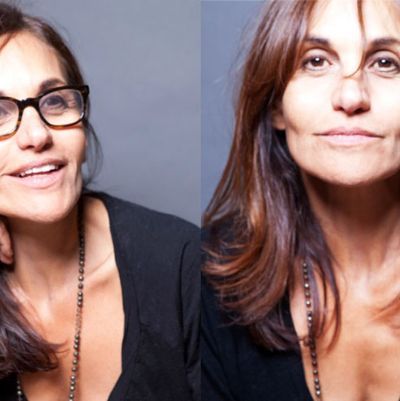 Lorraine Kirke.
Photo: Kristina Loggia/Courtesy of Lorraine Kirke
British-born Lorraine Kirke opened her West Village clothing store, Geminola, in 2004, shortly after she moved to New York with her husband, Bad Company drummer Simon Kirke, and four children. "When I lived in London, I used to make my own clothes, just in a back room," she explained over the phone last week. Unhappy with the clothes available in stores — "the normal stuff," she calls it — she started cutting up vintage finds and piecing the fabrics back together. "I don't like fashion," she said. "You don't want to be on that page in People magazine, 'Who Wore It Best,' in the same designer dress as somebody else."
Like her daughter Jemima, who plays the bohemian character Jessa on HBO's Girls, Lorraine's tastes err on the side of eccentric. "I've always loved to do things like dyeing and making dresses out of other dresses, if I like the material. I love fabric, and textures," she said, her crisp accent slightly blurred by her years in New York. We caught up with her last week to discuss her favorite vintage hunting grounds, her recent online expansion, and what it's like to dress her newly famous daughter.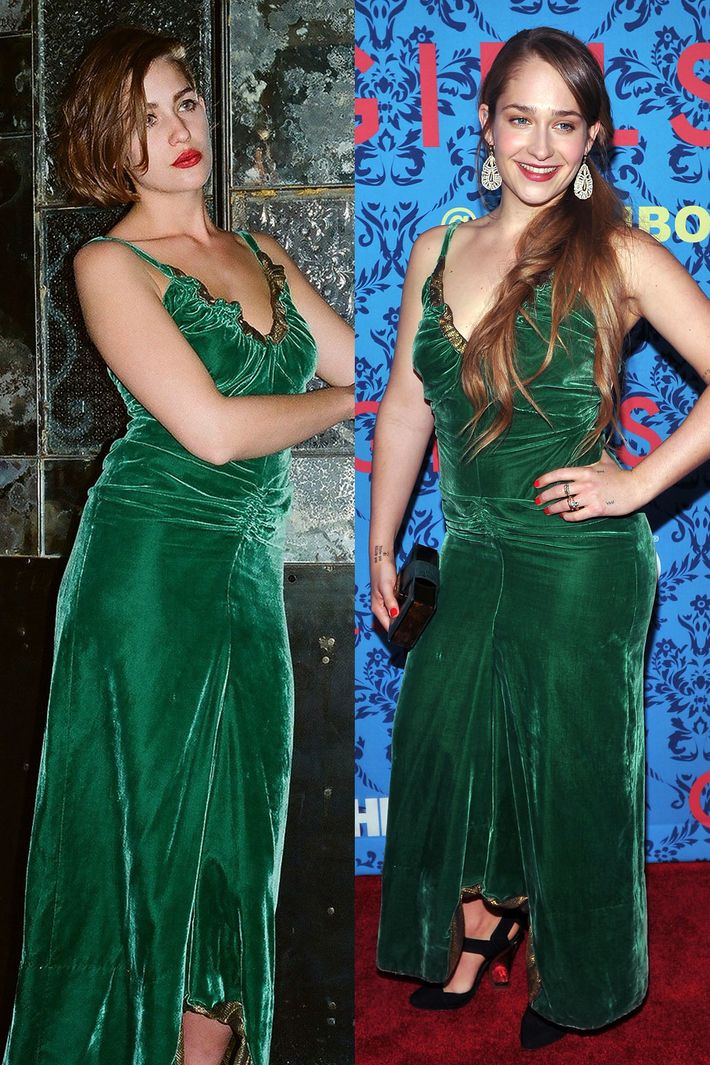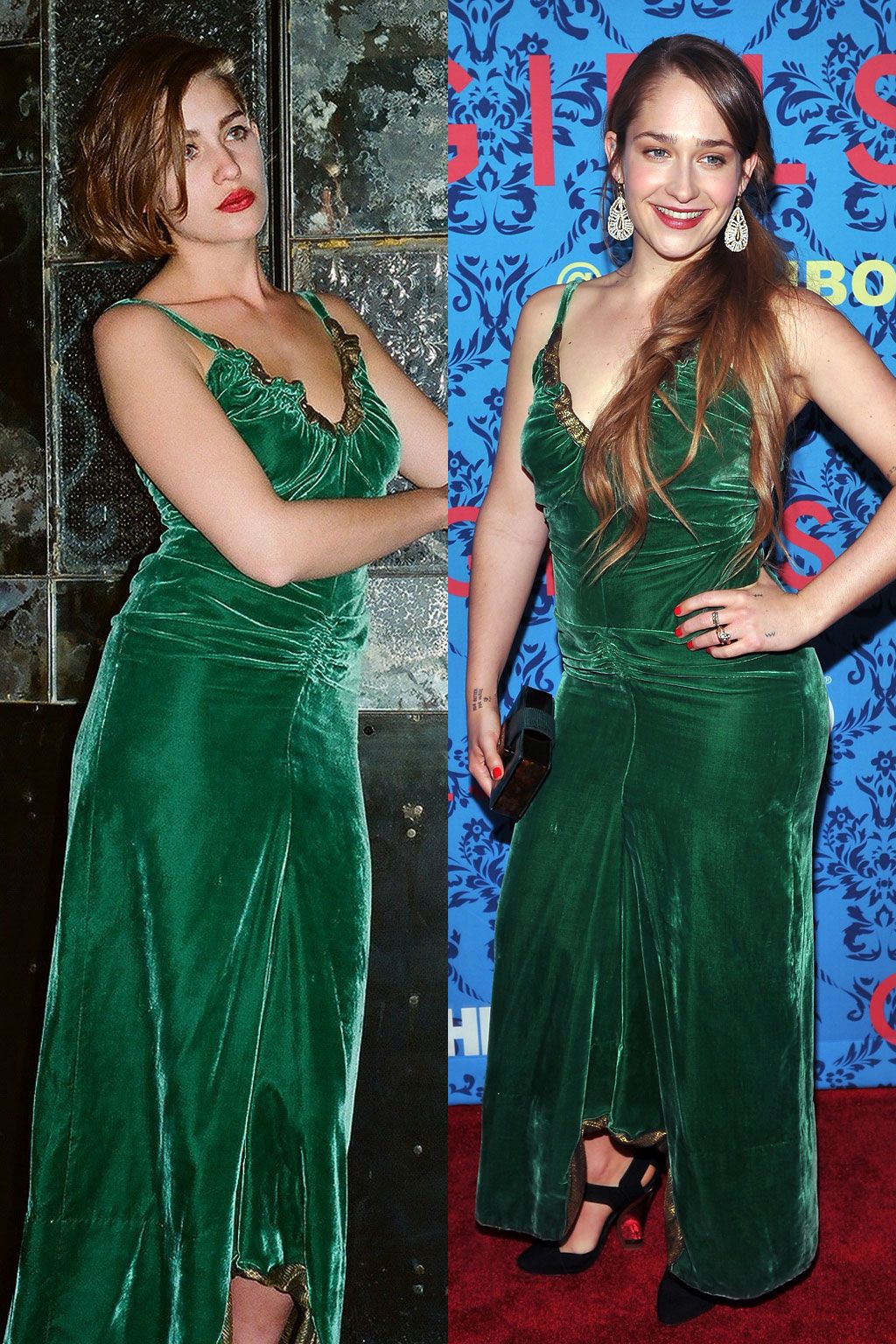 What's your process like for physically remaking the clothes? 
In my studio we have three girls who sew, and we make all the patterns. I might find old patterns from the thirties or forties and adapt them. I design maybe 20 or 30 different dress patterns, but then we make them out of different fabrics. We can't make in bulk, because we often have only two or three yards of each fabric. So each dress truly is one of a kind.
Where's your favorite place to hunt for materials?
Everywhere. I love to go scouring. The chase is the most fun part. I once went into this old lady's store in England and found the most beautiful 1940s silk robe, and she had all these baskets of things, all just for ten pounds. I am not afraid to cut something out — like, I'll buy a dress even if there's part of it I hate, just to salvage the part that I love. It's about the hunting and gathering! We also make wedding dresses from beautiful old lace. I go to little flea markets around New York, the Brooklyn Flea and the one on 25th Street. If I pick up one thing, I am happy.
You also have a background in interior decoration. How is that connected?
I think that everything in your house should be something that you never tire of looking at, and what you wear should be the same. It should really represent you. That's always what my house looks like, and it works for me obviously. But it's not like everybody wants that — I wouldn't be so presumptuous. I've always collected fabrics, and one day I was like, "Oh my goodness, these curtains would look great as a dress, let's try it."
Your daughters wear a lot of your clothes, right? I noticed that all three of them are pictured on your website.
My daughters — I have three, Lola and Jemima and Domino, and one son — I always dressed them in vintage dresses. They finally said, "Mom, can we have some new dresses?" I said, "Why would you want that? You want to go to the Gap?" We now have a children's section because Domino and Jemima have had babies, and I want to dress them up. I didn't do it before because it's actually a pain in the butt to make little girls' things. But I love to stick a crown on their heads and some flowers and lace — little girls love to dress up.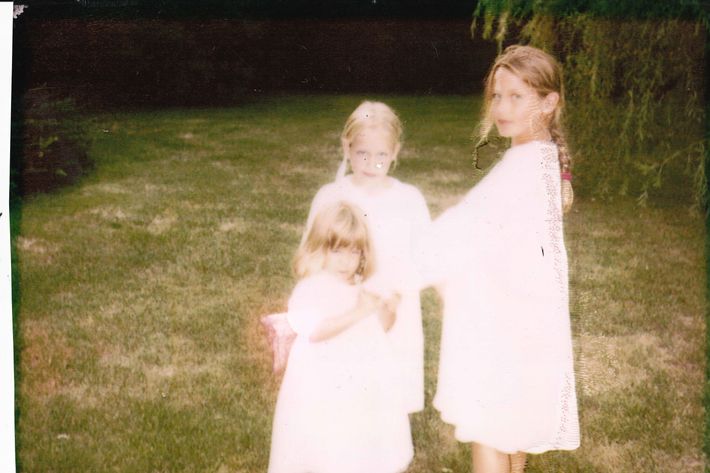 And Jemima wears some of your designs on Girls, right?
Yes. You remember that episode in season one, when they go to that party in Bushwick? Jemima wore my dress. Jenn Rogien adapted it with a feather belt. And the wedding dress Jemima wore is obviously ours.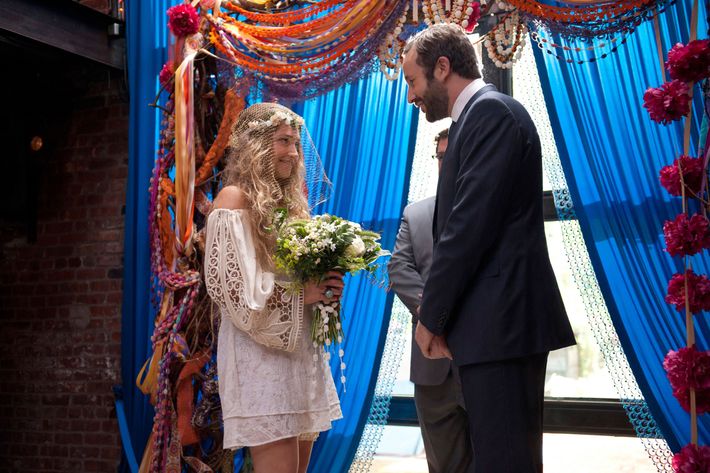 Lena Dunham's mom has been on the show. Would you ever consider making a cameo?
No, thank you. It's not for me.
How do you get inspiration for the clothes you make?
Whenever I see clothes, even if it's something I already like, I always want to dye it black or bright red, or cut the top off or shorten the straps. I buy vintage fabrics because I believe in recycling, and there is so much out there that has never been used — or has been used, but was made with such love and care that it can be reused.
Where do you find the fabrics and vintage pieces you work with?
I'll go to a flea market anywhere in the world, whether it's Paris or Minnesota or Florida, and I'll see that color and I'll go, "Ah!" — my eye goes straight to it. I think that's my gift, being able to find things. I've always been artistic, but I never went to fashion school, and I don't really look at fashion magazines. That's not what interests me. I also don't believe in seasons. I think one can wear a beautiful silk dress in the summer as you can in the winter, just add a coat to it.
Can you tell me more about your bridal dresses? Did you make your own?
I didn't make my own because I was nine months pregnant at my wedding. I wore an old white Victorian petticoat that I got on Portobello Road in London, and I just pulled it over my belly. I make a lot of wedding dresses now, though. I am dying for one of these girls to say that they want a red wedding dress, or a brown or a black one. But not any of them are daring enough.
What made you come around to do e-commerce now?
Basically, my assistant Elaine and my kids were all like, "You have to sell online," and that was really it. It was hard work because I am not very good at buying online. But my shop is on Perry Street and it's minute, so I guess you have to reach out to all those people out there who can't come in.
How would you describe your ideal customer?
We have 16- to 18-year-old girls who want prom dresses, and we also have a lot of actresses and models. I really do have a very good cross section of women and girls, age 15 to their fifties. It's the way you wear it that makes it look age appropriate. But my store, it's like a candy shop. You'll always find something that's delicious. Of course, there are some people who don't get it at all, and can't stand that it's vintage fabric because they want something new. But that's not my type of client. I've dressed girls like Mariska Hargitay, Mary-Louise Parker, Nicole Kidman, Naomi Watts, the Olsen twins, and Sienna Miller.