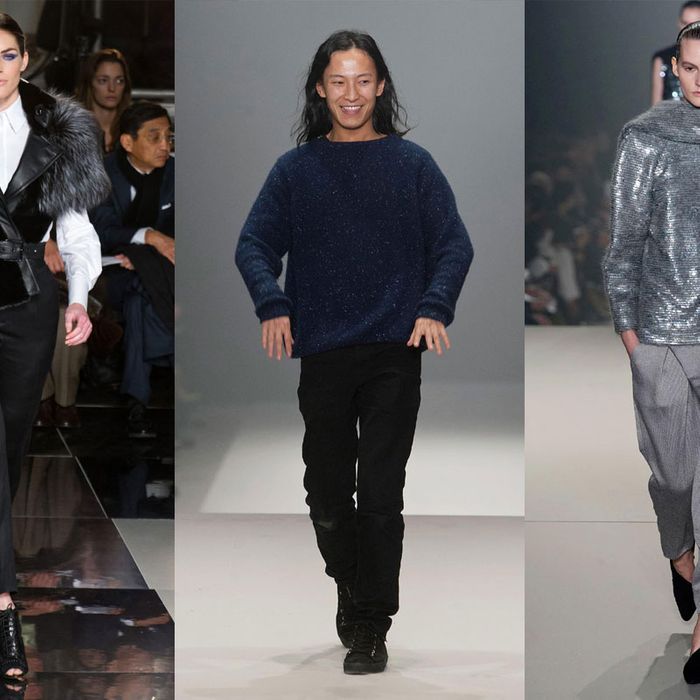 Of Wu and Wang.
Photo: Imaxtree
Like Lillian Gish navigating the icy shoals in D.W. Griffith's 1920 masterpiece Way Down East (wait, you didn't see that when it came out?), I slip and slide from the 59th Street subway station to the Jason Wu show, where, under a vast chandelier hanging perilously low over the catwalk, the designer, who has the distinction of creating not one but two Michelle gowns destined for the Smithsonian (not bad for a guy whose first professional foray was designing for Barbie dolls) presents his fall 2013 collection. This afternoon he is promulgating a trend that turns out to be much in evidence, at least in the early days of this frigid Fashion Week: the application of furry swatches to cloth coats, jackets, or even dresses — sometimes in the form of shaggy sleeves, or patch pockets, or odd little shrugs — which one suspects are cropping up in such abundance either because a) they represent a fashion item you don't already have, and so might actually buy, and/or b) fur companies are throwing wads of money at designers.
If you are one of the many people for whom pelts have lost their appeal and perhaps would prefer to keep warm in an oversize wooly pullover, this can be procured from rag & bone, where they feature graphic blown-out houndstooth checks, or Band of Outsiders, where they display random cubist blocks. Neither of these houses, nor anyone else who has shown thus far, is in a particularly happy mood, it must be said — the days of facing winter with cheery lollypop colors have given way to somber palettes — a burst of olive or maybe some muddy purple is as optimistic as things get.
Which is why Chloë Sevigny's presentation at the historic St. Marks Church in the Bowery (already holding Sunday services 100 years before Gish traversed those icebergs) is such an unexpected delight. As you approach the church, a blast of music pours onto the snowy lawn: The storm is over, the sun is shining, and maybe things aren't so bad after all. Five all-female bands have been installed in the sanctuary, and all the musicians are wearing Chloë's Opening Ceremony clothes, which are uniformly unpretentious and appealing — teddy bear coats; bright sailor pants; abbreviated neo-sixties dresses, etc. The performers, including the legendary Kim Gordon (tiny and pugnacious and, if she will forgive me, adorable) wait their turn in this fashionable battle-of-the bands, proving that Sevigny's clothes can look good on a lot of different types, providing they sport interesting haircuts and the right attitude.
The rumor that there will be only 75 or so seats at Alexander Wang's debut as creative director for Balenciaga next month almost insures that I will not be among the anointed, so I suspect seeing his show in New York will have to suffice for me this season. I have never been a particular Wang-ophile, though I can certainly appreciate, at least intellectually, the allure of his legendary just-right T-shirts, boots, fringy bags, cool jackets, and other tropes that make the brand so powerful and successful. That said, this is a sophisticated and assured collection with a surfeit of good ideas, among them easy leather pleated skirts; coats with curious crossover belts, slouchy silhouettes, and interesting dolman-raglan sleeves; and sequined sweaters with high necks and low backs, as if you've made a mistake and put on your pullover backwards, but not really. When he takes joyfully to the catwalk at the end of the show you can almost hear invisible voices ask, "Alexander Wang — you've just shown your fall 2013, what are you going to do next?" and the designer answering in triumph, "I'm going to Paris!"
See the complete Jason Wu Fall 2013 collection here.
See the complete Rag & Bone Fall 2013 collection here.
See the complete Band of Outsiders Fall 2013 collection here. 
See the complete Chloe Sevigny for Opening Ceremony Fall 2013 collection here.
See the complete Alexander Wang Fall 2013 collection here.