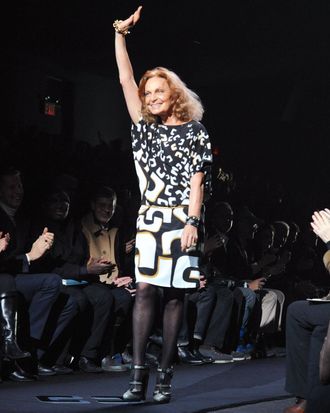 Photo: Neil Rasmus/BFAnyc.com/BFA NYC
Is Diane Von Furstenberg the new Marc Jacobs? We are not referring here, alas, to any dizzying innovations on the runway, but rather to the fact that, like the insanely prompt Jacobs, who has taken to beginning his shows even earlier than the stated start time, DVF sends her first models out before I, and lots of other invitees, can make it to our seats.
So I view Glam Rock, the putative title of the show (at least according to the invitation), from a crowded standing room area next to the photo pit, which means that I am able to judge the clothes only from the models' belles poitrines upwards. From this miserable vantage point I am able to make out, just barely, what appear to be shiny jackets and plenty of silky things in 50 or so shades of red. Despite a screen at the end of the catwalk which seems to be displaying a graphic composed of razor blades, what I can discern is neither particularly glam nor rock.
Next fall's apparent penchant for all things furry is confirmed at Thakoon, where there is even a fur dress dyed a pretty shade of teal (if you are looking for a blue fur dress?). Spotted outerwear, meant to evoke leopard but clearly made from the printed pelts of a lesser woodland creature, nevertheless has an indisputable vintage charm.
A gaggle of starlets surrounds me at Zac Posen, and in answer to my desperate query, a PR person hastily informs me that the one directly to my left in the snug, navy brocade Posen pantsuit, is American Idol runner-up, Katherine McPhee, now on Smash. I eavesdrop and learn that McPhee is quite game and doesn't blink or come up for air when a microphone is shoved in her face and she is asked such questions as, "Posen is usually known for his evening gowns, and yet you are wearing pants! Why?"
Indeed, women in Posen-supplied dresses (one assumes he had these delivered to the ladies shortly before showtime) dot the ballroom of the Plaza, where the designer presents fluttery cut velvet frocks, tweedy peplum jackets, narrow velvet skirts, and many elaborate gowns, all of which are demure enough not to raise an eyebrow from the censorious folks over at the Grammys, who issued that draconian dress code memo this season.
Instead of rushing home to watch the Grammys and find out if that stern edict is obeyed, I enroll in a class at Hilfiger University — or at least that is what the vast hall of the Park Avenue Armory has been decked out to resemble. Tommy has built an entire facsimile library in this space, and sends out ersatz college girls dressed in a variety of clothes perfect for Ali MacGraw in Love Story (well, at least before she was consigned to a hospital gown). Cute little camel coats brandish houndstooth check lapels and varsity stripes; a classic Irish fisherman's sweater has been reimagined in black leather. The soundtrack includes a generous sampling of "Under My Thumb," wherein a circa-1966 Mick Jagger gleefully explains how he tames and subjugates his latest conquest. One only hopes that these jaunty coeds, so sprightly in their miniskirts and kneesocks, have signed up for a course in feminist studies.
See the complete Diane Von Furstenberg Fall 2013 collection here.
See the complete Thakoon Fall 2013 collection here.
See the complete Zac Posen Fall 2013 collection here.