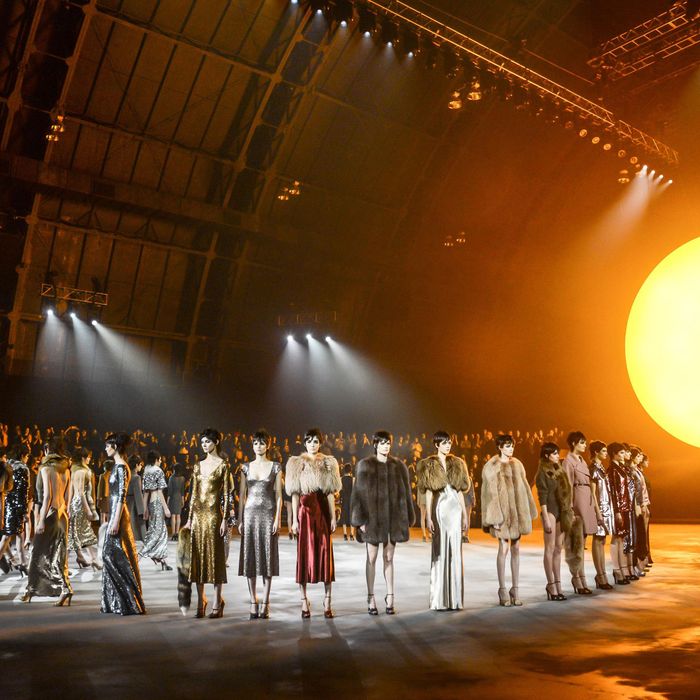 Photo: Joe Schildhorn /BFAnyc.com/BFA NYC
How can you hate a guy who rocks a leg-o-mutton sleeve? As a person who has pursued the same crazy style for years (okay, maybe decades), I tip my goofy hat to Ralph Lauren, who stays true to his code — those puffy lamb-arms; those soft, beyond-midi skirts; those panne velvet frocks — no matter how the prevailing winds are blowing. Of course, there can be variations within the Ralph cosmos — sometimes he's thinking about Gatsby and Daisy; sometimes Annie Oakley; sometimes the lesbian Una, Lady Troubridge, ready for action in Fair Isle jumper and plus fours. This season Lauren garbs an imaginary naval militia, who favor chiffon pleated culottes (better than they sound, but maybe that doesn't take much); strapless gowns embellished with a single insignia patch slapped in front; and sailor pants with a multiplicity of buttons fore and lacings aft. At the end of the show the man himself emerges, dressed in those very same trousers and L'koa cabled fisherman's sweater that might be made of 2,000-ply cashmere. He looks very happy.
Thick shiny swatches of darkness that remind at least one viewer (me) of freshly laid blacktop are employed by Francisco Costa at Calvin Klein, where the little cubes so prevalent this season are cut out of the fabric rather than printed on. A group of garments that bare a healthy section of the midriff manage to be both austere and sexy, but others seem to be made of fibers so weighty and unyielding they might have been pinched from car seats and stapled together. (Or so it appears from the second row — these may be light and flexible to the touch, but don't ask me — I am not a showroom-visit, re-see kind of girl.)
An enormous orange sun — or maybe it's a spooky moon — hangs over the round runway at Marc Jacobs, bathing the interior of the Armory in sepulchral sepia light. In fact, this eerie luminosity renders everyone in the audience in shades of black and white — it's very strange to see Grace Coddington without her red hair, but it is also oddly flattering, or at least compelling. There's an announcement not to use any flash photography during the show, and when the models emerge this lack of color gives everything on the runway a black-and-gold, Twilight Zone, science-fiction quality.
Jacobs, who loves art, is fooling around here with light and perception, providing a most welcome end to what has been a dry white New York season. (Dry in the sense of generally humorless; white in the shameful way most designers do not make the least attempts at diversity on their runways.) The shimmery clothes themselves include long Jean Harlow–ish evening gowns topped with fur stoles, lots of pajama tops worn without bottoms, or, in one case, pinstripe gray short-shorts sported by a luckless lass who is otherwise naked, so that she has to loop her arm over her bare chest for the duration of the show. But just when you've made this brave new planet your home, the lights come up and the garments assume their true colors — rosy satin; twinkly blue sequins. The hues are lovely, but for a minute or so, you regret being sent back to earth.
See the complete Marc Jacobs show here.
See the complete Calvin Klein show here.