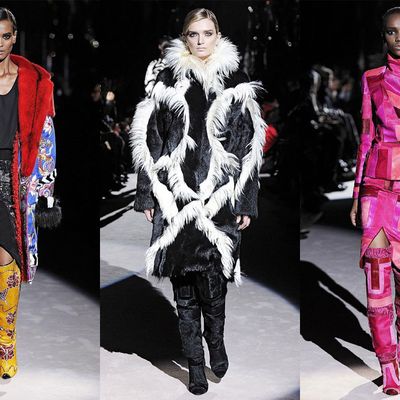 Thought the London shows were over? Not until you take our handy, wildy informative, indispensable London Fashion Week Quiz below! Hope you were paying attention! Ready?
Q: What shows offer the most thrilling celebrity spotting?
A: Forget Lana del Ray at Mulberry (where they have named a bag after her), a pale bouffant-haired Rita Ora at Burberry, and a stunningly glamorous Jessica Biel Timberlake with her husband at Tom Ford — the Crawley sisters are the stars of the week. Erdem has Lady Edith! Lady Mary is at Burberry! Edith looks utterly modern in a pink pullover, but Mary, wearing a snowy white button down, plain trousers, and heels — and with bobbed hair — seems ready to spar with a mealy-mouthed Matthew who might just be waiting for her outside the tent.

Q: Which show has the most appropriate musical score?
A: "Hail Britannia" at Mulberry, where the set is decorated with cartoon butterflies and flowers on steroids, and the runway offerings are so Anglophile there is even a poodle in a tweedy coat. The canine walks the catwalk twice, but he's wearing the same kind of jacket both times, unlike the two-legged creatures in the show, who favor dresses that are like fancy elongated tees, invariably shown over pants.

Q: What is most apt symbol showing up on a sweater?
A: The question mark at Moschino Cheap and Chic (an Italian brand that for some reason always shows in London) where the symbol seems to represent the confused state of the pretty, trashy young thing for which the house's ensembles are intended. (You remember her, staggering into your algebra class clearly having been up all night, wearing a fuzzy mohair animal-print pullover and a tiny skirt, the girl who never knew the answer to anything beyond "Where's the party?") This lass, all grown up and on the genuine prowl, might don a Jonathan Saunders dress which features an inset shiny patent corset that slithers upwards and bifurcates the breasts.

Q: What new — but maybe not so important? — clothing item can now be confirmed as a genuine trend?
A: After popping out at Rodarte, Mulberry, Unique, Jonathan Saunders, and other places, the flared shiny leather skirt is an item you might want to consider for next fall. But wait, what's this? Despite the fact that this garment does not appear on J.W. Anderson's fall 2013 runway (the affair features instead neo-Japanese dresses, some with high Helmut Lang–ian belts that make you unable to lift your arm, oh joy), you can buy it right now from Anderson's Topshop collaboration for a very un-Topshop price of 290 pounds, or around $450.

Q: What show provides the best reason to employ an Emily Dickinson metaphor?
A: If hope, as that lady wrote, is the thing with feathers, then Christopher Kane — who lavishes these quills on a variety of frocks — is in a very optimistic mood. The collection, one of the very best in London (or New York) thus far, also suggests artful velvet gowns that seem to have been torn by an errant shoe heel but are none the worse for it, and prints based on MRI scans of the human brain.

Q: Who most glaringly disregards the "less-is-more," "look-in-the-mirror-then-take-one-thing-off" Coco Chanel fashion credo in favor of the outlandish?
A: Tom Ford, who not only gilds the lily, he beads it, spangles it, lavishes it with leather fringe, tops it with pink patchwork mink bomber jackets, and otherwise slathers on the glitz with a trowel. It's as brash and nervy as the Boca matron for whom it might be intended (though no doubt it would suit a Moscow matron as well). Ford shows in the spectacular Lancaster House, where Mary and Edith could well have attended a flapper ball, but would either of these ladies, even if they time-traveled 90 years into the future, consider a zebra-striped maxi or a pair of see-through lace trousers?