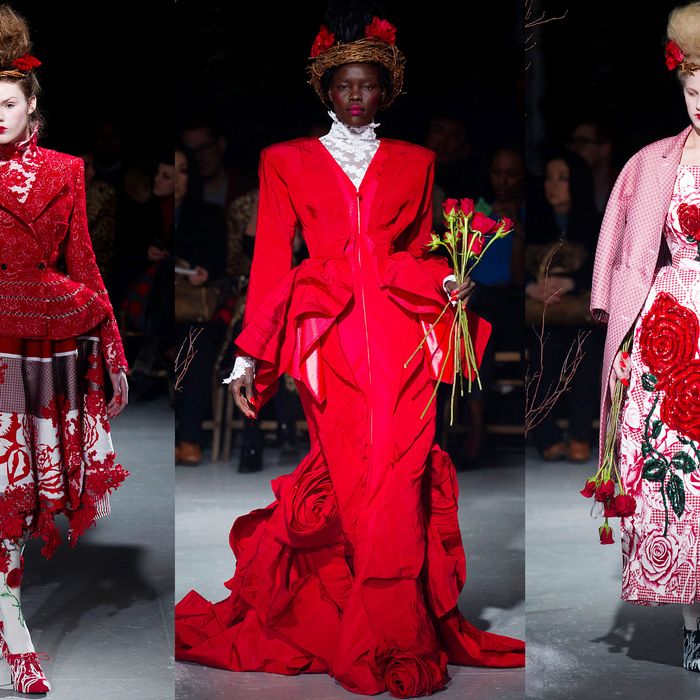 Plenty of people apparently think that women of a certain age should wear garments constructed so that only the tops of their shoulders are bared. But ask yourself — what is the point of this strange peek-a-boo? Doesn't it just make everyone think you have shame issues about your flabby arms and chicken neck? At Donna Karan, where the models emerge from a spiky gold metal stage set reminiscent of a DK perfume bottle, there are any number of these shoulder-barers, along with lots of black stretchy garments, spiderwebby constructions with rhinestones, and some outerwear that manages to be both furry and fringy — all of which is intended to bolster your self-confidence, because, as Donna puts it in her program notes, "You can only be who you are."
Who you are, if you are attending New York's fashion shows this week, is most likely one unhappy puppy.
But if it has been thus far, by general consensus, a dolorous season, a few trends (and how much do we hate that word?) have nevertheless surfaced, chief among them a glut of graphic patterns, which were perhaps first promulgated by Marc Jacobs at his eponymous collection and at Louis Vuitton for spring 2013 (which means they are available — with super-high price tags! — in stores right now). These blocks and cubes are usually rendered in black and white, so it comes as a relief when Ohne Titel sends out tangerine examples, sometimes enhanced with little clear plastic squares. Maria Cornejo, whose line is called Zero but whose clothes will fit people whose size is an actual number, also apparently got the memo, opening her show with black-and-blue garments, but adding some refreshingly non-graphic coats with loose swing backs, a silhouette tiptoeing toward the bubble and constituting a minor trend (that word again) this season.
Monday night during New York Fashion Week traditionally belongs to Marc Jacobs, but this time around, for a mysterious reason — the snowstorm delayed his samples arriving from Europe, or something — Marc by Marc Jacobs, the secondary line nicknamed Little Marc, is shoehorned into this slot. Before the show begins (it will feature dull but serviceable Marc basics: seventies prints, narrow skirts, pleated pants, blah, blah), one lone drag performer, towering in heels and sporting a vast tutu that makes her look like an escapee from the Trocadero Ballet, wanders in, climbs the stairs toward standing room heaven, and injects the sole jolt of visual excitement into the otherwise moribund proceedings.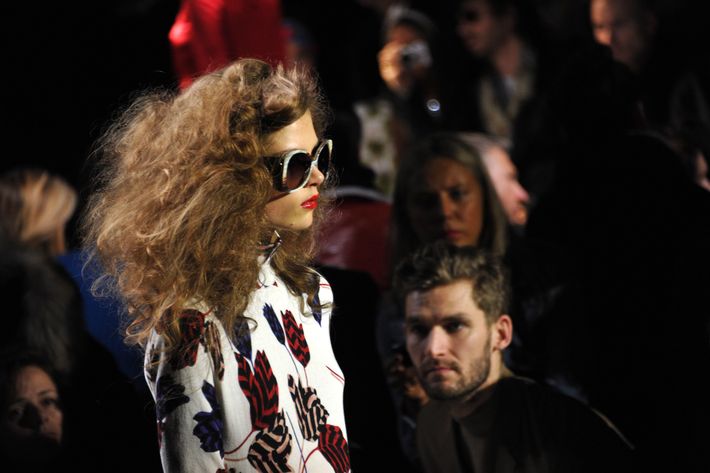 Would Ann Romney have greeted the assembled masses in an outfit designed by a guy who likes to truss male models to creepy hospital beds, binding them hand and foot and blindfolding them? Thom Browne, who made the blue suit Michelle Obama wore on Inauguration Day, ties these poor fellows up and they, along with fake snow and sinister rose bushes, function as an art-installation background to his fall 2013 show. With its connotations of prisons and torture, this conceit initially makes me extremely uncomfortable. (And the models, some of whom can't help but squirm in their cots, don't seem to be having much fun either.) But when the actual show begins, it becomes clear that the whole affair is meant as an S&M fairy tale featuring savagely graceful Queens of Hearts clad in mad ensembles: stiff gray capes with hugely distended shoulders and exquisite appliquéd blossoms; humongous skirts with padded hips, amazing fur jackets that appear to magically dissolve into botanical lace. It is a breathtaking and singular vision, even if its practical applications seem dubious. (What, you don't want padded hips?) Can I be the only woman in the world suddenly craving a pair of pale stockings decorated with blood-red roses?
See the Donna Karan Fall 2013 collection.
See the Ohne Titel Fall 2013 collection.
See the Marc by Marc Jacobs Fall 2013 collection.
See the Zero + Maria Cornejo Fall 2013 collection.
See the Thom Browne Fall 2013 collection.